Introducing the 2021 Premier Industry Manufacturers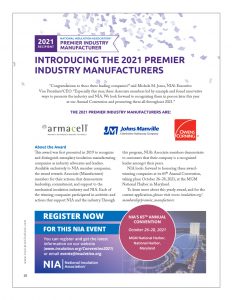 "Congratulations to these three leading companies!" said Michele M. Jones, NIA's Executive
Vice President/CEO. "Especially this year, these Associate members led by example and found innovative ways to promote the industry and NIA. We look forward to recognizing them in person later this year at our Annual Convention and promoting them all throughout 2021."
The 2021 Premier Industry Manufacturers are:

About the Award
This award was first presented in 2019 to recognize and distinguish exemplary insulation manufacturing companies as industry advocates and leaders. Available exclusively to NIA member companies, the award rewards Associate (Manufacturer) members for their actions, that demonstrate leadership, commitment, and support to the mechanical insulation industry and NIA. Each of the winning companies participated in activities and actions that support NIA and the industry. Through this program, NIA's Associate members demonstrate to customers that their company is a recognized leader amongst their peers.
NIA looks forward to honoring these award-winning companies at its 65th Annual Convention, taking place October 26–28, 2021, at the MGM National Harbor in Maryland.
To learn more about this yearly award, and for the current application, please visit www.insulation.org/membership/premier_manufacturer.