Johns Manville
Building a Better Tomorrow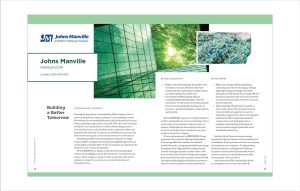 Contact: 800-654-3103
Contributed by JM Editors
Knowing the importance of sustainability, JM developed in 2020 a universal framework to help us navigate our sustainability journey. We developed 5-year sustainability goals and benchmarks for success/failure regarding people, planet, and profit. Now mid-cycle, we remain steadfast in our commitments to combat climate change, protect our natural resources, and contribute to the communities where our employees live and work. In 2025, we can celebrate our successes and then set new 5-year goals as we continue to work for a better future.
The Building a Better Tomorrow framework enhances our efforts today to reduce our impact on the planet and expand support for our communities around the globe. It also encompasses our aspirations for the future as we continue to innovate.
We will REDUCE our impact on the planet by minimizing the creation and landfilling of waste. We will strive to cut emissions and reduce costs by using less energy to make our products. We want to optimize our inputs to use/reuse more recycled materials and renewable sources.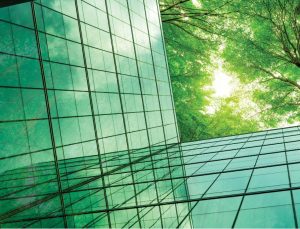 By 2025, our goals are to:
Reduce our waste intensity by another 10%. Over the last 10 years, JM reduced its waste intensity by 23%, and we plan to further reduce our waste intensity by another 10%.
Use at least 2 billion pounds of post-consumer/industrial materials. Over the next 5 years, we will use at least 2 billion pounds of post-consumer/industrial materials in our processes—predominantly glass, polypropylene, and polyester.
We will EXPAND support of our global workforce and the communities we serve by continuing to focus on the safety of our employees and prevention of injuries. Additionally, we will continue to increase our focus on the diversity and inclusiveness of our workforce across the company.
We are well-positioned to INNOVATE. A large proportion of our product offerings bring tremendous energy-efficiency benefits over extended product life cycles, saving exponentially more energy throughout their long usable life compared to the amount of energy required to produce them. However, we will need to be able to design and redesign products with the circular economy in mind. We will also explore technologies and business processes to allow us to chart a path for a decarbonized future.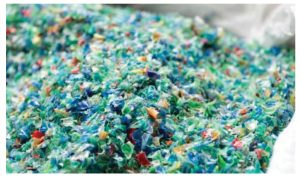 By 2025, JM will:
Offer more energy-efficient products. Combining innovative technologies, leading-edge engineering, and design with intent principals, we will develop more energy-efficient products and promote the value of our portfolio to increase the net positive benefit to our world by more than 10%.
Chart our path. We will chart our path to a lower carbon future. We are well-positioned to partner with our suppliers to convert to renewable energy sources. Key to our long-term path forward will be exploring alternative energy sources and developing a more complete understanding of the impact of our raw material supply chain as the use of fossil fuels is phased out.
Building a Better Tomorrow means creating benefits that improve the lives of our customers and stakeholders. It also generates value for our company and empowers our businesses—Roofing Systems, Insulation Systems, and Engineered Products—to produce solutions that fundamentally work to increase comfort and save people money while reducing their carbon footprint.
Learn more about JM's sustainability efforts by visiting www.jm.com/en/sustainability.