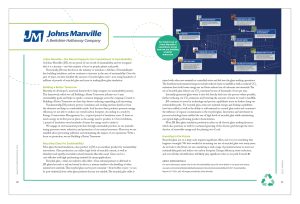 Johns Manville—Our Record Supports Our Commitment to Sustainability
At Johns Manville (JM), we are proud of our record of sustainability, and we recognize that it is a journey—one that requires a focus on people, planet, and profit.
Historically, JM was the first in the industry to introduce a full line of formaldehyde-free building insulation, and we continue to innovate in the area of sustainability. Over the past 10 years, we have doubled the amount of recycled glass used—now using hundreds of millions of pounds of recycled glass each year in making fiber glass insulation.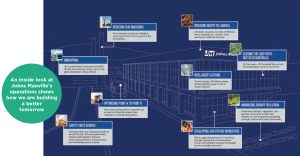 Building a Better Tomorrow
Recently, we developed a universal framework to help navigate our sustainability journey. This framework, which we call Building a Better Tomorrow, informs our 5-year sustainability goals and helps us speak a common language across the company. Crucial to Building a Better Tomorrow are three key drivers: reducing, expanding, and innovating.
Fundamentally, JM products protect. Insulation and roofing systems shield us from the elements and keep us comfortable inside. And because these products promote energy efficiency, we are able to reduce our overall carbon footprint. According to a study by Energy Conservation Management, Inc., a typical pound of insulation saves 12 times as much energy in its first year in place as the energy used to produce it. Over its lifetime, 1 pound of insulation saves hundreds of times the energy used to make it.
We engage in environmental protection through sustainable practices in our manufacturing processes, waste reduction, and protection of our natural resources. Moreover, we are mindful about preventing pollution and minimizing the impact of our operations. With a focus on protection, we are Building a Better Tomorrow.
Recycling Glass for Sustainability
Fiber glass thermal insulation, a key product at JM, is an excellent product for sustainability innovations. Glass production can utilize high levels of recycled content, as well as abundant and rapidly renewable natural minerals, like silica sand. Glass can be a
cost-effective and high-performing material for many applications.
Recycled glass—what our industry calls cullet—from external partners is delivered to JM plants by truck or rail and stored in silos in a manner similar to the handling of other mineral raw materials. This recycled glass can be post-consumer—from bottles or jars—or can be post-industrial, from other glass products that are not saleable. The recycled glass cullet is mixed with other raw materials at controlled ratios and fed into the glass-melting operations. The beneficial environmental impacts include reduced waste to landfill as well as reduced CO2 emissions from both lower energy use and from reduced use of carbonate raw materials. The use of recycled glass reduces our CO2 emissions by tens of thousands of tons per year.
Internally generated glass waste is also fed directly back into the process where possible, further reducing our CO2 emissions and lowering the amount of waste we send to landfills.
JM continues to invest in technology and process capabilityto move us further along our sustainability path. For recycled glass, extra raw material storage and feeding capabilities have been added, as well as the ability to add materials to control glass redox and counteract the influence of organic contaminants in the recycled glass. Innovation and investment in process technology have enabled the use of high levels of recycled glass while maintaining our typical high-performing product characteristics.
Most JM fiber glass insulation production relies on all-electric glass melting furnaces, which also positions us well for continued greening of the electric grid through the introduction of renewable energy and the phasing out of coal.
Investing in the Future
Recycled glass use on a large scale requires significant effort, and it is not something that happens overnight. We have worked at increasing our use of recycled glass over many years. As we look to the future, we are considering a wide range of potential actions to meet our sustainability goals and reduce our carbon footprint. Energy efficiency, waste reduction, and even further electrification will likely play significant roles in our path forward.
About Johns Manville
For more information, please refer to the JM sustainability report for more details on our goals and actions: www.jm.com/content/dam/jm/global/en/general-documents/sustainability/JM-2021-Sustainability-Report-9-27-2021.pdf. All images provided by Johns Manville.