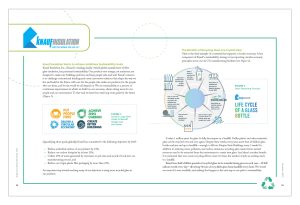 Knauf Insulation Works to Achieve Ambitious Sustainability Goals
Knauf Insulation, Inc., (Knauf) a leading, family-owned global manufacturer of fiber glass insulation, has priortized sustainability. Our products save energy; cut emissions; are designed to make sure buildings perform; and keep people safe, and well. Knauf's mission is to challenge conventional thinking and create innovative solutions that shape the way we live and build in the future, with care for the people who make our products, for the people who use them, and for the world we all depend on. We see sustainability as a process of continuous improvement in which we build on our successes, always doing more for our people and our environment. To that end, we have four vital long-term goals for the future (Figure 1):

Quantifying those goals, globally, Knauf has committed to the following objectives by 2025:
Reduce embodied carbon of our products by 15%,
Reduce our carbon footprint by at least 25%,
Collect 25% of waste generated by customers on job sites and recycle it back into our manufacturing process, and
Reduce our virgin plastic film packaging by more than 25%.
An important step toward reaching many of our objectives is using more recycled glass in our products.
The Benefits of Recycling Glass Are Crystal Clear
Glass is the ideal example of a material that supports a circular economy. A key component of Knauf's sustainability strategy is incorporating circular economy principles across our six U.S. manufacturing facilities (see Figure 2).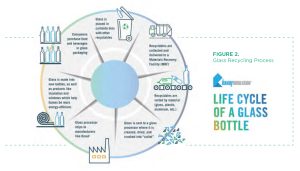 It takes 1 million years for glass to fully decompose in a landfill. Unlike plastic and other materials, glass can be recycled over and over again. Despite these truths, every year, more than 28 billion glass bottles and jars end up in landfills—enough to fill two Empire State Buildings every 3 weeks! In addition to reducing waste, pollution, and carbon emissions, recycling glass means fewer natural resources need to be extracted from the environment to create new glass. And there's another benefit: It is estimated that zero-waste recycling efforts create 10 times the number of jobs as sending waste to a landfill.
Knauf uses half a billion pounds of recycled glass in its manufacturing process each year—10 full railcars worth every day—diverting 50 tons of recyclable glass from landfills every hour. We would use more if it were available, and making that happen is the next step in our path to sustainability.
Knauf Is Raising Awareness about Glass Recycling
Today, only 31% of the glass used in the United States is recycled. "People forget that glass isn't trash, it is a very important raw material used in products like fiberglass insulation," says Chris Mahin, Knauf's Vice President of Sustainability and Heath, Safety, and Environment. Knauf is deeply invested in improving glass recycling rates through internal efforts—such as an employee recycling program launched on Earth Day 2021 that collected 42,000 pounds of glass that went back into our manufacturing process—and community outreach, working with organizations and municipalities across North America to raise awareness and make it easier for people to recycle glass. Examples include:
Support of "Just Glass," a glass recycling pick-up service run by Justice Industries, a nonprofit in Nashville, Tennessee, that creates job opportunities for individuals with barriers to traditional employment.
A program with the Shelby County Recycling District in which all glass collected at the Shelby County Transfer Station is used in Knauf's manufacturing process.
Introduction of the "Knauf Krusher," a fun, hands-on way to turn bottles into glass cullet and educate people on glass recycling (see it in action: https://tinyurl.com/295kc5hk). The Krusher has made its way around the country at events like the ICAA Conference.
Partnerships with education and advocacy groups like the Glass Recycling Foundation, Circular Indiana, and others. Knauf sponsored and hosted an event with Circular Indiana in the fall of 2021 that convened Indiana state legislators, manufacturers, economic development organizations, and other stakeholders to discuss supply chain issues involving recycled materials.

Revving up Interest as the Official Glass Recycling Partner of the Big Machine Music City Grand Prix
In one of our most visible campaigns yet, this summer, Knauf partnered with the Big Machine Music City Grand Prix in Nashville and led a multi-faceted glass recycling initiative, collecting glass at the Nissan Stadium race campus throughout the 3‑day NTT INDYCAR SERIES event (August 5–7) and picking up bottles throughout the month of July thru the end of the race weekend at restaurants and bars in the area.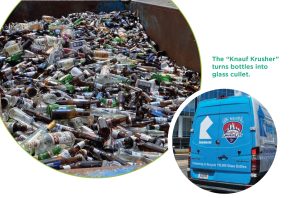 In the end, Knauf collected more than 15,000 pounds of glass, thereby diverting 7.8 tons of glass from the landfill (see Figure 3).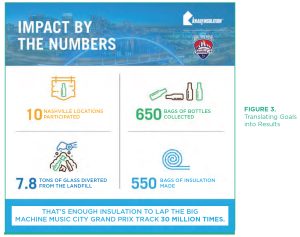 Taking Recycling into the Future
Mahin notes there are still challenges to glass recycling efforts beyond increasing awareness, such as ironing out the logistics of separating and collecting glass products; transporting the glass to recycling centers; and making the process simple, efficient, and cost-effective. Even small details are important when it comes to changing human behavior. For example, during race weekend, setting aside glass bottles in a bar can be seen as taking valuable time in a business model that requires quick service and customer turnover. Mollie Toland, Director of Brand and Culture at Knauf Insulation North America, says working with management, setting up competitions between the different establishments, providing bins and daily pickup, and encouraging musicians playing at the locations to remind patrons to recycle made a big difference in the program's success.
Beyond such events, Knauf is working with local municipalities to identify where pilot programs can be rolled out, accommodating the full range of tasks from collection to aggregation, from consumer to recycler/supplier, to Knauf for manufacturing into insulation. We also recognize other areas to pursue, such as recycling other materials we use, like plastic. Knauf repurposes scrap material, reducing the amount of waste sent to landfill, and we are looking at ways to recycle used insulation.
"As we look to the future it will be necessary for every organization and individual to assess the environmental impact that they have and take action to reduce the overall impact," says Mahin. "We are committed to continually pursuing alternatives for energy, raw materials, and packaging."
About Knauf Insulation North America
Knauf Insulation North America is part of Knauf Group, a family-owned global manufacturer of building materials based in Iphofen, Germany. Knauf leverages the expertise of more than 35,000 employees across 250 production facilities in 86 countries
to generate revenue in excess of $12 billion. In North America, Knauf Insulation is a leading manufacturer of thermal and acoustical fiber glass insulation for residential, commercial, industrial, OEM, and metal building applications. Knauf's mission is to challenge conventional thinking and create innovative solutions that shape the way we live and build in the future, with care for the people who make them, the people who use them, and the world we all depend on. Photos provided by Knauf. For more information, visit www.knaufnorthamerica.com.