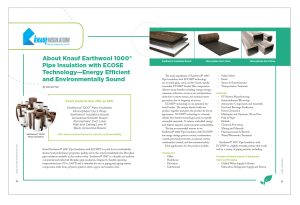 About Knauf Earthwool 1000° Pipe Insulation with ECOSE Technology—Energy Efficient and Environmentally Sound
Knauf products that offer an EPD:
Earthwool® 1000° Pipe Insulation
Atmosphere® Duct Wrap
Earthwool® Insulation Board
Acoustical Smooth Board
Atmosphere® Duct Liner
Wall and Ceiling Liner M
Black Acoustical Board
Visit www.knaufnorthamerica.com/en-us/sustainability

Knauf Earthwool® 1000° Pipe Insulation with ECOSE® is noted for its sustainability, thermal and performance properties, quality, and is the only formaldehyde-free fiber glass pipe insulation available in the market today. Earthwool® 1000° is a durable and resilient commercial and industrial fiberglass pipe insulation, designed to handle operating temperatures from 0°F to 1000°F, and is intended for use on piping and piping system components made from polymers (plastic), steel, copper, and stainless steel.
The main ingredients of Earthwool® 1000° Pipe Insulation with ECOSE® technology are recycled glass, sand, and bio-based, rapidly renewable ECOSE® binder. This composition delivers many benefits including energy savings, emissions reduction, resource use maximization, reduction in waste stream, and minimal waste generation due to longevity of service.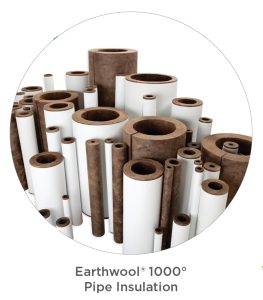 ECOSE® technology is our patented, bio-based binder. The unique binder holds our product together and gives the product its brown appearance. ECOSE® technology is a formaldehyde free-binder technology, based on rapidly renewable materials. It reduces embodied energy and delivers superior environmental sustainability.
The key recommended reasons to use Earthwool® 1000° Pipe Insulation with ECOSE® are energy savings, process control, condensation control, personnel protection, acoustical control, condensation control, and fire resistance/safety.
Ideal applications for the product, include:
Commercial
Office
Healthcare
Education
Institutional
Public Safety
Retail
Sports & Entertainment
Transportation Terminals
Industrial
EV Battery Manufacturing
Semiconductors/Microchip
Automotive Components and Assembly
Food and Beverage Production
Power Generation
Midstream and Upstream Oil and Gas
Pulp & Paper
Biofuels
Chemical Processing
Mining and Minerals
Pharmaceuticals & Biotech
Water/Wastewater Treatment
Earthwool® 1000° Pipe Insulation with ECOSE® is a highly versatile product that works well in a variety of piping systems, including:
Commercial Piping Systems & Equipment, HVAC and Plumbing
Chilled Water Supply & Return
Halocarbon Refrigerant Supply and Return
Chilled Water Pumps and Vessels
Heating Hot Water Supply & Return
Steam Supply & Condensate Return
Heating Hot Water, Steam, and Condensate Vessels
Domestic Water, Hot and Cold
Backflow Preventers
Storm Water Drain Leaders
Roof Drain Bodies
Waste Water–Branch Drains, Main Stack
Industrial Piping Systems and Equipment, Building Services and Process Systems
Product Conveyance Piping
Compressed Air
Drains
Thermal Transfer Coils – Heating and Cooling
Radiant Heaters
Process Temperature Control – Heating or Cooling
Steam Supply and Condensate Return
Hot Water Supply and Return
Hot Oil Loops
Chilled Water – Supply and Return
Refrigerants Supply and Return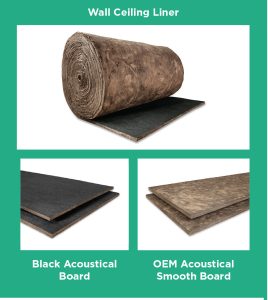 Knauf uses Life Cycle Assessments (LCAs) to produce Environmental Product Declarations (EPDs) that detail the environmental impact — including CO2 emissions — of Earthwool® 1000° Pipe Insulation with ECOSE® from the cradle to the grave. For years, we have been measuring the embodied carbon of our products through the Life Cycle Assessment process and publishing results in Environmental Product Declarations.
For more information, visit https://www.knaufnorthamerica.com/en-us/products/pipe-insulation.