Educating the Insulation Industry
In April, NIA held its 63rd Annual Convention in Orlando, Florida. This event, which draws leaders from around the world, is critical in helping the insulation industry meet the demands of an ever-evolving building industry.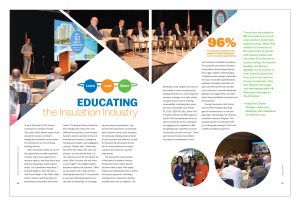 96% of respondents indicated the program content/education met or exceeded expectations
92% of respondents indicated networking with NEW customers met or exceeded expectations
74% made new business contacts
98% of respondents indicated that networking with current customers met or exceeded expectations
NIA's Convention offers an incredible opportunity to make important contacts, learn from experienced industry experts, and then adjust your business planning to meet industry needs. The Convention welcomed 2 Keynote Speakers: Keni Thomas, a Task Force Ranger in the "Black Hawk Down" mission, and Doug Lipp, an international consultant and former Head of Training at Disney University. Even though they come from very different perspectives, both Keynote Speakers shared common themes of knowing your mission, trusting and training your people, and engaging to succeed. Thomas said, "Leadership has never been about the rank, the position, nor the title we hold. It is the example we set for the people we serve. Who is on your left and who's on your right?" His insights helped attendees answer the question, "Who do you want to be in that moment when people need you?" He provided a new and inspiring perspective on the topic of leadership. In his engaging and unique presentation, Lipp stressed the importance of extraordinary customer service with examples of continually making improvements to your business and products, as well as empowering the people around you to solve problems and create solutions that improve customer experiences.
The Convention also included a Mechanical Insulation Industry Perspective Panel, where attendees were able to hear from highly experienced individuals from a variety of industry segments, including a manufacturer, contractors, distributor/fabricator, and an engineer. This panel gave deep insights into many of the industry's most pressing issues, helping attendees to create long-term business strategies on a wide variety of topical issues such as trucking, sustainability, shrinking labor pools, and new technology. Gary Kuzma  PE, CEM, LEED® AP, GBE, Senior Vice President, Director of MEP Engineering for HOK was applauded when he said he would like to be a champion of engaging more engineers in NIA and getting jobs "specified correctly so that they are built correctly." There were also technical presentations focusing on condensation control and insulation installation questions. This question and answer technical presentation format helped attendees to gain a better understanding of optimal system design, addressed the issue of outdated specifications, explained insulation materials storage, and offered NIA and manufacturer resources to provide additional guidance. See page 26 for an article about these installation questions and best practices.
During Convention, NIA Consultant and Past President Ron King gave an introduction to a new program NIA is developing: the Thermal Insulation Inspector Program. This program answers an industry need by creating and training the first ever certified insulation inspectors. Those who complete the program will be able to evaluate systems and certify that they have been designed properly according to the specification. NIA will be releasing more information on this program as it is developed. Engineers and contractors can sign up now by emailing training@insulation.org—the 2018 and 2019 classes are expected to sell out.
Timely Industry-Specific Topics
Of course, much of the important work in Convention is accomplished in its industry-specific and operating committee meetings. These meetings allow NIA members from each insulation industry segment to select important and timely topics to drill down on their individual areas of importance and come up with solutions that will increase safety, professionalism, and project quality, and improve the entire industry as a whole. Tom MacKinnon, a first-time Convention attendee, said, "I really liked the committee meetings that were held—I went to the Technical Information Committee and the [Associates] Manufacturers Committee to see how the industry is looking as a whole and the issues that
everyone is dealing with, and to get an idea of how those issues will be resolved in the future."
NIA also elected its new Board of Directors, led by incoming President Dan Bofinger (FBM-SPI), and approved the budget at this meeting. The Board of Directors will use their expertise and experience to help guide the direction of the association and ensure we are meeting industry needs. During the Convention, NIA also announced the winners of the Theodore H. Brodie Distinguished Safety Award. This award honors companies who go above and beyond in their commitment to safety—read more about the winners on page 14. With many industry and regulation changes in 2017 and 2018, hiring a company that prioritizes safety is more important than ever.
Creating Industry Connections
Undoubtedly, part of the value in attending NIA's Annual Convention comes from the numerous opportunities to connect with other industry members. The networking at the event facilitates numerous business-building opportunities and can offer newer industry participants the chance to learn from those who have been in the industry for decades. Networking opportunities included the NIA Member Orientation, where new members learned more about how NIA can help their businesses thrive; the Convention First-Timer and VIP Reception, where newer members had the opportunity to network with NIA and industry leaders; and the Welcome and Appreciation Evening: Calling All Superheroes, where members had the chance to enjoy the beautiful Orlando weather and network while sporting their favorite superhero costumes.
The final night of Convention included the popular Dessert Hospitality Suites, where members enjoyed intimate networking areas filled with conversation and a variety of desserts and drinks from NIA's Manufacturer members, and the luxurious biennial Silent Auction. Both events offered a final chance for attendees to mingle with other industry members, and raised funds for Operation Homefront, a nonprofit that serves America's military families; and NIA's Foundation for Education, Training, and Industry Advancement, which seeks to create greater awareness of the benefits of mechanical insulation. This year's event raised a record-setting $37,000, which will be split evenly between the 2 organizations. Operation Homefront was chosen as this year's Silent Auction partner charity with input from representatives of NIA's membership, who strongly believe in the importance of supporting America's military families.NIA's Convention offers the unique opportunity to network, hear about industry opportunities and challenges, and learn how to grow your business in a collaborative and supportive environment. The singular opportunity offered by NIA's Convention is why so many companies have been members for numerous decades. Year after year, the feedback received by NIA members about the education and business-building networking opportunities they receive at NIA's Annual Convention is overwhelmingly positive. The resources and opportunities offered by NIA help them to evolve with the industry and produce the best results for their clients.
---
"I have been attending the NIA Convention for over 20 years and have made many industry friends. What I find valuable at Convention is the opportunity to interact with industry leaders and associates in a relaxed but focused setting. The keynote speakers are always a highlight for me because of their varied backgrounds—from sports stars and war heroes to magicians. They have all been interesting and entertaining while still delivering a message for the attendees." — Kelly Reed, Senior Manager—Sales and Marketing, L&L Insulations, Des Moines, Iowa
"I have been attending and involved in NIA's Convention for about 6 or 7 years. It's always special to catch up with friends and colleagues. The time between sessions, meals, and receptions remind me of the importance of attending NIA's events—it is such a unique gathering of industry players that offers the chance to discuss important industry issues and stay on top on developing trends."— Todd Hamilton, Regional Sales Manager, Silvercote, Greenville, South Carolina
"Honestly, it was a great experience and exceeded my expectations for my first NIA Convention. But the highlight for me was receiving our company's Platinum Safety Award on that national stage from the National Insulation Association. I was honored to be with all those companies who have the same commitment to safety. When I got back to Iowa, I sat all of our employees down and showed them the award and the hardhat stickers, and said, 'Well done, this is our safety program, own it.'"— Jon J. Groves, President, QCI Thermal Systems, Inc., Iowa City, Iowa
Copyright Statement
This article was published in the June 2018 issue of Insulation Outlook magazine. Copyright © 2018 National Insulation Association. All rights reserved. The contents of this website and Insulation Outlook magazine may not be reproduced in any means, in whole or in part, without the prior written permission of the publisher and NIA. Any unauthorized duplication is strictly prohibited and would violate NIA's copyright and may violate other copyright agreements that NIA has with authors and partners. Contact publisher@insulation.org to reprint or reproduce this content.