NIA Announces the 2019 Safety Excellence Award Winners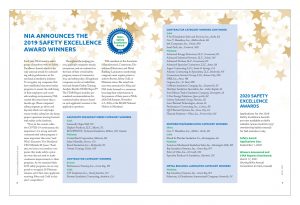 Each year, NIA honors a select group of members with its Safety Excellence Award, which is the only national award for outstanding safety performance in the mechanical insulation industry. To recognize top companies that have established structured safety programs to ensure the well-being of their employees and create safe working environments, NIA created this award more than a decade ago. These companies' safety programs go above and beyond, which not only helps ensure worker safety, but also keeps project operations moving forward with safety at the forefront.
"Now, in the current collective COVID-19 environment, the importance of a strong and well communicated safety program is more important than ever," said NIA's Executive Vice President/CEO Michele M. Jones. "Each year, we honor our member companies that make safety a priority every day and seek to make continuous improvements to their programs. As we examined their 2019 safety programs, we are very proud to recognize 28 Platinum winners and 2 first-time applicants receiving Silver and Gold in this year's competition."
Throughout the judging process, applicant companies remain anonymous, and are evaluated on the basis of their overall safety program, means of communication, and safety policy. All applicant companies receive an individualized and detailed Safety Training Analysis Results (STAR) Report™. The STAR Report includes personalized recommendations for continued safety advances based on each applicant's answers to the application questions.
NIA members in the Associates (Manufacturers), Contractors, Distributors/Fabricators, and Metal Building Laminators membership categories must acquire points to achieve Bronze, Silver, Gold, or Platinum status. The award winners were announced in May, and NIA looks forward to a ceremony honoring their achievements in the presence of their peers at NIA's 2020 Fall Summit, November 4­–5, 2020, at the MGM National Harbor in Maryland.
Associate (Manufacturer) Category Winners
Gold:
Armacell, Chapel Hill, NC
Dyplast Products, LLC, Miami, FL
ROCKWOOL Technical Insulation, Milton, ON, Canada
Platinum:
CertainTeed Corporation, Malvern, PA
Johns Manville, Denver, CO
Knauf Insulation, Inc., Shelbyville, IN
Owens Corning, Toledo, OH
Contractor Category Winners
Bronze:
Performance Firestop, Inc., Green Bay, WI
Gold:
ATI Insulation, Inc., Grand Junction, CO
Farwest Insulation Contracting, Anaheim, CA
F & H Insulation Sales and Services, Inc., Kechi, KS
Geo. V. Hamilton, Inc., McKees Rocks, PA
hth Companies, Inc., Union, MO
Insul-Tech, Inc., Frederick, MD
Platinum:
Advanced Energy Protection, LLC, Greenwood, IN
Advanced Industrial Services, LLC, Toledo, OH
Advanced Nuclear, LLC, Greenwood, IN
Advanced Specialty Contractors, LLC, Aston, PA
Argus Contracting, LLC, Santa Fe Springs, CA
Atlantic Contracting & Specialties, LLC, Hicksville, NY
Cornerstone Services Group, LLC, Kansas City, MO
DKB, Inc., Pasco, WA
Gagnon, Inc., St. Paul, MN
Gribbins Insulation Company, Inc., Evansville, IN
Hawkeye Insulation Specialists, Inc., Cedar Rapids, IA
Iowa Illinois Taylor Insulation Company, Davenport, IA
I-Star Energy Solutions, Quarryville, PA
Liberty Industrial Group, Phoenix, AZ
Luse Thermal Technologies, Aurora, IL
Performance Contracting, Inc., Lenexa, KS
QCI Thermal Systems, Inc., Iowa City, IA
Thermal Solutions—Ohio, Inc., Proctorville, OH
Distributor/Fabricator Category Winners
Silver:
Geo. V. Hamilton, Inc., McKees Rocks, PA
Gold:
Shook & Fletcher Insulation Co., Birmingham, AL
Platinum:
American Mechanical Insulation Sales, Inc., Farmington Hills, MI
Bay Insulation Systems, Inc., Green Bay, WI
Extol of Ohio, Inc., Norwalk, OH
Specialty Products & Insulation, Charlotte, NC
Metal Building Laminator Category Winners
Platinum:                                                               
Bay Insulation Systems, Inc., Green Bay, WI
Silvercote, A Distribution International Company, Greenville, SC
Apply for Next Year's Safety Excellence Awards
Applications for the 2020 Safety Excellence Awards are now available on NIA's website (www.insulation.org/membership/safety-award/) for NIA members only.
Safety Award Applications Due:
September 1, 2020
Winners Announced and STAR Reports Distributed:
March 17, 2021
(During NIA's Annual Convention in Maui, Hawaii)
Copyright statement
This article was published in the June 2020 issue of Insulation Outlook magazine. Copyright © 2020 National Insulation Association. All rights reserved. The contents of this website and Insulation Outlook magazine may not be reproduced in any means, in whole or in part, without the prior written permission of the publisher and NIA. Any unauthorized  duplication is strictly prohibited and would violate NIA's copyright and may violate other copyright agreements that NIA has with authors and partners. Contact publisher@insulation.org to reprint or reproduce this content.