NIA Establishes New Industry Certification: The Thermal Insulation Inspector Certification™

Recognizing the Need
Inspections are required on many construction disciplines, including electrical, welding, coating, corrosion under insulation (CUI), plumbing, and more, but currently, inspections are not required for mechanical insulation. Readers of Insulation Outlook magazine know that the benefits of mechanical insulation are very well documented for properly designed, installed, and maintained systems. However, these benefits can be greatly reduced when there is improper design, application, or maintenance.
The need for the National Insulation Association's (NIA's)Thermal Insulation Inspection Certification™ was realized after many discussions with the engineering and insulation end-user communities indicated a need to provide a quality process metric for certified inspectors to evaluate mechanical insulation systems. There is general consensus that the insulation industry's dwindling knowledge base—in combination with the shortage of qualified labor, compressed construction schedules, and other factors—has contributed to an increasing need for independent review by trained and certified inspectors. NIA has stepped in to fill this need and give owners, engineers, and insulation contractors a way to verify the insulation installation.
Course Development
As the voice of the insulation industry, NIA is a trade organization that encompasses the entire mechanical insulation supply chain and provides essential educational, training, and networking opportunities to its members and the greater industry. Utilizing the combined knowledge of the industry, NIA's Board of Directors, committees, and staff develop programs and initiatives to advance NIA's mission, the mechanical insulation industry, and the businesses represented throughout its membership.
With initial funding contributed by NIA's Foundation for Education, Training, and Industry Advancement, NIA sought out subject matter experts with decades of experience and knowledge from all aspects of the insulation industry, including manufacturers, fabricators, contractors, engineering/design firms, and facility owners to begin developing the Thermal Insulation Inspector Certification course in 2017. To further refine the course, in December 2018, an invitation-only mock program was held for select participants who represented all mechanical insulation and industrial and commercial industry segments, including building owners, commercial and industrial engineers, safety professionals, union and merit contractors, distributors/fabricators, manufacturers, and those with technical insulation and educational backgrounds. In May 2019, NIA officially launched the Thermal Insulation Inspector Certification and is excited to announce the availability of erudite Certified Insulation Inspectors. (See the full list on page 32.
Recognizing the Value
With all course participants participating, the feedback received is impressive and affirming:
95% rated this course as good or excellent;
95% would recommend this course to others;
95% received the information needed to explain the inspection process and benefits to potential customers;
95% feel qualified/confident about performing a thermal insulation inspection after taking this course;
100% of participants found the takeaway course materials to be a useful reference when they begin conducting inspections; and
100% received clear information on the type of data needed to conduct an inspection.
Simon Rix, a QC Engineer for Chiyoda Corporation, which handles about 40% of the global LNG market for engineering design and construction, recently became a NIA Certified Insulation Inspector™ to add to his current NACE/CINI/ICorr certifications. He sees a huge benefit of the program as a cost saver for owners and project managers, saying "Now we have the opportunity to filter out a lot of errors before they become an expense." In addition, this certification gives respect and a brand to the insulation industry. He thinks the program will spread quickly, giving the example that engineers and contractors in his company are asking him how they too can become certified. "People recognize the value and it will continue to grow," he added.
NIA Certified Thermal Insulation Inspector™ Benefits
Quality insulation systems help to promote employee and public safety, save on energy costs, improve process output, protect the environment, and reduce costs associated with non-compliant mechanical insulation specifications and improper or insufficient maintenance. This certification program will train future inspectors to have knowledge of mechanical insulation, verify that the insulation is being installed to the specification, and identify potential areas of concern during initial installation or in ongoing operations.
Additional benefits will vary by the type of company and focus area. Following are a few of the top benefits to consider.
Top 3 Benefits for Engineering and Design Firms:
Supports compliance monitoring with the specifications.
Provides an unbiased source for information on conflicting specification provisions or comments.
Provides an unbiased information source for an assessment as to the condition of insulation systems that have or appear to have been damaged, which can assist in identifying potential CUI, personnel, environmental, and other areas of concern.
Top 3 Benefits for Facility Owners:
Supports contractor compliance monitoring with the specifications.
Provides an unbiased source for information on conflicting specification provisions or comments.
Provides a platform for understanding the importance of the role of insulation in CUI, as well as an unbiased information source for assessing the condition of existing insulation systems that have or appear to have potential CUI, personnel, environmental, and other areas of concern.
Top 3 Benefits for Mechanical Insulation Contractors:
Provides a mechanism to request specification clarity.
Complements a new or existing QA/QC program and provides a platform for supporting the contractor position on potential installation disputes.
Offers a means of competitor differentiation.
In addition to the sales and marketing benefit of having certified inspectors on your staff, this one-of-a-kind certification can be an integral part of Quality Assurance (QA)/Quality Control (QC), commissioning, and other processes while helping to achieve the benefits the mechanical insulation system was designed for by verifying the materials and the installation are in compliance with the specifications, standards, or assessments of previously installed mechanical insulation systems.
When considering industry realities—that the industry is requesting certified mechanical insulation inspectors and the financial benefits of inspection—the conclusion is: the use of certified mechanical insulation inspectors should be included in all new construction projects and be an integral part of facility maintenance programs.
Having a mechanical insulation inspection program and certifying inspectors will not resolve all concerns, but it does provide a way for engineering firms, facility owners, and others to verify that they are receiving what they expect and to identify potential areas of concern during initial installation or in ongoing operations. In fact, NIA has already received requests for Certified Thermal Insulation Inspectors.
Patriot Insulation Project Manager David Kitto knew he wanted to be among the first to earn his certification after seeing the course description saying, "I've been in the industry 32 years, and I've always been keen on increasing the level of professionalism in our trade. It was great to hear that engineering firms and large mechanical insulation customers are asking for this certification to ensure they are getting what is specified and also to clarify conflicting specifications." He added that as a Retired U.S. Army 1st Sergeant, his background has taught him that "You can't expect what you don't inspect. As a contractor, I welcome this certification and the new business opportunities it will provide."
While the minimum level of experience is 3 years, there is no maximum level of experience suggested. Whether you have 5 years of experience or 25 years in the industry, this course will be of value to you and your business. When NIA Instructor Ron King was asked what someone with 25 years of experience would learn in the course, he noted, "The role of an inspector is totally different than a contractor or manufacturer or system designer. When you look from an inspector point of view, it will take your perspective to a new level."
Why this Certification Is Needed
Numerous factors have contributed to the current and increasing need for independent review by trained and certified inspectors, making this certification more important today than ever before. Through the work of the Certified Inspectors, this course will, over time, raise the bar for the industry and will benefit all who specify, manufacture, distribute, fabricate, install, and use mechanical insulation.
Two Thermal Insulation Inspector Certification courses for 2019 are scheduled for August and December (see "Upcoming Courses and Registration Information" on this page) and additional dates for 2020 will be announced soon. NIA has reached out to organizations that impact the industry, including industrial and commercial design engineers and facility owners, and the response has been overwhelmingly positive, with the vast majority saying that the certification is overdue and needed for our industry.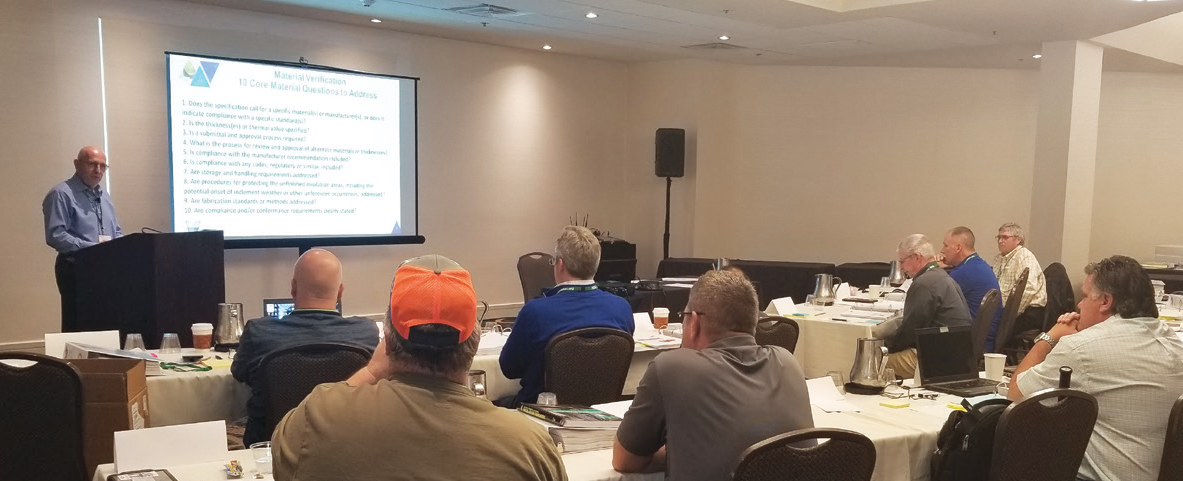 Interested in Becoming a Certified Appraiser?
Course Information
The Thermal Insulation Inspector Certification is designed for individuals who have a minimum of 3 years of experience in commercial and/or industrial construction, process, and maintenance industry, inspection, or related fields, among other pre-qualifications. Each certification class will have a wide variety of experience levels, and the class is designed to handle this range through the 2 parts of the course. Please visit NIA's  website for the full list of pre-qualifications and to read about the instructors' extensive expertise. The 4-day course consists of 2 levels.
Part 1—NIA's Introduction to Mechanical Insulation
The introduction portion includes a comprehensive overview of the industry and helps participants comprehend the underlying question, why insulate? Understanding the objective of why insulation is being installed on a system is critical to the insulation inspection process. Design objectives reviewed in the curriculum are heat transfer, condensation control, energy conservation, fire safety, freeze protection, personnel protection and/or comfort, process control, and noise or acoustical control. In addition, there are other conditions that may need to be considered in the ultimate design and selection of an insulation system. Examples of these design considerations are: abuse resistance, CUI, indoor air quality, maintainability, regulatory considerations, service and location, and service life. Participants also learn the role and responsibilities of an insulation inspector; core insulation materials and protective coverings; how different types of systems and their temperature range impact the inspection; real-life inspection lessons; and a host of inspection-related topics.
Part 2—NIA's Thermal Insulation Inspector Certification Level
Participants learn about insulation in commercial, refrigeration, HVAC, cryogenic, and industrial applications in new construction, retrofit, and maintenance projects; piping and equipment insulation materials and securement methods (including fabrication); what to expect when examining insulation and finishing; jacketing materials that have been in service and exposed to operating temperatures and environmental elements; and common installation occurrences, problem areas, and common occurrences by core material system.
Certification
To qualify to become a Certified Thermal Insulation Inspector, class participants must complete all pre-qualifications, meet the work experience criteria, complete both parts of the course, and pass all related examinations.