NIA Holds Fall Summit, Helping Members Meet Construction Industry Needs
In 2015 and 2017, the National Insulation Association (NIA) held its annual fall member meeting, the Fall Summit, in collaboration the Insulation Expo (IEX) USA trade show, held by international trade show expert, Reed Exhibitions. It is the only U.S. national trade show that focuses exclusively on mechanical insulation, and helps insulation end users gain access to industry experts who can provide insulation products and solutions for their projects.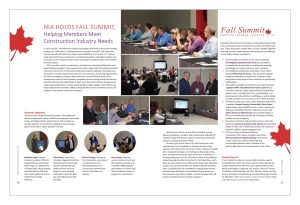 NIA's members consist of contractors, manufacturers, distributor/fabricators, and metal building laminators. They represent the entire supply chain of insulation products and accessories for the commercial and industrial insulation industries. NIA's goal as an association is to both represent the interests of its members, and provide opportunities
for them to strengthen and grow their businesses to meet industry needs. NIA's membership consists of the insulation companies who are striving to lead the industry, and they welcomed the opportunity to learn more about new industry developments, improve job performance, and hear about the latest safety updates. NIA's Fall Summit helps facilitate NIA's members' ability to bring the best and most-needed services and products to the greater construction industry.
Keynote Speakers
The event also included 4 keynote speakers, who addressed efficiency investment, safety, workforce development, and market trends, providing another opportunity for NIA members to develop solutions to the industry's leading issues and make plans for the future. Expert speakers included: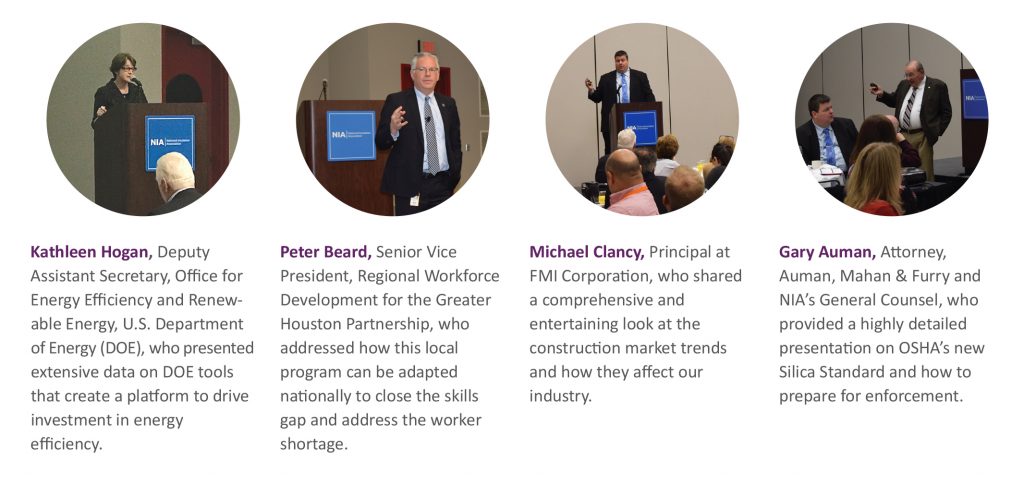 Hearing these reports on new OSHA standards, energy-efficiency initiatives, and labor and market trends will help NIA members shape their business plans to meet the construction industry's ongoing and future needs.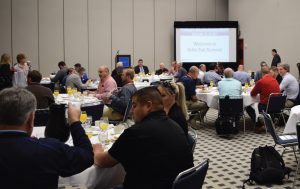 Of course, part of the value of the Fall Summit lies in the opportunities for NIA members to network and share their expertise with others from across the country. Solutions to tough jobs, manpower shortages, and training are discussed among peers to make each company more productive. In addition to the networking events at the Fall Summit, there were additional networking opportunities during the IEX USA trade show, which allow for new contacts to be made and for trade show attendees to gain access to the expertise and solutions that NIA members offer. Companies that are committed to ongoing improvement of contracting, distribution, and manufacturing practices are the companies that perform better—and are the types that will provide exceptional service to their customers.

During the Fall Summit, NIA members had the opportunity to hear from construction experts during 6 forum-style committee meetings. These discussions enable them to hear valuable feedback that they can then implement into their businesses and offerings. Forum-style meetings were held in:
The Associates Committee Forum, which welcomed CUI Mitigation Specialist Peter Bock,who provided a comprehensive presentation on existing and emerging technologies to combat corrosion under insulation;
The Distributors/Fabricators Committee Forum, which featured FMI's Michael Clancy, who presented valuable insights for attendees to match their company's value proposition to the needs of their customers to build lasting relationships;
The Health and Safety Committee Forum, which featured a popular OSHA and Safety Best Practices panel discussion with contractor safety representatives that explored specific issues, including electronic record-keeping, competent person, fall protection, scaffolding, as well as taking member questions on issues such as GPS vehicle tracking;
The Merit Contractors Forum, where attendees heard from 2 speakers: Greater Houston Partnership's Peter Beard shared details about UpSkill Houston, which is closing the skills gap and helping Houston's regional economy; and Alliant Americas' Matt Stevens,who provided details on NIA's new membership benefit, the Contractors Pollution Liability Insurance program;
The Union Contractors Subcommittee Forum, which also welcomed insurance specialist Matt Stevens,who provided details on NIA's new membership benefit, the Contractors Pollution Liability Insurance program; and
NIA's new Young Professional Advisory Committee (YPAC), whose members heard from 2W International's Stephen Mackey, who shared 7 ways to become a leader worth following and provided attendees with a checklist of the steps to take when they returned back to their office.
Future Events
If you missed the chance to connect with insulation experts and benefit from NIA's resources in person, there will soon be a larger industry event with even more opportunities to learn about technologies to improve your systems. NIA's 63rd Annual Convention will be held April 18–20 in Orlando, Florida, and will have an abundance of educational and networking opportunities for attendees. Visit www.insulation.org/convention2018 or email events@insulation.org for more information.
Copyright Statement
This article was published in the February 2018 issue of Insulation Outlook magazine. Copyright © 2018 National Insulation Association. All rights reserved. The contents of this website and Insulation Outlook magazine may not be reproduced in any means, in whole or in part, without the prior written permission of the publisher and NIA. Any unauthorized duplication is strictly prohibited and would violate NIA's copyright and may violate other copyright agreements that NIA has with authors and partners. Contact publisher@insulation.org to reprint or reproduce this content.