NIA Members Focus on Sustainability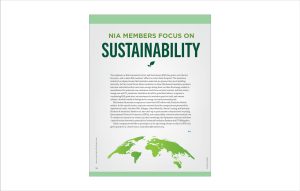 The emphasis on Environmental, Social, and Governance (ESG) has grown over the last few years, and so have NIA members' efforts to reduce their footprint. The insulation industry has always known that insulation materials are greener than most building materials, but this recent focus allows insulation to shine. Mechanical insulation products have low embodied carbon, save more energy during their use than the energy needed to manufacture the materials, are sometimes made from recycled content, and also reduce energy use and CO2 emissions. Insulation should be prioritized when a company is considering ESG goals since an investment in insulation pays for itself, and owners achieve a double benefit of dual gains for energy and environmental goals.
NIA invited all member companies to share their ESG efforts with Insulation Outlook readers. In this special section, responses received from five companies are presented (in alphabetical order): Aeroflex USA, Alkegen, Johns Manville, Owens Corning, and Specialty Products & Insulation. Readers can also catch up on past member columns about recycling, Environmental Product Declarations (EPDs), and sustainability at www.insulationoutlook.com. To continue to enhance our readers' product knowledge, the September 2023 issue will have a special section devoted to materials for Industrial Insulation Systems and CUI Mitigation.
If your company would like to participate in the upcoming column or share its ESG and green practices in a future issue, email editor@insulation.org.