NIA's Education Center
On-Demand Training and Education for the Mechanical Insulation Industry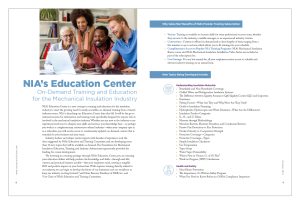 NIA's Education Center is a new concept in training and education for the insulation industry to meet the growing need for easily accessible, on-demand training from a trusted industry source. NIA is launching our Education Center later this fall. It will be the go-to national resource for information and training tools specifically designed for anyone who is involved in the mechanical insulation industry. Whether you are new to the industry or are experienced and want to sharpen your skills and increase your knowledge base—or perhaps you work in a complementary, construction-related industry—when your company opts in as a subscriber, you will receive access to continuously updated, on-demand content that is essential for your business and your team.
Industry leaders and subject matter experts with decades of experience took the ideas suggested by NIA's Education and Training Committee and are developing more than 30 new topics that will be available on demand. The Foundation for Mechanical Insulation Education, Training, and Industry Advancement generously provided the funding for course development.
"By investing in a training package through NIA's Education Center, you are ensuring your education dollars will help produce the knowledge and skills—through real-life, current, and practical business models—that your employees need, creating a tangible ROI and positive impact on your bottom line. With superior training directly related to our industry, we can begin to develop the future of our businesses and our workforce to keep our industry moving forward," said Dean Burows, President of DKB, Inc. and Vice Chair of NIA's Education and Training Committee.
Why Subscribe? Benefits of NIA's Premier Training Subscription
Variety: Training is available to increase skills for every professional on your team, whether they are new to the industry, a middle manager, or an experienced industry veteran.
Convenience: Content is offered on demand and in short lengths of time, ranging from a few minutes to up to an hour, which allows you to fit training into your schedule.
Complimentary Access to Popular NIA Training Programs: NIA's Mechanical Insulation Basics course and NIA's Mechanical Insulation Installation Video Series are included as part of the subscription fee.
Cost Savings: For one low annual fee, all your employees receive access to valuable and relevant industry training on an annual basis.
New Topics Being Developed Include:
Understanding Insulation Materials
Breathable and Non-Breathable Coverings
Chilled Water and Refrigeration Insulation Systems
The Difference between Quality Assurance (QA)/Quality Control (QC) and Inspection
Emittance
Fitting Factors—What Are They and Why/How Are They Used?
Guide to Insulation Fastening
Hydrophobic, Hydroscopic, and Water Resistant—What Are the Differences?
Insulation Product Categories
K-, R-, and U-Values
Measure through Methodology
Moisture Barriers, Moisture Retarders, and Condensate Barriers
Passive Fire Protection vs. Fire Protection
Product Density vs. Compressive Strength
Protective Coverings—Categories
Protective Coverings—Types
Simple Insulation Calculators
Use Temperature
Vapor Stops
Water Vapor Permeability
What's New in Version 5.1 of 3E Plus®
Work-in-Progress (WIP) Calculations
Health and Safety
Heat Illness Prevention
The Importance of a Written Safety Program
What You Need to Know Before an OSHA Compliance Inspection
Human Resources
Harassment in the Workplace
Human Resources for Small Contractors
Outcomes from FMI's Talent Development Study
General Business
Advantages of Association Membership
Gross Margin vs. Markup
LEED Credits and Mechanical Insulation
Understanding Different Types of Contracts
 What Constitutes the Basis of a Contractual Claim?
Subscription Packages
Visit www.insulation.org/niaeducationcenter for pricing and more information. Details on how to subscribe will be available when NIA's Education Center officially launches later this fall. For questions, please email training@insulation.org.