NIA's Virtual Spring Summit: Educate, Engage, Elevate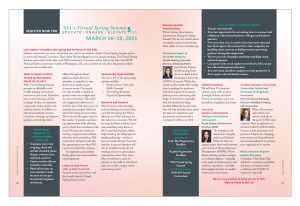 Let's Gather Virtually in the Spring and In-Person in the Fall!
Industry connections are more critical than ever, and we are excited to hold a Virtual Spring Summit and an in-person fall Annual Convention. That's right! We have flipped our two annual meetings. Our Virtual Spring Summit event will be held online, and NIA's 65th Annual Convention will be held in the fall at the MGM National Harbor, located just outside of Washington, DC, from October 26–28, 2021. Registration will be open soon for our fall event.
What to Expect at NIA's Virtual Spring Summit: March 16–18, 2021 NIA's Virtual Spring Summit
presents an affordable event to offer training and industry resources to your team. Education, peer-to-peer learning, and the exchange of ideas are important components of the member-led industry sessions. In addition to educational industry sessions, committee meetings, and keynote speakers, networking will be offered through the Remo platform, which allows for attendees to network in a way that is more similar to past in-person events. Our regular two-day schedule is relaxed to spread events over multiple days for your convenience. This schedule configuration allows you to work for part of the day so you can maintain your projects while you attend the Spring Summit online. This event provides great value for the number of speakers and learning opportunities while allowing you to attend from anywhere in the world. We hope that small contracting companies and members who have never attended an NIA event before will join in and take the opportunity to see what NIA can do to benefit their company.
For registration and schedule details, please visit www.insulation.org/springsummit.
Listen to Your Peers!
100% of 2020 Virtual Fall Summit survey respondents said they would attend a Virtual
Spring Summit event.
Sponsorship Opportunities
Here are a few of the sponsorship options available:
Product Demo Video and Raffle Giveaway
Networking Reception Digital Ad Sponsorship
Network and Connect
Most in-person sales meetings and networking events have been canceled this spring, but NIA is offering one of the only ways for the industry to reconnect. We will be using the Remo platform (you may remember using Remo at the Virtual Fall Summit), which helps break up the full group into smaller gatherings—similar to how we would network if we were together in-person! Speakers will also be available during the networking session for personalized conversations about their topic. Plus, we will have a must-be-present-to win raffle as well. Don't miss out on these unique virtual networking events!
Keynote Speaker Presentations
We are hosting three keynote presentations during the Spring Summit. We are very excited about our speakers and are announcing them online at www.insulation.org.
The Business Impact of the COVID-19 Vaccine
Martha Roherty, Executive Director, Advancing States
Join Martha Roherty of Advancing States for an in-depth look at the business side of the COVID-19 vaccine. While this massive public health effort brings hope to putting this pandemic behind us, it presents enormous delivery, access, and timing challenges for businesses, especially with the distribution being handled differently by each state. She will help attendees learn about the risks, the regulations, and the rewards associated with a vaccinated workforce in 2021.
Industry Sessions
We will have 10 committee sessions, many with speakers. A sample of them are below.
Visit www.insulation.org to see the full list of speakers and events.
Associates (Manufacturers) Session
Thriving in New Business Environments
Nicole Belyna, Field Services Director, SHRM
The workplace is the intersection of people, culture, and business. When the three are aligned, people thrive and businesses grow. Society of Human Resources Management's (SHRM's) Nicole Belyna will help attendees navigate an evolving workplace—especially in the realm of virtual customer and workforce experiences—and offer fresh insights into how we conduct business and create success.
Distributors/Fabricators Session
Construction Outlook and Developing Strategy Amid Uncertainty
Paul Giovannoni, Managing Director—Building Products, FMI Corporation
What will customer expectations and services look like in the post-COVID environment? Hear an updated construction industry outlook, which focuses on how preferences and practices of buyers are changing, how services are being delivered, and recommendations to position your organization for success.
Merit Contractors Regional Updates Discussion
Committee Chair Rudy Nigl will lead a committee roundtable discussion of current market
conditions and COVID-19 impacts by region.