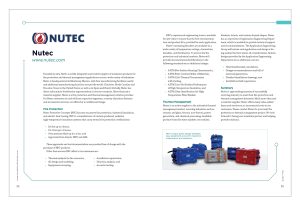 Founded in 1975, Nutec is a fully integrated and trusted supplier of insulation products for fire protection and thermal management applications across a wide variety of industries. Nutec is headquartered in Monterrey, Mexico, with four manufacturing facilities nearby and additional manufacturing locations around the world: Charlotte, North Carolina and Houston, Texas in the United States; as well as in Spain and Brazil. Globally, Nutec has direct sales and/or distribution representation in over 50 countries. More than just a material supplier, Nutec is a fire protection and thermal management solution provider. For Nutec customers in each of these respective segments, a variety of product features and incremental services are offered at no additional charge.

Fire Protection
Nutec Protective Concepts (NPC) focuses on passive fire protection, industrial insulation, and electric heat tracing. NPC is a manufacturer of custom-produced, jacketed, high-temperature insulation systems that carry several fire protection certifications:
Jet fire up to 2 hours,
UL-1709 up to 2 hours,
Over pressure blast up to 1.4 bar, and
Approvals from Lloyds, DNV, and ABS.
These approvals and test documentation are provided free of charge with the
purchase of NPC products.
Other free services NPC offers to its customers are:
Thermal analysis for fire scenarios,
3D design and modeling,
Equipment surveying,
Installation supervision,
Heat loss analysis, and
Acoustic testing.
NPC's experienced engineering team is available for site visits to ensure that the best recommendation and product fit is provided for each application.
Nutec's insulating blankets are available in a wide variety of temperature ratings, chemistries, densities, and thicknesses. To service the fire protection and industrial markets, Nutec will provide documentation/certifications to the following standards at no additional charge:
ASTM E84–Surface Burning Characteristics,
ASTM E136–Combustibility of Materials,
ASTM C518–Thermal Transmission with Cycling,
ASTM C411–Hot Surface Performance of High Temperature Insulation, and
ASTM C892–Specification for High Temperature Fiber Blanket.
Thermal Management
Nutec is an active supplier to the industrial thermal management market, servicing industries such as ceramic and glass, ferrous, non-ferrous, power generation, and chemical processing. Available product forms for these markets are modules, blankets, boards, and custom-formed shapes. Nutec has an experienced Application Engineering Department, which is available to provide technical support and recommendations. The Application Engineering Group will review each application and design a lining system that best meets all considerations. System designs provided by the Application Engineering Department at no additional cost are:
Heat flow/thermal calculations,
Design recommendations and bill of materials generation,
Detailed installation drawings, and
Installation field supervision.
Summary
Nutec is approaching 50 years of successfully servicing industry to meet their fire protection and thermal management demands. Much more than just a material supplier, Nutec offers many value-added items and services at no incremental costs to our customers. Please contact Nutec for your next fire protection or thermal management project. We look forward to being your insulation partner and helping provide solutions.