OSHA Announces Final Rule Requiring Electronic Submissions for Employers in Certain High-Hazard Industries
"Congress intended for the Occupational Safety and Health Act to include reporting procedures that would provide the agency and the public with an understanding of the safety and health problems workers face, and this rule is a big step in finally realizing that objective. OSHA will use these data to intervene through strategic outreach and enforcement to reduce worker injuries and illnesses in high-hazard industries."
~ Doug Parker, Assistant Secretary for Occupational Safety and Health, July 17, 2023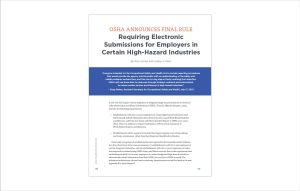 A new rule will require certain employers in designated high-hazard industries to electronically submit injury and illness information to OSHA. The rule, effective January 1, 2024, includes the following requirements:
Establishments with 100 or more employees in certain high-hazard industries must
electronically submit information from their Form 300, Log of Work-Related Injuries
and Illnesses, and Form 301, Injury and Illness Incident Report, to OSHA once a year. (Note: This is in addition to required submission of Form 300A, Summary of
Work-Related Injuries and Illnesses.)
Establishments will be required to include their legal company name when making
electronic submissions, rather than their Employer Identification Number.
Previously, two groups of establishments were required to electronically submit information from their Form 300A annual summary: (1) establishments with 20 to 249 employees in certain designated industries, and (2) establishments with 250 or more employees in industries required to routinely keep OSHA injury and illness records. New is the requirement that establishments with 100 or more employees in certain designated high-hazard industries electronically submit information from their OSHA 300 and 301 to OSHA annually. The industries included were chosen based on industry hazardousness and will be listed in the new Appendix B to 1904 Subpart E.
The Final Rule includes employers that had 100 or more employees at any point during the previous calendar year, including all full-time, part-time, temporary, and seasonal employees. Submissions will be due by March 2 for the previous calendar year.
OSHA plans to publish some of the data collected on its website to allow employers, employees, potential employees, employee representatives, current and potential customers, researchers, and the general public to make informed decision about a company's workplace safety and health record.
With the Final Rule not in effect until January 1, 2024,affected employers should have time to prepare for the new requirements and establish a process to ensure timely electronic submissions.
Additional information on this new rule will be detailed in a later article.
NIA provides the information in this article as an educational resource to promote a safer industry. While the information provided is based on the NIA's and the author's best judgment and the best information available at the time the article was prepared, NIA encourages all readers to consult with their safety experts and legal counsel for their unique business circumstances or when making changes to their safety programs.
---
Construction Industry: Focusing on Mental Health and Suicide Prevention
Every year, during September, which is National Suicide Prevention Month, the construction industry dedicates a week to raising awareness about the unique challenges workers face in construction that lead to suicide. During Construction Suicide Prevention Week, September 4–8, the industry calls attention to the higher-than-average number of suicides in the construction industry and provides resources to help prevent those deaths. Visit
https://tinyurl.com/yh6ymt54
to learn more.
During OSHA's Safe + Sound Week that took place in August, the agency released three new videos (available in English and with Spanish captioning at https://tinyurl.com/5n8b7s5s) to provide tips on reaching out to workers to support their mental health. The videos
are less than 3 minutes long and address mental health as part of every workplace safety and health program(https://tinyurl.com/ye24r64v). Visit osha.gov to learn more.
The October issue of Insulation Outlook will include several articles on the important topic of mental health for the construction industry.