OSHA Enforcement and Compliance Increase in 2019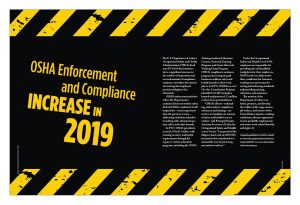 The U.S. Department of Labor's Occupational Safety and Health Administration (OSHA) fiscal year (FY) 2019 final statistics show a significant increase in the number of inspections and a record amount of compliance assistance to further the mission of ensuring that employers provide workplaces free of hazards.
OSHA's enforcement activities reflect the Department's continued focus on worker safety. Federal OSHA conducted 33,401 inspections—more inspections than the previous 3 years—addressing violations related to trenching, falls, chemical exposure, silica, and other hazards.
In FY19, OSHA provided a record 1,392,611 workers with training on safety and health requirements through the Agency's various education programs, including the OSHA Training Institute Education Centers, Outreach Training Program, and Susan Harwood Training Grant Program. OSHA's compliance assistance programs have helped small businesses address safety and health hazards in their workplaces. In FY19, OSHA's no-cost On-Site Consultation Program identified 137,885 workplace hazards and protected 3.2 million workers from potential harm.
"OSHA's efforts—rulemaking, enforcement, compliance assistance and training—are tools to accomplish our mission of safety and health for every worker," said Principal Deputy Assistant Secretary of Labor for Occupational Safety and Health Loren Sweatt. "I am proud of the diligent, hard work of all OSHA personnel who contributed to a memorable year of protecting our nation's workers."
Under the Occupational Safety and Health Act of 1970, employers are responsible for providing safe and healthful workplaces for their employees.OSHA's role is to help ensure these conditions for America's working men and women by setting and enforcing standards; and providing training, education, and assistance.
The mission of the Department of Labor is to foster, promote, and develop the welfare of the wage earners, job seekers, and retirees of the United States; improve working conditions; advance opportunities for profitable employment; and assure work-related benefits and rights.
Originally published on OSHA's website at www.osha.gov/news/newsreleases/trade/12032019. For more information, visit www.osha.gov.
Copyright statement
This article was published in the January 2020 issue of Insulation Outlook magazine. Copyright © 2020 National Insulation Association. All rights reserved. The contents of this website and Insulation Outlook magazine may not be reproduced in any means, in whole or in part, without the prior written permission of the publisher and NIA. Any unauthorized  duplication is strictly prohibited and would violate NIA's copyright and may violate other copyright agreements that NIA has with authors and partners. Contact publisher@insulation.org to reprint or reproduce this content.
Disclaimer: Unless specifically noted at the beginning of the article, the content, calculations, and opinions expressed by the author(s) of any article in Insulation Outlook are those of the author(s) and do not necessarily reflect the views of NIA. The appearance of an article, advertisement, and/or product or service information in Insulation Outlook does not constitute an endorsement of such products or services by NIA. Every effort will be made to avoid the use or mention of specific product brand names in featured magazine articles.