Safety is a key component for all construction companies, but it can be hard to keep up with regulations. Insulation Outlook staff recently reached out to the Occupational Safety and Health Administration (OSHA) to get an update on the latest regulatory developments. Below is the most current information available from an OSHA spokesperson on construction-related regulations.
OSHA convened a Small Business Advocacy Review Panel in August 2018 to discuss a potential telecommunications towers standard. OSHA will use information collected from a Small Business Regulatory Enforcement Fairness Act (SBREFA) panel to identify effective work practices and advances in
engineering technology that would best address industry safety and health concerns. While this panel will focus on communication towers, OSHA will consider also covering structures that have telecommunications equipment on or attached to them (e.g., buildings, rooftops, water towers, billboards, etc.). No proposed or final rule has been published.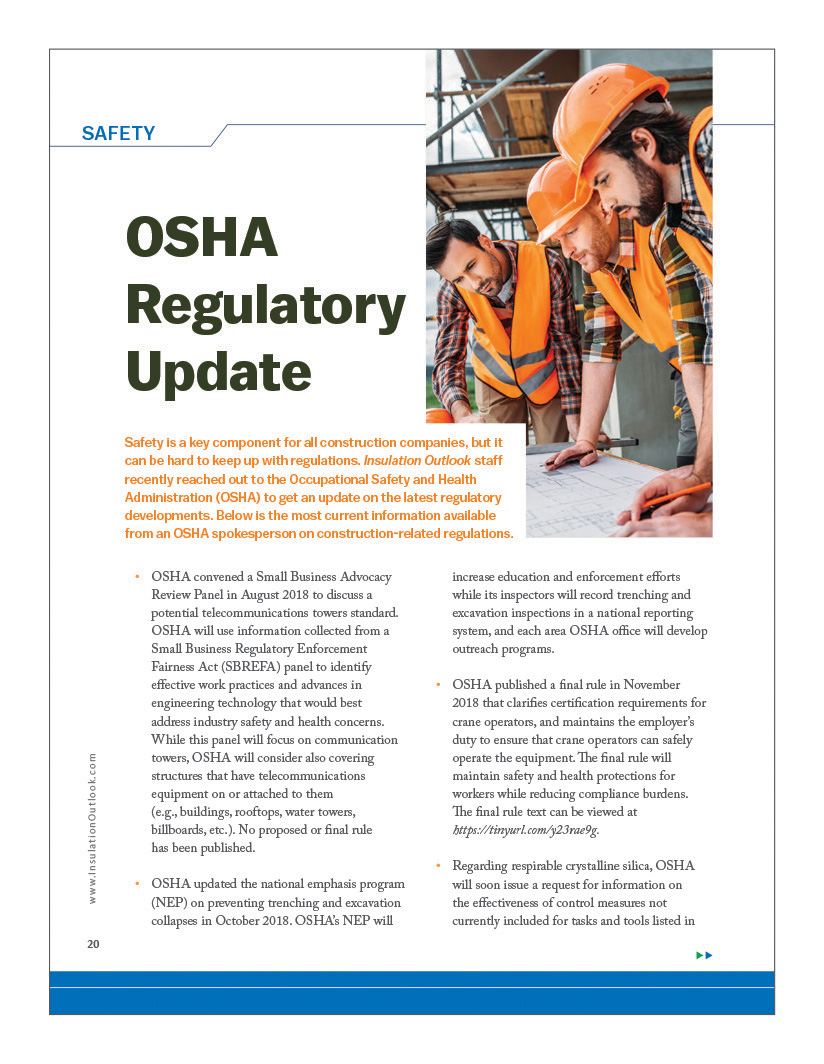 OSHA updated the national emphasis program (NEP) on preventing trenching and excavation collapses in October 2018. OSHA's NEP will increase education and enforcement efforts while its inspectors will record trenching and excavation inspections in a national reporting system, and each area OSHA office will develop outreach programs.
OSHA published a final rule in November 2018 that clarifies certification requirements for crane operators, and maintains the employer's duty to ensure that crane operators can safely operate the equipment. The final rule will maintain safety and health protections for workers while reducing compliance burdens. The final rule text can be viewed at https://tinyurl.com/y23rae9g.
Regarding respirable crystalline silica, OSHA will soon issue a request for information on the effectiveness of control measures not currently included for tasks and tools listed in Table 1: Specified Exposure Control Methods When Working With Materials Containing Crystalline Silica. Table 1 is posted at https://www.osha.gov/silica/Table1sect1926.1153.pdf. OSHA is also interested in tasks and tools involving exposure to respirable crystalline silica that are not currently listed in Table 1, along with information on the effectiveness of dust control methods in limiting worker exposure to respirable crystalline silica when performing those operations. OSHA intends to evaluate the available information to determine if revisions to Table 1 may be appropriate.
On January 9, 2017, OSHA published its final rule Occupational Exposure to Beryllium and Beryllium Compounds in the Federal Register (82 FR 2470). OSHA concluded that employees exposed to beryllium and beryllium compounds at the preceding permissible exposure limits (PELs) were at significant risk of material impairment of
health, specifically chronic beryllium disease and lung cancer. OSHA also concluded that the new 8-hour time-weighted average (TWA) PEL of µg/m3 reduced this significant risk to the maximum extent feasible.
After a review of the comments received and a review of the applicability of existing OSHA standards, OSHA proposed to revoke ancillary provisions applicable to the construction and shipyard sectors on June 28, 2018 (82 FR 29182), but to retain the new lower PEL of 0.2 µg/m3 and the short-term exposure limits (STEL) of 2.0 µg/m3 for those  sectors. OSHA has evidence that beryllium exposure in these sectors is limited to the following operations: abrasive blasting in construction, abrasive blasting in shipyards, and welding in shipyards. OSHA has a number of standards already specifically applicable to these operations, including ventilation (29 CFR 1926.57) and mechanical paint removers
(29 CFR 1915.34).
Because OSHA determined that there is significant risk of material impairment of health at the new lower PEL of 0.2 µg/m3, OSHA continues to believe that it is necessary to protect workers exposed at this level. However, OSHA is now reconsidering the need for ancillary provisions in the construction and shipyards sectors, and is currently reviewing comments received in response to the proposal to finalize the rulemaking.
Under the Occupational Safety and Health Act of 1970, employers are responsible for providing safe and healthful workplaces for their employees. OSHA's role is to help ensure these conditions for America's working men and women by setting and enforcing standards, and providing training, education and assistance. For more information, please visit OSHA's website at www.osha.gov.
---
Side Bar: Safety Resources
OSHA's Hazard Identification Training Video Game
It is an interactive, online, game-based training tool for small business owners, workers, and others interested in learning the core concepts of hazard identification. After using this tool, users will better understand the process to identify hazards in their own workplace.
This tool is intended to:
Teach small business owners and their workers the process for finding hazards in their workplace,
 Raise awareness on the types of information and resources about workplace hazards available on OSHA's website.
Visit www.osha.gov/hazfinder/index.html to use it.
OSHA's "$afety Pays" Program
OSHA's "$afety Pays" program can help employers assess the impact of occupational injuries and illnesses on their profitability. This program uses a company's profit margin, the average costs of an injury or illness, and an indirect cost multiplier to project the amount of sales a company would need to cover those costs. The program is intended as a tool to raise awareness of how occupational injuries and illnesses can impact a company's profitability, not to provide a detailed analysis of a particular company's occupational injury and illness costs.
The "$afety Pays" program will:
Allow users to pick an injury type from a drop-down list or to enter their workers' compensation costs
Prompt users for information to do the analysis, including their profit margin and number of injuries
Generate a report of the costs and the sales needed to cover those costs
Visit www.osha.gov/dcsp/smallbusiness/safetypays/estimator.html.