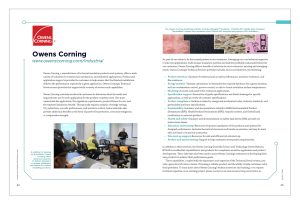 Owens Corning, a manufacturer of technical insulation products and systems, offers a wide variety of solutions for commercial, mechanical, and industrial applications. Product and application support is provided to customers to help ensure that the finished installation delivers the performance required by a given application. Owens Corning's Technical Services team provides this support with a variety of services and capabilities.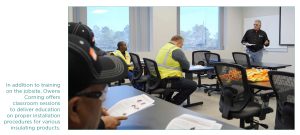 Owens Corning routinely works with customers to determine what the needs and requirements are for each application for the product or system used. One must understand the application, the regulatory requirements, product fitness for use, and the expected insulation benefit. This typically requires analysis of energy savings, CO2 reductions, acoustic performance, and moisture control. Some materials also provide additional benefits in the form of passive fire protection, corrosion mitigation, or compressive strength.

As part of our vision to be the trusted partner to our customers, leveraging our core  technical expertise to win new applications, build unique insulation systems and lead the profitable sustainable future for our customers, Owens Corning offers a breadth of solutions to meet customers' existing and emerging needs. Owens Corning's Technical Services portfolio includes, but is not limited to, the following:
Product selection–Guidance for thermal and acoustic performance, moisture resistance, and fire resistance.
Energy analysis–Thermal calculations to determine the required thickness for a given situation, such as condensation control, process control, or safe-to-touch insulation surface temperatures.
Modeling–Acoustic and passive fire resistance applications.
Specification support–Generation of guide specifications and detail drawings for specific applications, as well as review of customer specifications.
Product compliance–Guidance related to energy and mechanical codes, industry standards, and government purchase specifications.
Sustainability–Guidance and documentation related to LEED, Environmental Product Declarations (EPD), Health Product Declarations (HPD), recycled content, and GreenGuard certification on selected products.
Health and safety–Guidance and documentation on safety data sheets (SDS) and safe use instructions sheets.
Education and training–Resources for proper installation of the products and systems for designed performance. Includes theoretical classroom and hands-on sessions, and may be available as virtual or in-person instruction.
Site start-up support–Resources for safe and efficient job site start-up.
Product and system testing–Support to help customers meet project requirements.
In addition to these services, the Owens Corning Granville Science and Technology Center features NVLAP-accredited lab capabilities to test products for compliance as well as application and product development. These labs have also been used to assist Owens Corning's customers in developing their own products to achieve their performance goals.
These capabilities, coupled with the experience and expertise of the Technical Services team, provide a great deal of value in terms of creating a reliable product and the ability to help customers solve their problems. To learn more about Owens Corning's technical services and training, or to request technical expertise on an existing project, please contact us at www.owenscorning.com/contact-us.