Owens Corning
Our Mission at Work—Progress on the Sustainability Journey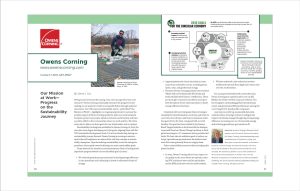 Contact: 1-800-GET-PINK®
Perhaps you have heard the saying, "you can't manage what you can't measure." Owens Corning continually measures the progress we are making on our mission to build a sustainable future through material innovation. Our 17th annual sustainability report aptly titled "Our Mission at Work"—highlights our ongoing aspirations to increase the positive impact of Owens Corning products, halve our environmental footprint, protect our people, advance inclusion and diversity, and have a positive effect in the communities where we work and live. We strive every day to deliver on these goals for our stakeholders and our planet.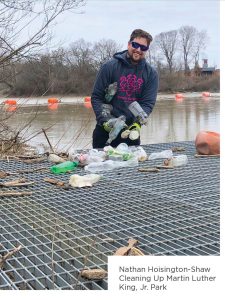 Sustainability has long been embedded in Owens Corning. In 2019, the executive team began developing our 2030 goals, aligning them with the U.N. Sustainable Development Goals. It is not just leadership driving our sustainability journey forward. Owens Corning is creating an environment where all employees are aware of the role they can play as sustainability champions. Operationalizing sustainability across the enterprise provides a clearer path toward achieving our 2030 sustainability goals.
To get down to the numbers and measurement, Owens Corning made important progress toward our sustainability goals in 2022:
We reduced greenhouse gas emissions by driving energy efficiency in our operations and continuing to invest in alternative forms of energy.
Approximately 56% of our electricity in 2022 came from renewable sources, including wind, hydro, solar, and geothermal energy.
Fourteen Owens Corning products have received "Made with 100% Renewable Electricity and Reduced Embodied Carbon" certification. These products give commercial architects and specifiers the option of low-carbon products to build energy-efficient structures.
Consistent with our 2030 goals, Owens Corning is committed to decarbonization. As of year-end 2022, we are at 22% of our Scope 1 and Scope 2 emissions reduction goal of 50% for 2030, compared with our 2018 baseline. Our goal has been verified by the Science Based Targets initiative to be in line with the Intergovernmental Panel on Climate Change's pathway to limit global warming to 1.5°C maximum above preindustrial levels. We have also set ambitious goals to reduce our Scope 3 greenhouse gas emissions, the indirect emissions that come primarily from our supply chain.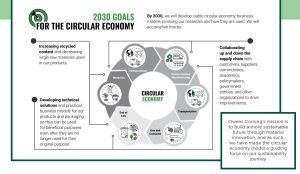 Other sustainability measures that are helping the planet include:
In 2022, Owens Corning reduced our impact on air quality in the areas where we operate, reducing VOC emissions 40% and fine particulate matter (PM2.5) by 30% over the 2018 baseline.
We have achieved a 25% reduction in water withdrawal intensity from high water stress sites over the 2018 baseline.
For an unprecedented fourth consecutive year, Owens Corning was ranked number one on 3BL Media's list of the 100 Best Corporate Citizens. The list recognizes outstanding global environmental, social, and governance (ESG) performance among the 1,000 largest U.S. based public companies.
Any way you add it up, measurable data demonstrate Owens Corning's actions to mitigate the impacts of climate change through improving energy efficiency, increasing our use of renewable energy, and reducing greenhouse gas emissions.