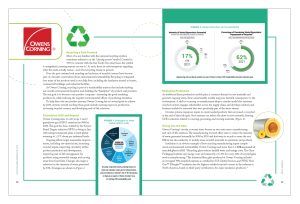 Recycling a Path Forward
Most of us are familiar with the universal recycling symbol, sometimes referred to as the "chasing arrows" symbol. Created in 1970 to coincide with the first Earth Day observance, the symbol is unregulated, meaning anyone can use it.1 As such, there are misconceptions regarding what the mark actually means—and what recycling means in general.
Over the past century, both recycling and inclusion of recycled content have become part of a broader conversation about environmental sustainability. Recycling is integrated into many of the products used in our daily lives, including the insulation trusted in homes, commercial buildings, and industrial facilities.
At Owens Corning, recycling is part of a sustainability mission that includes halving our overall environmental footprint and doubling the "handprint" of products and practices. The end goal is to become a net-positive company—increasing the good insulating
products do, while reducing the negative environmental effects of producing insulation.
To help direct the net-positive journey, Owens Corning has set several goals to achieve by 2030. Actions toward reaching those goals include assessing inputs in production, increasing recycled content, and developing end-of-life solutions.
Destination 2030 and Beyond
Owens Corning aims to curb scope 1 and 2 greenhouse gas (GHG) emissions by 50% by 2030. This goal has been verified by the Science Based Targets initiative (SBTi) as being in line with intergovernmental plans to limit global warming to 1.5°C above pre-industrial levels.
Ongoing efforts target measurable improvements, including raw material use, increasing recycled inputs, improving circularity within product production and development, improving end-of-life management for products, using renewable energy, and moving away from fossil fuels. Changes also target a reduction in the intensity of waste generated by 50%. Strategies are shown in Figure 1.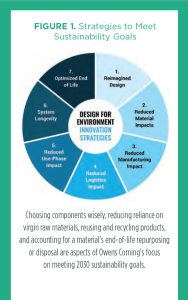 Reshaping Production
As traditional linear production models place a constant demand on raw materials and generate ongoing waste, these unsustainable models may pose harmful consequences to the environment. A shift is occurring as manufacturers adopt a circular model that increases recycled content, engages stakeholders across the supply chain, and develops solutions and business models for materials that were previously part of the waste stream.
Circular systems repurpose inputs to create needed products that are reused or recycled at the end of their life span. Such systems can reduce the draw on raw materials, limiting GHG emissions related to sourcing, processing, and moving materials (Figure 2).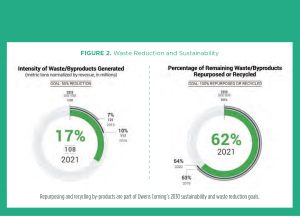 Diving into the Data
Owens Corning's circular economy team focuses on two main areas: manufacturing and end-of-life solutions. The manufacturing-focused effort aims to reduce the intensity of waste generated internally by 50% by 2030 and find ways to recycle or reuse the rest. Efforts are also underway to include more recycled materials in operations and products. Insulation is an obvious example of how recycling manufacturing inputs complements environmental sustainability. Owens Corning used more than 1.4 billion pounds of recycled glass in 2021.2 Recycling glass reduces landfill waste and energy costs. The Glass Packaging Institute says energy costs are lowered by 2 to 3% for every 10% of recycled glass used in manufacturing.3 The industrial fiber glass produced at Owens Corning includes an averageof 53% recycled content, as certified by SCS Global Services, and PINK Next Gen™ Fiberglas™ insulation has the highest certified recycled content in the industry in North America, based on third-party certifications for major insulation producers.4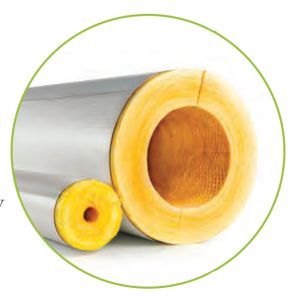 It is refreshing to consider how glass used to bottle a cold beverage goes into products that help keep us warm and comfortable. Calculations from an environmental product declaration (EPD) for Owens Corning fiber glass pipe insulation show that the equivalent of four glass bottles are recycled into a 3' long section of 4" pipe size with 2" of fiber glass pipe covering.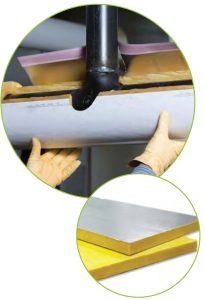 However, glass is not the only recycled material used in our insulation, as other insulations include notable amounts of recycled content. FOAMULAR® XPS insulation generated in North America has 20% pre-consumer content, and Thermafiber® mineral wool insulation has at least 70% recycled content (as verified by ICC-ES).
Taking Back the Material Benefits
Multiple efforts are ongoing— internally and with third-party experts—to repurpose products at the end of their service life. The Owens Corning PAROC "rewool" or take back system used with rock wool insulation in Sweden is a good example (Figure 3). Trimmings or leftover materials that previously would have gone to a landfill are returned for recycling—made possible through investments in technologies to collect, treat, and repurpose content. In one practice, collected insulation scraps are ground for inclusion in new insulation without the need for remelting.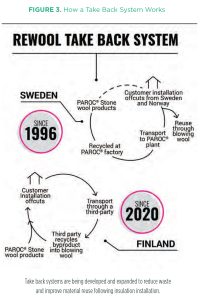 The take-back model has expanded to other countries, including Norway and Finland. The recycling program in Finland started in 2020, with PAROC accounting for about 120 metric tons of stone wool and glass wool. These programs will inform similar circular systems in other areas.
Good for the Company, Good for the Customer
Increasing use of recycled product in insulation also helps customers meet green building program requirements, and it helps reduce reliance on first-use raw materials. Continually seeking opportunities to increase the recycled content in products, validating the amount of recycled content through third-party organizations, and promoting local- and state-level recycling programs and organizations all support an enterprise-wide effort.
Reaching the sustainability goals set for 2030 is just a start on a journey that will continue well beyond that target date. While the goals are ambitious, each production effort—like transitioning to recycled glass rather than raw sand—can help cut emissions and improve the carbon footprint of products one measured, transparent step at a time.
About Owens Corning
Learn more about Owens Corning's recycling efforts or read the 2021 Sustainability Report at www.owenscorning.com/enus/corporate/sustainability. © Copyright 2022 Owens Corning. All Rights Reserved. Printed with permission. All images provided by Owens Corning.
References
1. Sierra Club of Ohio. (June 2021). What do the chasing arrows mean, anyway? https://www.sierraclub.org/ohio/blog/2021/06/what-do-chasing-arrows-mean-anyway
2. Owens Corning. (2022). Building a sustainable future: 2021 Sustainability Report.
3. Glass Packaging Institute. Glass container recycling loop. https://www.gpi.org/glass-recycling-facts
4. Total recycled content for unfaced fiber glass insulation products in North America based on current third-party certified recycled content certifications for Owens Corning, Knauf, CertainTeed, and Johns Manville.