Power and Energy's Impact on the Insulation Industry
There's a great deal happening throughout the energy industry, including the greater adoption of digital technologies to increase performance—all of which spell increased opportunities for the insulation industry.
Oil and Gas, including LNG
While global energy demand will continue to increase, growth will be slower—an average of about 0.7% a year through 2050—compared to an average of more than 2% from 2000 to 2015, according to "Energy 2050: Insights from the Ground Up," by Scott Nyquist, a Senior Partner in McKinsey's Houston office.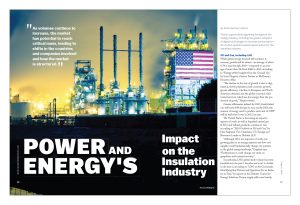 "The decline in the rate of growth is due to digitization, slower population and economic growth, greater efficiency, a decline in European and North American demand, and the global economic shift toward services, which use less energy than the production of goods," Nyquist writes.
Greater efficiencies indeed: by 2035, fossil-fueled cars will need 40% less gas to run, and by 2050, the amount of energy used to produce each unit of GDP will be half what it was in 2013, he says.
The United States is becoming an exporter: exports of crude, as well as liquefied natural gas (LNG) and refined products, continue to rise, according to "2018 Outlook on Oil and Gas," by John England, Vice Chairman, U.S. Energy and Resources Leader at Deloitte LLP.
"Although still a net importer of crude, our growing place as an energy exporter and low-cost supplier could fundamentally change our position in the global energy landscape," England says.  "Furthermore, it could change our views on geopolitics and national security."
In particular, LNG global trade volume has risen fourfold over the past 2 decades and is set to double in the next 2, according to "LNG at the Crossroads: Identifying Key Drivers and Questions for an Industry in Flux," by experts at the Deloitte Center for Energy Solutions. Future supply will come heavily from the United States and Australia, with demand rising within Asia and Europe.
"As volumes continue to increase, the market has potential to reach critical mass, leading to shifts in the countries and companies involved and how the market is structured," the experts write.
The LNG industry is at a point where it could either retrench, focusing on liquefaction and transport for a fixed fee with "utility-like returns," or expand into a broader, globalized industry with higher level of activity, market specialization, and a robust and liquid spot market, according to the experts.
"This all depends on companies taking advantage of the new sources of gas—North America, Africa, Middle East, or Oceania—and building a business on transparent pricing based on natural gas supply and demand, with a potential for sustained pricing convergence, net of transport, between the 3 major markets," they write.
John T. Lamberton, Eastern Region President of Irex Contracting Group, a NIA Contractor member company in East Petersburg, Pennsylvania, says his firm performs a lot of oil and gas work in the greater Ohio Valley, Pennsylvania, and southern New York, and a lot of what the company is doing is the direct result of the Marcellus Shale find—"a hot spot for oil and gas."
"It's been a good boon for our business, and a big part of which has been for the transport of gas to compression stations when moving the product from its source to another part of the country," Lamberton says. "Every 50 miles or so there's a compression station; each compression station has a significant amount of insulation work and there are a large number of pipelines under construction or planned—they are literally pumping it thousands of miles, including to LNG terminals along the East Coast."
In addition, there is an extremely large ethane cracker facility being built outside of Pittsburgh, which takes the gas from the Marcellus Shale and separates it into ethylene and other components, to be used in industries such as plastics manufacturing, he says.
"That particular project is so large that it's drawing a lot of contractors and a lot of craft," Lamberton says. "So there's likely going to be a significant shortage of labor for other projects in the region, because that 3-year project is going to employ so many insulators."
Ted Berglund, President and CEO of Dyplast Products, LLC, a NIA Manufacturer member company in Miami, Florida, says oil and gas is another sector that impacts the insulation business "dramatically."
"Natural gas is more impactful for us, because of applications that use our products, such as our closed-cell rigid foam used for applications where the material within the piping system is cold, all the way down to liquid gases," Berglund says.
For the liquid natural gas sector, the United States had a period of about 10 years of building terminals to import LNG into the country, and Dyplast performs a lot of work on those projects, including the construction of very large compressing facilities to export LNG. "There is a tremendous requirement for piping insulation within these facilities, so that's been a positive for our segment of the industry," Berglund says. "There are some other products that are increasingly in demand… and we expect that trend to continue as natural gas production and the construction of the corresponding pipelines continue to grow."
The increase of directional drilling is also positively impacting the insulation industry, he says. Moreover, the availability of natural gas has caused the United States to become a very low-cost platform for the production of chemical components such as ethylene. More platforms are being constructed within the Gulf Coast and now within the eastern United States, taking hydrocarbons and creating sophisticated building-block chemical products.
"That's been a big boom for our segment of the insulation industry because there is a lot of cold work, as opposed to refining, where everything is hot," Berglund says. "Sales have been pretty strong and we expect that trend to continue, especially because gas, from a piping perspective, is still relatively cheap in the U.S.—whereas oil has a very different pricing mechanism than natural gas."
Petrin LLC, a NIA Contractor member company in Port Allen, Louisiana, performs work in refineries and petrochemical facilities, and when domestic oil and gas production is up, production also increases at refineries and petrochemical plants, and so the amount of work for Petrin increases as well, said David Gottlich, an Area Manager in Corpus Christi, Texas.
Power Generation Facilities
Traditional power generation is facing increasing competition from distributed energy resources, particularly photovoltaics, as more state regulators are pushing utilities toward a wider adoption of DER—while also countering their attempts to mitigate revenue losses with rate increases, according to "Sparking Innovation: What Utilities Need to Know," by an A.T. Kearney team led by partner Kish Khemani in Chicago, Illinois. Moreover, utility customers are depending less on grid supply as they pursue green alternatives and cost-effective self generation.
"With traditional revenue streams at risk, growth in the utilities industry will depend on finding innovative ideas and new business models," the consultants write. "So far, only a handful of utilities have mastered the innovation challenge."
Today, upgrading the electric grid isn't just about strengthening poles and wires, according to "Flipping the Switch: 8 Key Focus Areas for Power and Utilities in 2018," by Michael (Casey) A. Herman, U.S. Energy, Utilities and Mining Co-Leader, Partner at PwC in Chicago.
"Now, grid modernization is also synonymous with efforts to make the grid more resilient and quicker to recover from events; more efficient and responsive to customer demand patterns, including load demands from electric vehicles; and more enabled to integrate distributed generation capacity and energy storage as well as other 2-way power demands that the grid wasn't originally designed to handle," Herman writes.
Two notable trends:
More than half of U.S. electricity customers were projected to have advanced metering infrastructure (AMI) smart meters installed by the end of 2017, and between 2018 and 2020, the number of installations is expected to grow from 76 million to 90 million, he writes.
Transmission and distribution-related capital expenditures are on the uptick. In fact, 24 out of 24 investor-owned electric utilities with more than $1 billion in revenue have announced grid modernization activities or have initiatives currently underway. Within the power generation and utility industry, there are constant annual outages in which units are taken out of production, inspected, repaired, or modified—which means more business for Petrin, Gottlich says.
For the last 10 or more years, the reduction in the coal-fired, or fossil fuel-powered industry has been on an upswing, through improvements and equipment updates, such as boiler burner improvements, and scrubber or exhaust gas cleaning equipment to help reduce the emissions of major pollutants such as nitrogen oxides, he says.
"This has brought a tremendous amount of work not only for insulation contractors, but also for construction in the manufacturing industry to provide and install the required equipment,"  Gottlich says.
Overall, the fossil-fuel power industry is on the decline and these fossil-fueled units are being removed from production and from the electric power supply grid, he says. However, with natural gas production on the rise, natural gas–fueled  power plants are continuing to be built or are  being enlarged.
"It's a clean fuel that's readily available and abundantly found with the continued oil and gas exploration—in fact, natural gas is becoming a U.S. export product," Gottlich says.
More facilities are now using equipment to burn natural gas to produce steam, which in turn powers the turbines to produce electricity, he says. This is steadily replacing the use of coal and lignite within these power supply facilities.
"These changes impact insulation contractors in that natural gas units are smaller, more efficient, and so they just require less maintenance," Gottlich says. "We're trying to offset this business reduction by expanding our geographical footprint, such as opening this Corpus Christi office. We're also doing additional work for other industries, including offshore oil and gas exploration and production, LNG, agriculture, and the cement industries."
Solar energy and wind energy will also increasingly impact the insulation industry, as these types of processes especially take a fair amount of insulation, says Berglund, who served on an advisory board focusing on renewal and sustainable energy for the U.S. Secretary of Energy during the George H.W. Bush Administration.
There will also be a dramatic change in the development of new storage technologies, particularly battery technologies, for these facilities because they run intermittently, compared to traditional power plants that run 24 hours a day, he says. The United States has a dual energy system in which renewable power plants must be backed up, so a lot of research is being done privately and also by the federal government on storage technologies.
"When they perfect those systems, you'll see an explosion in renewable energy facilities, and for the insulation industry, that will be great," Berglund says. "Anytime there is growth in an energy system, you're going to install a lot of new equipment with hot processes that need mechanical insulation. While that won't impact our company because we don't make a lot of insulation products for hot applications, it will be beneficial for the industry overall."
Irex does work in power generation, and a lot of that also relates to the Marcellus Shale find, Lamberton says. "I'm seeing a lot of private equity investments in the building of combined cycle plants to capitalize on the availability of cheap natural gas—and they are springing up all over the place," he says. "These cookie-cutter facilities are very modern and efficient, so they don't require a lot of maintenance or a lot of people to operate—and that makes a big difference to the insulation industry."
Before, facilities were fueled by coal or oil, which required huge boilers and pollution-control equipment that needed a lot of maintenance, in large part because the process itself was so demanding on the equipment, Lamberton says.
"When there were outages on these units it might take up to 100 insulators to get the work completed safely and on time, he says. "Today, with the newer designs, an outage may only require 10 insulators—just 10% of what was required to maintain the old facilities."
However, since so many of these facilities are now being built, there are, at times, a significant shortage of materials, supplies, and skilled manpower—exacerbating the significant skilled labor shortage the insulation industry is already facing, he says.
Lamberton sits as a management trustee on The International Association Heat and Frost Insulators and Allied Workers' Joint Apprenticeship and Training Committee. "One of the newest innovations in apprenticeship training has been enabling individuals in the unions' programs to receive college credits, so they will graduate from the apprenticeship program also receiving an associate's degree," he says. "The goal is to attract more skilled workers in the trades, but it's not just about craftspeople—we're also trying to attract more individuals to be project managers, estimators, technicians, and other non-manual support."
Engineers are offsetting the labor shortage somewhat by using different materials, Lamberton says. For example, in the past, utilities that were building power plants would use lots of calcium silica products, but the Irex team doesn't see that material used nearly as much now. Instead, the team sees fiber glass and mineral wool. This impacts "the cost of building the power plant, and it does require a little bit less skilled labor than in the past," he says.
There's also a lot of prefabrication available today, which Lamberton sees as a direct result of not having a lot of skilled labor. "It's almost as easy as ordering pieces from a catalog—allowing the workers building the plants to put the preassembled pieces together, like a jigsaw puzzle," he says.
The Internet of Things, Analytics, and All Things Digital
The opportunity to transform field service organizations with advanced applications, analytics, and digital technologies is significant, says Christian Hagen, a partner at A.T. Kearney, who is based in Chicago.
Even 5 years ago, most companies would rely on the demonstrable knowledge of experienced field technicians on how to best deliver service to the customer and make the key decisions in the field, Hagen said in an interview.
"But now with IoT and digital technologies, field services organizations are gaining better visibility with the right algorithms, not only for forecasting, but also routing, delivery, and real-time updates on what needs to happen," he says. "Companies are experiencing substantial efficiencies and effectiveness in the delivery of these services."
Almost any entity that has a field service team would benefit from this type of automation, for forecasting, pricing, order management, order delivery, and customer experience as well, Hagen says.
"Just by the utilization of the labor and the utilization of the assets in themselves likely make the business case for investing in these technologies," he says.
For the oil and gas industry, companies are now deriving a substantial amount of efficiencies from IoT and digital technologies, including using analytics not only to figure out where to drill, but how to optimize mines and other extracting, Hagen says.
"Being able to apply machine learning and advanced algorithms to help drive efficiency is reaping benefits—and there's a lot more opportunity ahead," he says.
Oil and gas companies can use digital tools to significantly boost their operations, according to the PwC Strategy& report, "Improving Oil and Gas Efficiency through Digital," by Nate Clark, a Principal in the consulting firm's Houston, Texas office, and Abhish Abraham, a Manager in that office. "The need for operational efficiency coupled with maturing technologies represent an inflection point for disruption," the 2 consultants write. "The traction of technology trends, such as analytics, robotics, sensors, and control systems offers companies the opportunity to accelerate field automation in a pervasive manner."
There are 6 areas of digitization that oil and gas companies are increasingly exploring, they write: data management, including seismic inversion and basin modeling, and production optimization; operational analytics, including reservoir characterization and simulation, reservoir/field management and flow/composition analysis; field surveillance, including real-time network and asset security utilizing drones and wearable technology; operations automation, including automated drilling, minimally manned platforms and self-diagnostic equipment; integrated field planning and delivery, including logistics, planning execution and resource scheduling; and asset optimization technology, including reliability, predictive condition-based monitoring and machine-to-machine communication.
"While end-to-end technology across the value chain may not be realized, technology is maturing from 'science fiction' into 'everyday,'" they say, "marginal improvements in operational efficiency can have significant impact given the large production volumes." Berglund anticipates increasingly sophisticated digital automation in the insulation industry. "Maybe not the marketing-type data and statistical analytics that large consumer companies do, because we have such a small universe of customers, but on the production side, we have continuously upgraded our digital control systems, which have refined our process controls," he says.
Dyplast has also added more automated, higher-speed equipment. The company works a great deal with CAD systems, designing how to cut pieces, with machines in the plant then cutting as instructed.
"A lot of our equipment is made in Europe, and the newer pieces all have self-diagnostic ability," Berglund says. "The companies that manufacture these machines in Germany and Austria can read the diagnostics and accurately correct problems online. The machines are also able to talk to other machines, and program my equipment from Vienna."
Dyplast has also migrated to the cloud for the management of all of its data, including the company's financial records, he says. Eventually, small- and medium-sized manufacturers will be capturing all of Dyplast's equipment data live, to be automatically fed into a centralized system that will generate analytic reports based on the data.
"We're about halfway there," Berglund says. "We capture the data, but then manually feed it into our system. We're not a manufacturing company that makes widgets that can just be coded—we both manufacture and fabricate an infinite number of products, so our information flows are complex and in this very competitive market, our pricing information is also complex."
"When we talk about our data to SAP, they say 'Holy Mackerel—we don't have a system for that! We'll have to build you a system,'" he says. "At some point we will need such a system that completely automates the process, but right now, the cost-to-benefit just makes it not pertinent to us."
The advent of digital tools has vastly increased Petrin's communication capability, Gottlich says. "Gone are the days of pay phones and hard-wired phones—the hand-held personal computers we have today have allowed our communications to skyrocket in efficiency," he says. "We are able to find a jobsite and determine what it needs, and place a request for manpower, equipment, and materials much faster than having to wait to have phone calls returned. Just emails themselves are now old technology. With the vast amounts of data, we can now produce in a much more timely manner."
Field inspections within Petrin's scaffolding business have been aided by the digital technology of geotagging using GPS, Gottlich says. The company has been able to use this to locate and log inspection needs, and enables Petrin to do inventories on scaffolding at its jobsites. These site inventories are then loaded instantaneously into Petrin's scaffold asset tracking system. "I believe this will also impact the insulation contracting industry—we could geotag locations and take inventory for those locations for maintenance repairs on construction equipment," he says.
With the advent of digital technologies, communication has certainly improved—everyone has a smartphone and a tablet, and information can be mined and used extremely quickly, Lamberton says.
"Having digital capabilities is also becoming a necessity because customers are demanding it; they want to know if we have high-speed internet and the capability to share and collaborate on complex data, in real time, or we will be left behind," he says.
There's also so much paperwork within the industry, that anything insulation contractors can do electronically helps, including scheduling, plotting, and cost reports, Lamberton says. While there's geotagging and inventory management software to help with Irex's scaffolding business, it's not really been applied to the insulation business yet.
"There is all this buzz and promise about digital technology and how it's going to integrate into our industry, but I haven't seen it develop to a point where it's made a significant impact," he says.
Copyright Statement
This article was published in the August 2018 issue of Insulation Outlook magazine. Copyright © 2018 National Insulation Association. All rights reserved. The contents of this website and Insulation Outlook magazine may not be reproduced in any means, in whole or in part, without the prior written permission of the publisher and NIA. Any unauthorized duplication is strictly prohibited and would violate NIA's copyright and may violate other copyright agreements that NIA has with authors and partners. Contact publisher@insulation.org to reprint or reproduce this content.