Products for Industrial Insulation Systems and to Mitigate Corrosion Under Insulation
What You Don't Know about Corrosion Can Hurt Your System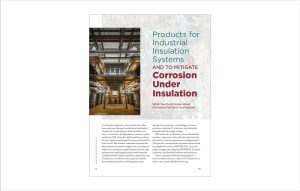 A total system approach—from updated specifications and proper design to professional installation of materials to maintenance of the insulation system—is essential in the fight against corrosion under insulation (CUI). Using the right insulation products for your system's requirements is one essential tool in your tool kit. NIA member companies represent the full mechanical insulation supply chain, and they are skilled in matching your requirements with the right products and confirming those products are professionally installed. Proper installation, inspection, and maintenance contribute to the long-term benefits that insulation provides, including preventing damage to your systems, controlling process temperatures, reducing CO2 emissions, and ultimately paying for itself in energy savings.
NIA invited all our Manufacturer and Distributor member companies to share their best practices, latest products, and new approaches to mitigating CUI. This special section presents responses received from (in alphabetical order): Aeroflex USA, Armacell, Aspen Aerogels, Johns Manville, ROCKWOOL Technical Insulation, and Specialty Products and Insulation.
If your company would like to participate in a future member column or share its CUI solutions in a future issue, email editor@insulation.org.