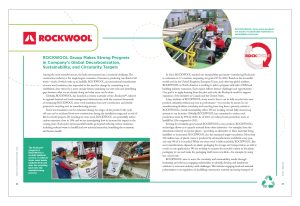 ROCKWOOL Group Makes Strong Progress in Company's Global Decarbonization, Sustainability, and Circularity Targets
Among the most wasteful sectors, the built environment has a circularity challenge. The construction industry is the single largest consumer of resources, producing one-third of all waste—much of which ends up in landfills. ROCKWOOL, an international manufacturer of stone wool insulation, has responded to the need for change by committing to an established, clear vision for a more circular future; examining our own role; and identifying gaps between what we are already doing and what more can be done.
Globally, ROCKWOOL has launched a reclaim materials service, Rockcycle®, tailored to regional demand and waste management infrastructure, with the common framework of reclaiming ROCKWOOL stone wool insulation from new construction and retrofit projects for recycling into its manufacturing process.
Stone wool insulation can be reclaimed during two stages of the product's life cycle: off-cuts can be reclaimed from new construction during the installation stage, and at end of life for retrofit projects. By recycling its stone wool, ROCKWOOL can potentially reduce carbon emissions close to 10%, and we are investigating how to increase this impact in the coming years. Rockcycle's environmental benefits go beyond reducing carbon emissions, including reduced waste to landfill and raw material extraction, benefiting the ecosystem and human health.

In 2021, ROCKWOOL reached one sustainability goal early—introducing Rockcycle to customers in 17 countries, surpassing our goal of 15 by 2022. Based on the successful model used in the United Kingdom, European Union, and other key global markets, ROCKWOOL in North America is working to pilot a program with select OEM and building industry customers. Each region reflects distinct challenges and opportunities. Our goal is to apply learning from the pilot and scale the Rockcycle model to support expansion of the initiative in Canada and the United States.
A key attribute of ROCKWOOL stone wool is that it can be fully recycled into new products infinitely, without any loss in performance—it is circular by nature. In our manufacturing facilities, circularity and recycling have long been a priority, central to ROCKWOOL's overall sustainability effort. We are working toward fully closed-loop systems at our factories. Globally, ROCKWOOL has committed to reduce total production waste by 85% by 2030. As of 2021, we reduced total production waste to landfill by 51% compared to 2015.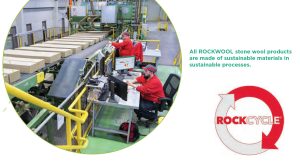 Striving for circularity goes beyond ROCKWOOL's own products. ROCKWOOL's technology allows us to upcycle material from other industries—for example, from the aluminium industry and power plants—providing an alternative to these materials being landfilled or incinerated. ROCKWOOL also has examined single-use plastics. More than 300 million tons of plastic waste is produced by all manufacturers worldwide every year, and only 9% of it is recycled. While our stone wool is fully recyclable, ROCKWOOL, like most manufacturers, depends on plastic packaging for storage and transportation, as well as certain in-use applications. We are working to increase the recycled content in the plastic packaging we use and make the packaging itself more recyclable—for example, by using less colored ink.
ROCKWOOL aims to move the circularity and sustainability needle through leadership and advocacy, engaging stakeholders to identify, develop, and implement solutions to overcome industry-wide challenges. This includes engaging local and national policymakers to set regulation on landfilling construction material and easing transport of recyclable materials, while building a network of competencies and partnerships in the fields of reverse logistics, waste management, and deconstruction. We also work with building professionals to address the need for a full life cycle approach to building design by planning for deconstructability. Designing for disassembly would allow construction materials, products, components, and systems to be detached from a built asset, collected, recycled, or directly reused at the end of their life. This creates a "closed resource loop system," minimizing resource and energy consumption, and greenhouse gas (GHG) emission, and lowering embodied carbon of materials. It will take an industry-wide, collaborative approach to drive efforts like Rockcycle forward and move toward a built environment designed for the entire life cycle of buildings. Reversing the linear take, make, and dispose model of the current built environment can cut sector emissions by 38%, according to The Ellen MacArthur Foundation.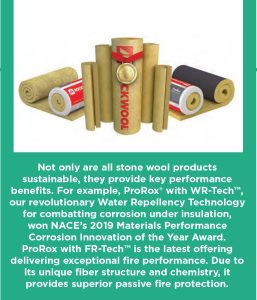 As we work toward our sustainability goals, ROCKWOOL is firmly committed to two global, science-based targets, approved and verified by the Science Based Targets initiative: reduce factory absolute GHG emissions (Scope 1 and 2) by 38% by 2034; and reduce non-factory, absolute life cycle GHG emissions (Scope 3) by 20% by 2034. ROCKWOOL is also committed to six global sustainability goals related to reducing carbon intensity, and to making a positive contribution to 10 of the 17 United Nations Sustainable Development Goals through maximizing the positive impacts of our products (handprint) and minimizing the impacts of our processes and operations on people and the environment (footprint).
All ROCKWOOL brands and segments contribute to these goals: ROCKWOOL, providing stone wool solutions to the commercial, residential, and OEM sectors; ROCKWOOL Technical Insulation, which provides stone wool solutions including its ProRox® and SeaRox® line of products to the process, marine, and offshore industries; Rockfon®, providing acoustic wall panels, suspension systems, and wall solutions; Rockpanel®, providing façade cladding solutions; and Grodan®, providing the horticultural sector with growing media solutions.
About ROCKWOOL
Alejandra Nieto, MBSc, is Sustainability Manager at ROCKWOOL (North America). Nieto defines and implements sustainability strategy and initiatives, ensuring development of high-performance stone wool insulation products with the lowest embodied footprint. This includes managing the sustainability profile of ROCKWOOL products through certifications and listings, keeping updated with policy and regulatory work concerning life cycle assessment and decarbonization, and working with industry leaders to drive the use of low-carbon, sustainable products. Nieto is an active member in multiple ASHRAE technical committees and is Chair for TC 4.4 Building Materials and Building Envelope Performance. For more information about ROCKWOOL's recycling, circularity, and sustainability efforts, connect with Alejandra at alejandra.nieto@rockwool.com. All images provided by ROCKWOOL.