Safety Matters: Road Hazard Ahead
According to the National Safety Council, auto accidents are the number one cause of fatal workplace accidents and cost employers over $60 billion every year. Nearly every company has employees that drive to conduct company business, yet many overlook this vital element of a health and safety program. Companies with large fleets of commercial vehicles are well aware of the potential liabilities of having drivers on the road. Many employers, however, are not aware that the same liability may extend to companies with employees who only drive intermittently, and even those who use their own personal vehicles to conduct company business. Employees who drive on company business can present a much greater risk than most of the workplace and job site hazards we typically focus our Environmental Health and Safety (EHS) efforts on.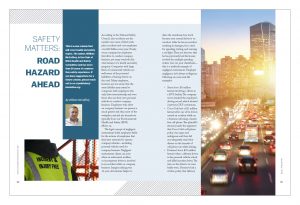 The legal concept of negligent entrustment holds employers liable for the actions of employees that they have entrusted to operate company vehicles—including personal vehicles used for company business. Negligent entrustment claims can arise when an unlicensed, reckless, or incompetent driver is involved in an accident while on company business. Imagine asking your 16-year-old summer helper to drive the warehouse box truck because your normal driver is on vacation. After he has an accident resulting in damages, he is cited for speeding, texting, and running a red light. Then you discover that he has previously had his license revoked for multiple speeding tickets. Get out your checkbook—this is a textbook example of negligent entrustment. Employer negligence isn't always so flagrant; following are some real-life examples:
Xerox lost a $5 million lawsuit involving a driver in a DUI fatality. The company never checked the employee's driving record, which showed 2 previous DUI convictions.
Coca-Cola lost a $21 million lawsuit after one of its drivers caused an accident while on a business call using a hands-free cell phone. The plaintiff's attorney made the argument that Coca-Cola's cell phone policy was vague and ambiguous and they did
not adequately train their drivers on the hazards of cell phone use while driving.
Domino's lost a $32 million lawsuit when a delivery driver, in his personal vehicle, struck and killed another driver. The tires on the driver's car were badly worn. Domino's had a written policy that delivery vehicles were to be inspected regularly. The jury found that Domino's did not enforce their own policies and procedures and were liable for the incident.
For most companies, a single negligent entrustment claim could be devastating, especially considering punitive damages may not be covered by your insurance. How can a company protect itself from negligent entrustment claims? Every company, no matter how big or small, should take the following steps before putting drivers on the road:
Develop and consistently enforce a formal driver safety policy. A driver safety policy should clearly state who is an authorized driver (experience, age, training) and cover driver requirements, vehicle requirements, training, incident reporting, and driver management.
The policy should specifically address cell phone use and other distracted driving. Companies that permit (or worse, expect) drivers to conduct business on cell phones are asking for trouble. Seat belt usage, drug and alcohol use, and speeding and aggressive driving are among some of the other policies that should be covered. There should also be a process for employees to acknowledge that they have been made aware of the policies.
Run Motor Vehicle Record (MVR) checks on all drivers at least once a year and make job offers for drivers contingent on an acceptable MVR. Companies should develop a point system to score MVRs (not all states use the same point system for violations). Have a consistent policy for employees with violations, which may include retraining, more frequent MVR checks, onboard-driver monitoring systems, discipline, and/or prohibiting certain employees from driving for business purposes.
Provide driver training for anybody driving on company business. Training should include safe driving habits such as speed and following distance, defensive driving techniques, inclement weather, seat-belt usage, and distracted driving. Training should also cover what to do following a vehicle incident, and reporting requirements. Refresher training should be provided at regular intervals, and also for drivers with violations or those involved in incidents.
Employees who use a personal vehicle for business are expected to follow all the same policies and procedures as those driving a company-owned vehicle, including an MVR check and training. Additionally, employees should provide proof of insurance with adequate limits. Companies may also want to consider which vehicles may or may not be used for company business, such as motorcycles.
One final nudge to tighten up your driver safety policy: Almost every new vehicle built since 2014 has an event data recorder (i.e., a black box). The black box tracks speed, braking, acceleration, seat belt use, and other data points, and records them in the event of a collision. Insurance companies, law enforcement, and plaintiff's attorneys will be very interested in that black box data following a serious incident. So, make sure your driver safety policy is up to speed. A comprehensive driver safety policy will not only provide a defensible position against claims, it can help prevent accidents and injuries in the first place.
Copyright Statement
This article was published in the April/May 2018 issue of Insulation Outlook magazine. Copyright © 2018 National Insulation Association. All rights reserved. The contents of this website and Insulation Outlook magazine may not be reproduced in any means, in whole or in part, without the prior written permission of the publisher and NIA. Any unauthorized duplication is strictly prohibited and would violate NIA's copyright and may violate other copyright agreements that NIA has with authors and partners. Contact publisher@insulation.org to reprint or reproduce this content.