Safety Matters: Voluntary to Mandatory
Personal Protective Equipment (PPE) is crucial to every worker's safety, but do you know what you are purchasing or wearing? Here is a look at the safety standards that guide common safety gear.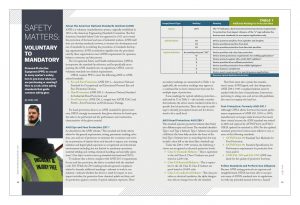 About the American National Standards Institute (ANSI)
ANSI is a voluntary standardization system, originally established in 1918 as the American Engineering Standards Committee. The first American Standard Safety Code was approved in 1921 and covered the protection of the head and eyes of industrial workers. ANSI itself does not develop standards; however, it oversees the development and use of standards by accrediting the procedures of standards-developing organizations. ANSI accreditation signifies that the procedures used by these organizations meet ANSI's requirements for openness, balance, consensus, and due process.
The Occupational Safety and Health Administration (OSHA) incorporates the standards by reference; and by specifically incorporating the ANSI standards into its regulations, OSHA converts voluntary standards into federal requirements.
OSHA requires PPE to meet the following ANSI or ANSI-related standards:
Eye and Face Protection: ANSI Z87.1—American National Standard for Occupational and Educational Personal Eye and Face Protection Devices;
Head Protection: ANSI Z89.1—American National Standard for Industrial Head Protection; and
Foot Protection: ANSI Z41.1, merged into ASTM F2412 and F2413—Foot Protection and Performance Package.
For hand protection, there is no ANSI standard for gloves; however, OSHA strongly recommends that glove selection be based upon the tasks to be performed and the performance and construction characteristics of the glove material.
ANSI Eye and Face Protection: Z87.1
As described in the ANSI website, "This standard sets forth criteria related to the general requirements, testing, permanent marking, selection, care, and use of protectors to minimize the occurrence and severity or prevention of injuries from such hazards as impact, non-ionizing radiation and liquid splash exposures in occupational and educational environments including, but not limited to, machinery operations, material welding and cutting, chemical handling, and assembly operations." (See https://webstore.ansi.org/standards/isea/ansiiseaz872015).
To indicate that a device complies with ANSI Z87.1 requirements for eye and face protection, the device is marked with the standard code: Z87. While the Z87 marking indicates general compliance related to hazards, additional markings—relevant to work in our industry—indicate whether the device is rated for impact or non-impact activities, for protection from chemical splash and dust, and for protection against a variety of optical radiation exposures. These secondary markings are summarized in Table 1. As applicable, the secondary markings may appear in a combined list to show criteria have been met for multiple types of protection.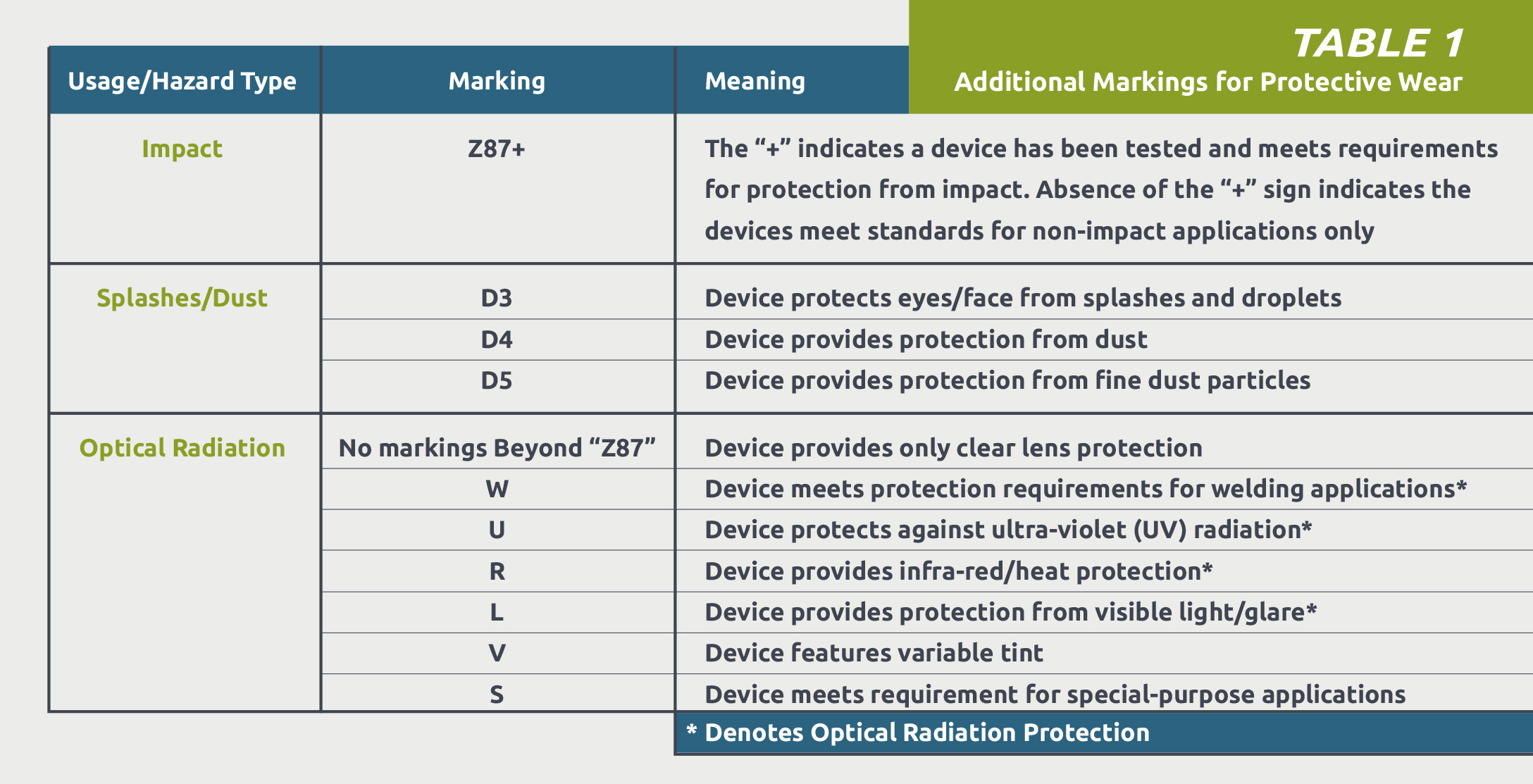 Some markings for optical radiation protection—indicated by (*) in Table 1—also include a number that indicates the device meets standard criteria for a specific level of protection. There also may be markings to identify prescription lenses and for devices sized to fit a small head.
ANSI Head Protection: ANSI Z89.1
This standard separates protective helmets (hard hats) into different types and classes. The standard identifies Type 1 and Type 2 helmets. Type 1 helmets incorporate a full brim (the brim fully encircles the dome of the hat); Type 2 helmets have no encircling brim but may include a short bill on the front (like a baseball cap).
Under the Z89.1-1997 revision, the following 3 classes are recognized as electrical protection levels:
Class G (General) Helmets—This is equivalent to the old Class A. Class G helmets are proof tested at 2,200 volts.
Class E (Electrical) Helmets—This is equivalent to the old Class B. Class E helmets are proof tested at 20,000 volts.
Class C (Conductive) Helmets—This class provides no electrical insulation; the alpha designation did not change from the old standard.
Hard hats must also contain the manufacturer's name, ANSI legend, and class designation. ANSI Z89.1‑1997-compliant helmets must be marked with the date of manufacture. Instructions pertaining to sizing, care, and service-life guidelines also must accompany the hard hat.
Foot Protection: Formerly ANSI Z41.1
Although OSHA allows footwear that meets performance requirements of ANSI Z41 (1991 or 1999), manufacturers no longer make footwear that meets these criteria because the ANSI standard was retired in 2005 and replaced by ASTM F2412 and F2413. OSHA updated its standard in 2009. Per the updated standard, protective footwear must adhere to one or more of the following standards:
ASTM F2412-05: Standard Test Methods for Foot Protection;
ASTM F2413-05: Standard Specification for Performance requirements for protective footwear; and/or
ANSI Z41-1991 and Z41-1999: ANSI standards for the quality of protective footwear.
Follow Standards and Perform Due Diligence
Because ANSI testing protocols are rigorous and straightforward, OSHA has been able to incorporate many of ANSI's standards into its regulations. As with any potential hazard, however, a hazard assessment must be completed to ensure that you are selecting the appropriate PPE for the task or hazards associated. In addition, the ANSI standards have been through multiple revisions, so when you select PPE, be sure to inquire about the most recent revision.
ANSI has developed committees for many of its standards, and the organization welcomes expert participation. Who knows, you may be the one to further the standard for our industry!