The National Insulation Association (NIA) recently announced the 2017 Theodore H. Brodie Distinguished Safety Award winners.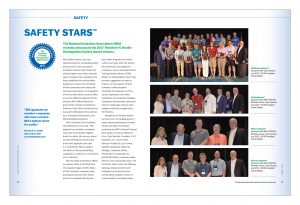 NIA's Safety Award is the only national award for outstanding safety performance in the mechanical insulation industry. NIA created the award program more than a decade ago to recognize top companies that have established structured safety programs to ensure the well-being of their employees and create safe working environments. In recognition of the fact that safety concerns differ across the different segments of the industry, NIA's Safety Award program honors 4 levels of excellence: Platinum, Gold, Silver, and Bronze for Associates (Manufacturers), Contractors, Distributors/Fabricators, and Metal Building Laminators.
NIA's Executive Vice President/CEO Michele M. Jones said, "NIA applauds our member companies who have received NIA's highest honor for safety. We are very proud to have 28 Platinum winners and 6 first-time applicants this year. It is essential for NIA to support the efforts of these outstanding companies, as safety is a cornerstone of our industry."
NIA has made tremendous efforts to improve safety in the field since this program began in 2004. Many of NIA's member companies have participated and used the award process to evaluate and improve their safety program and overall culture each year. After the awards are announced, each applicant company is sent a customized Safety Training Analysis Results (STAR) Report, an individualized report that provides suggestions on ways to improve current aspects of their company's safety program. Protection of employees is of the utmost importance and safety regulations are constantly changing. Companies that prioritize safety and strive to continually improve their program should be recognized by the industry.
Recognized as industry leaders by their peers, the judging panel of expert safety professionals includes Health and Safety Committee leadership and NIA's General Counsel Gary Auman of Auman, Mahan & Furry; Pete Gauchel, President, L & C Insulation, Inc.; Jason Heath, Director of Safety & Loss Control, Zampell Companies; Mike Hill, Manager, Corporate Safety, Performance Contracting, Inc.; and Bill McCaffrey, Corporate Safety Director, Irex Contracting Group. The 41 Bronze, Silver, Gold, and Platinum winning companies listed were evaluated on the basis of their overall safety program, means of communication, and safety policy.
Companies that prioritize safety and strive to constantly improve their program should be recognized by the industry.
Manufacturers
Bronze Winner:
Polyguard Products, Inc., Ennis, TX
Gold Winner:
Proto Corporation, Clearwater, FL
Platinum Winners:
Armacell, Chapel Hill, NC
CertainTeed Corporation, Malvern, PA
Dyplast Products, LLC, Miami, FL
ITW Insulation Systems, Houston, TX
Owens Corning, Toledo, OH
Contractors
Bronze Winners:
L.C. Insulations, Inc., Lititz, PA
Liberty Industrial Group, Phoenix, AZ
Silver Winners:
F & H Insulation Sales and Services, Inc., Kechi, KS
Gagnon, Inc., St. Paul, MN
hth Companies, Inc., Union, MO
Triangle Enterprises, Inc., Paducah, KY
Gold Winners:
BC Flynn Contracting, Oxford, CT
Hawkeye Insulation Specialists, Inc., Cedar Rapids, IA
Smart Energy Insulation, Farmington Hills, MI
 Platinum Winners:
Advanced Energy Protection, LLC, Greenwood, IN
Advanced Industrial Services, LLC, Toledo, OH
Advanced Nuclear, LLC, Greenwood, IN
Advanced Specialty Contractors, LLC, Aston, PA
APi, Inc., New Brighton, MN
ATI, Inc., Grand Junction, CO
Atlantic Contracting & Specialties, LLC, Hicksville, NY
Cornerstone Services Group, LLC, Kansas City, MO
DKB, Inc., Pasco, WA
Gribbins Insulation Company, Inc., Evansville, IN
Industrial Construction & Engineering Co., St. Peters, MO
Iowa Illinois Taylor Insulation Company, Davenport, IA
I-Star Energy Solutions, East Petersburg, PA
L & C Insulation, Inc., La Crosse, WI
Luse Thermal Technologies, Aurora, IL
Performance Contracting, Inc., Lenexa, KS
QCI Thermal Systems, Inc., Iowa City, IA
Thermal Solutions—Ohio, Inc., Proctorville, OH
Distributor/Fabricators
Gold Winner:
Ideal Products of America, LP, Malvern, PA
Platinum Winners:
Bay Insulation Systems, Inc., Green Bay, WI
Extol of Ohio, Inc., Norwalk, OH
FBM-SPI, Tustin, CA
Shook & Fletcher Insulation Co., Birmingham, AL
Metal Building Laminators
Gold Winner:
Silvercote, LLC, Greenville, SC
 Platinum Winner:
Bay Insulation Systems, Inc., Green Bay, WI
NIA congratulates all of these companies for their outstanding safety performance!
Work with NIA's Safety Stars™
To learn more and to contact these award-winning NIA-member Contractor, Distributor/Fabricator,
Manufacturer, and Metal Building Laminator companies, please visit NIA's online Membership Directory at https://tinyurl.com/yancmlr4.
 Copyright Statement
This article was published in the June 2018 issue of Insulation Outlook magazine. Copyright © 2018 National Insulation Association. All rights reserved. The contents of this website and Insulation Outlook magazine may not be reproduced in any means, in whole or in part, without the prior written permission of the publisher and NIA. Any unauthorized duplication is strictly prohibited and would violate NIA's copyright and may violate other copyright agreements that NIA has with authors and partners. Contact publisher@insulation.org to reprint or reproduce this content.