Selling in Uncertain Times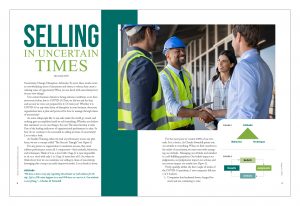 Uncertainty. Change. Disruption. Adversity. To most, these words create an overwhelming sense of uneasiness and stress; to others, they create a calming sense of opportunity. When you are faced with uncertainty, how do you view things?
Our current business climate is facing extreme conditions as we have never seen before, due to COVID-19. First, we did not ask for this; and second, we were not prepared for it. Or were you? Whether it is COVID-19 or any other form of disruption in your business, does your organization have a plan and protocol for how to manage through times of uncertainty?
As some salespeople like to say, sales make the world go round, and nothing gets accomplished until we sell something. Whether you believe that sentiment or not, one thing is for sure: The sales function is vital. One of the leading indicators of organizational performance is sales. So how do we continue to be successful in selling in times of uncertainty? Let us take a look.
At Sandler Training, when we look at performance across any platform, we use a concept called "The Success Triangle" (see Figure 1).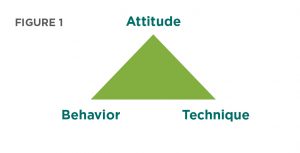 For any person or organization to maximize success, they must address performance across all 3 components—their attitude, behaviors, and techniques. Think of it as a stool with 3 legs. It is near impossible to sit on a stool with only 1 or 2 legs. It must have all 3. So, when we think about how we can maximize our selling in times of uncertainty, leveraging this concept can yield improved results. Let us break it down.
Attitude
"We have a choice every day regarding the attitude we will embrace for the day. Life is 10% what happens to us and 90% how we react to it. Our attitude is everything."—Charles R. Swindoll
For the most part, we control 100% of our attitude. It is a choice. As Charles Swindoll points out, our attitude is everything. When we find ourselves in the midst of uncertainty, we must start with managing our attitude. Managing our attitude and mindset is a self-fulfilling prophecy. Our beliefs impact our judgements, our judgements impact our actions, and our actions impact our results (see Figure 2).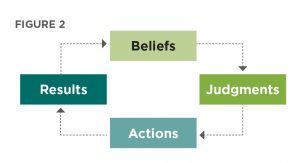 Pretty quickly, within the first couple of weeks of the COVID-19 pandemic, I saw companies fall into 1 of 3 buckets:
Companies that hunkered down, charged forward, and are continuing to win;
Companies that have no idea what to do; and
Companies burying their heads and basically giving up.
At the end of the day, which bucket you fall into comes down to belief.
From a sales perspective, you can believe this situation is creating hurdles that you cannot overcome, telling yourself:
They cannot afford to buy my product or service,
People do not want to take my calls,
Now is not the right time,
I do not want to bother people, or
I do not know what to say to people.
How do you think those beliefs will impact your results?
As an alternative, you can believe this situation is providing an opportunity for you to learn, grow, and adapt, telling yourself:
Customers still need me,
Now is a perfect time to prospect,
I see opportunities everywhere,
I can use this time to build relationships, and
I can use this time to improve my skills.
Our beliefs impact our judgements, our judgements impact our actions, and our actions impact our results. What do you choose to believe when faced with uncertainty?
Behavior
"I believe that everyone chooses how to approach life. If you're proactive, you focus on preparing. If you're reactive, you end up focusing on repairing." – John C. Maxwell
Be honest: Most of us were in complete reactive mode the first couple weeks of the COVID-19 pandemic. But at some point, and the sooner the better, we need to assess reality and understand that we need to adjust our behaviors and start being more proactive. It is imperative that we revise our behaviors to adapt to the environment we are in to continue to be successful. If not, our competition will, and we will be left in their dust. With COVID-19, we have had to press pause with a lot of our sales efforts: networking events, in-person meetings, travel, site visits, event marketing, golfing, happy hours, etc. However, we still need to get the results. At the end of the day, it is not necessarily about doing different things, but about doing things differently. Instead of in-person meetings, use video conference. Instead of networking, use LinkedIn. Instead of event marketing, use social media. And instead of happy hour, do a virtual happy hour. We can achieve the same results if we simply adjust our behaviors and believe that it is possible.
We also must be proactive and intentional with our customer approach when we think about having sales success during these uncertain times. The following behaviors and activities can greatly support your selling efforts. While they are being identified as things to do in today's environment, they should be part of your sales toolbox all the time.
1. Revise your ideal customer profile. Clearly identify what your ideal client looks like. Who do you best serve? Have they changed? What do they look like? What are their defining characteristics? Be as specific as possible. Not only does a well-defined customer profile help your salespeople target their efforts, it is also a great tool when asking for referrals and introductions.
2. Segment your customers. Actively segment your prospects and customers into 4 categories, using the abbreviation KARE.
Keep—existing customers who are important to your business at current levels.
Attain—a targeted prospect list of companies you do not currently engage in business.
Recapture—former customers you used to do business with but currently do not.
Expand—existing customers who provide an opportunity for growth.
Once you identify where customers fall, you can identify the appropriate actions to take and the behaviors you need when reaching out to them.
3. Update your value proposition. Have an intentional discussion to identify the common problems and pains your customers face. Have any of them changed because of the environment? Then, identify the value you can provide to help them now, as well as in the future, to make those problems go away.
4. Establish a consistent process for selling. In general, one of the biggest challenges for salespeople is they do not follow a consistent process for how to sell. So, when the environment changes, it creates an elevated level of hopelessness with salespeople. They lose control. They resort to winging it and end up with wildly inconsistent sales results or none at all. Create a process for prospecting as well as a process for selling. It provides consistency, repeatability, efficiency, and results.
To use a fishing reference, we want to fish where the fish are. Sure, we could cast our line out in the middle of the lake and hope we catch a fish, but we are basing it on hope, which is similar to not having a consistent sales process. I would rather understand what type of fish are in the lake (customer profile), where they congregate, and what are the best lures and bait to use to catch them. When I am more intentional with my behaviors of how I want to fish, I have better chances of catching one.
Most important, in times of uncertainty, we want to be sure to connect with customers with the intent to build relationships and not to sell. Focus on how you can help and how you can provide a listening ear. Ask questions, be inquisitive, be empathetic, and be sincere. Leverage your tools (as noted above), focus on customer service, and be sure to have a plan for what you want to say and do. People tend to run away from the traditional pushy salesperson, and I do not blame them. Do all that you can not to look, act, or sound like that person. Be intentional and be authentic. What behaviors and activities do you choose to implement in times of uncertainty?
Technique
"Give me six hours to chop down a tree and I will spend the first four sharpening my axe."—Abraham Lincoln
Techniques are the skills, strategies, and tactics to effectively execute your behaviors. COVID-19 has provided us more time in our day. Regardless of the amount of extra time that we may or may not have, we fill it with "stuff." It is important that we take the time to sharpen our axe and improve our knowledge, skills, and techniques that ultimately aid in our success. Here is just a short list of items salespeople should be doing to improve their skills:
• Fully leverage and utilize video conferencing (Zoom, Microsoft Teams, WebEx, GoTo
Meeting),
Practice and adjust your 30-second commercial (the landscape is changing; so should yourcommercial),
Role play with managers and colleagues,
Fully leverage and utilize LinkedIn (daily),
Improve your industry education and product knowledge, and
Research your customers.
It is also critical that we stay focused and organized, otherwise we end up filling our time with unproductive and wasteful things that make us appear to be busy. Whether you are working from home or working in an office, the environment and techniques that you create for yourself can have significant impact on your performance.
1. Write down your task list. We all stay organized in different ways, but the physical act of writing down your daily task list is empowering. It also provides mental satisfaction when you can check items off your list. Challenge yourself to pick the 1 item that is going to push you out of your comfort zone the most and do it first. What an amazing way to start the day, knocking something off the list that you may have felt uncomfortable doing.
2. Block your time. Use a day planner, Outlook, or whatever platform you prefer, but block your time. Set timers and be disciplined to do the things you set out to do. We want to avoid filling our time with wasteful activities.
3. Remove distractions. Staying focused is critical. Identify the things that can take your focus away from your task at hand and remove them. Maybe it is turning off the notifications on your phone or closing the window blinds. Take the time to identify them and get rid of them.
4. Take breaks. As tough as we may want to be, or appear to be, we ALL need to take breaks for both our mental and physical well-being. It may be a simple walk outside for a few minutes or getting a fresh cup of coffee, but we must plan for breaks and take them. In times of uncertainty, our brains are in overdrive trying to answer questions and create some level of certainty, so we become physically and mentally exhausted. Taking breaks helps us maintain our physical and mental self.
5. Stay positive. Coming back to what we discussed at the beginning, our mindset and attitude are critical. It is important to stay positive and opportunistic, as that directly impacts our judgements, actions, and results.
What techniques do you choose to improve in times of uncertainty?
Change is inevitable and change creates uncertainty. There is no way around it. It is up to us and our choices as to how we decide to cope and manage through times of change. When we evaluate our performance against attitude, behavior, and technique on an ongoing basis, it creates much less disruption to our performance when we do face times of uncertainty.
So, when you are faced with uncertainty, what will you choose to do?
Copyright statement
This article was published in the August 2020 issue of Insulation Outlook magazine. Copyright © 2020 National Insulation Association. All rights reserved. The contents of this website and Insulation Outlook magazine may not be reproduced in any means, in whole or in part, without the prior written permission of the publisher and NIA. Any unauthorized  duplication is strictly prohibited and would violate NIA's copyright and may violate other copyright agreements that NIA has with authors and partners. Contact publisher@insulation.org to reprint or reproduce this content.
Disclaimer: Unless specifically noted at the beginning of the article, the content, calculations, and opinions expressed by the author(s) of any article in Insulation Outlook are those of the author(s) and do not necessarily reflect the views of NIA. The appearance of an article, advertisement, and/or product or service information in Insulation Outlook does not constitute an endorsement of such products or services by NIA. Every effort will be made to avoid the use or mention of specific product brand names in featured magazine articles.