SPI- Compartmentalization as an Effective Corrosion Under Insulation (CUI) Mitigation Method in Insulation Systems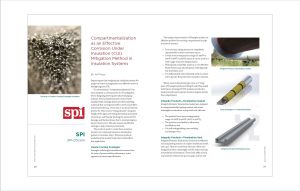 Experts agree that designing an insulation system for proper moisture management is an effective tactic in the fight against CUI.
For several years, "compartmentalization" has been adopted as a best practice in CUI mitigation when designing above-grade industrial piping systems. Several industrial asset owners have employed this strategy, which involves installing materials that are impermeable to water at predetermined intervals (e.g., every 6m) or locations like low points, etc. This creates "compartments" along the length of the pipe, preventing the lateral movement of moisture and thereby limiting the extent of CUI damage and thermal losses due to moisture ingress when it does occur. This also may be an effective strategy to help contain process leaks.
The products used to create these moisture barriers are commonly known as termination
gaskets or moisture stops. There are products available in the market today that work well for this application.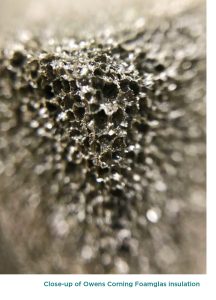 Owens Corning Foamglas®
Foamglas cellular glass insulation has more than 60 years of proven stable performance and is approved in owner specifications.
The unique characteristics of Foamglas make it an effective product for creating compartments in pipe insulation systems:
Its 0.00 perm rating means it is completely impermeable to water and water vapor;
A wide service temperature range of -450⁰F to 900⁰F (-268⁰C to 482⁰C) means it can be used in a wide range of process temperatures;
Widespread availability makes it a cost-effective, North America-produced option, with typically low lead times; and
It is inflammable and commonly used as a material in passive fire protection insulation systems.
When used on horizontal pipe runs, a 6"-long piece of Foamglas (with matching ID and ODs) sealed with Owens Corning LV RTV sealant provides the desired results and contains moisture ingress within the compartment.
Integrity Products—Termination Gasket
Integrity Products Termination Gasket was designed to compartmentalize piping systems and create watertight terminations using solid-state silicone.
• The product has a service temperature range of -120⁰F to 480⁰F (-84⁰C to 250⁰C);
• The product is malleable to allow easy installation; and
• It is self-extinguishing, non-melting, and halogen-free.
Integrity Products—Termination Seal
Integrity Products Termination Seals are an effective and long-lasting solution to replace traditional metal end caps. They are made from silicone rubber and designed to form a watertight seal for metal end caps at insulation terminations. These seals offer an easy seal solution between the process pipe and the end cap, which is a high-risk area for moisture ingress. To accommodate all pipe diameters, this product is supplied in 100' coils and is easily cut to suit the circumference of the pipe.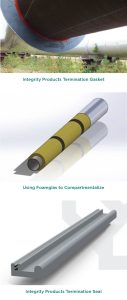 The Exit Strategy
While a compartmentalization approach can be an effective way to manage water ingress, moisture will be trapped in the compartments, and thus it needs a way to exit the system efficiently. Wherever compartments are created, a drain plug or weep hole must be installed within the compartment for the purposes of drainage. The moisture must be allowed to escape the system properly.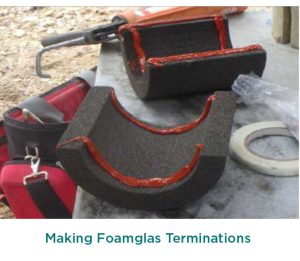 Conclusion
Compartmentalization is just one of several strategies that should be considered when designing an insulation system where water ingress and CUI are primary concerns. For more information on CUI products, strategies, and mechanical insulation, please contact your local SPI Account Manager; and visit us at SPI-CO.com.