Sponsored Bonus Content from Knauf: Healthier Buildings Are Good for All of Us
At Knauf, our commitment to making products designed to keep people healthy and safe led to our ECOSE® technology that utilizes renewable, bio-based material, not formaldehyde.
By William "Buddy" Combs, Architect and Knauf Technical Representative
As an architect by profession, I've seen opinions on the importance of healthy building environments shift and evolve over the last 20 years. Environmental regulations have become more stringent. Architects strive to design healthier and more comforting experiences. Market demand has grown as clients planning new structures insist on "green" building standards that require materials, including commercial and industrial insulation products, to be low-VOC and often to meet Red List Free requirements.

For over a decade, Knauf Insulation has been manufacturing formaldehyde-free insulation and we offer a full line of formaldehyde-free products, including boards, batts, rolls, liners, wraps and pipe insulation. In 2008, Knauf launched its new ECOSE® technology, which had been in development for more than five years. This innovative technology allowed Knauf to introduce products made with a renewable, bio-based binder, in lieu of a forming system containing phenol-formaldehyde. This revolutionary technology flows directly from our deep commitment to global environmental sustainability — and to putting people first.
Revolutionary technology, environmental benefits
Knauf insulation manufactured using the ECOSE® technology also complies with most Green Building Rating Schemes, including BREEAM, LEED, WELL, LBC and DGNB. Knauf's ECOSE® technology offers additional benefits for the environment. Because our binder material and manufacturing process are not derived from petroleum, our approach saves the rough equivalent of 100,000 barrels of oil in North America annually. In addition, our high recycled glass content significantly reduces the energy needed to manufacture insulation, reducing our company's overall carbon footprint.
Given Knauf's commitment to sustainability, most products featuring ECOSE® technology have Environmental Product Declarations available. They are very first to be certified as GREENGUARD Gold, one of the most demanding Indoor Air Quality standards any product can earn. In addition, select Knauf product lines are Living Building Challenge Red List Free or Approved and have Declare Labels. This distinction provides trusted, third-party verification of products that don't include chemicals of concern.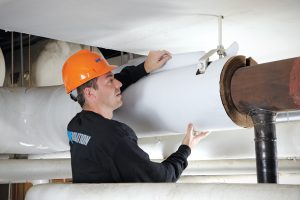 Commitment to healthier environments powers innovation
Our history of "firsts" isn't an accident. At Knauf, our mission is to challenge conventional thinking and create innovative insulation solutions that shape the way we live and build in the future. We do that with a deep demonstration of care for the people who make those solutions, the people who use them, and for the world we live in.
Our commitment to sustainability focuses on four important long-term goals we have set for ourselves:
Put people first, by ensuring our communities and people thrive, safely.
Achieve zero carbon, to minimize the impact of our products, plants, and offices.
Deliver a circular economy, by using more recycled materials than ever in our products and finding more ways to use resources that have minimal environmental impact.
Create better buildings, by continuing to innovate and create new eco-friendly solutions to make buildings fit for the future.
We are convinced that attitudes toward healthy building environments will continue to evolve as more companies embrace this approach. In fact, the 2021 World Green Building Trends report found that 42% of industry professionals said they'll implement green strategies in more than 60% of their projects by 2024. In addition, more and more jurisdictions are updating building codes with requirements that new structures be constructed without products containing chemicals of concern. We're honored to provide insulation solutions that can help make that happen.
We invite you to learn more about Knauf's goals and commitments to global environmental sustainability at knaufnorthamerica.com/sustainability. Please reach out to have a conversation. We're happy to talk about your challenges and collaborate on solutions. We're here to help.