The Benefits of Training Workers on Fall Arrest System Usage and Safety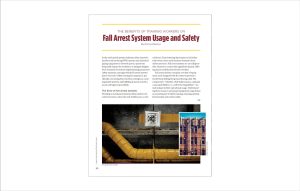 In the mechanical systems industry, often characterized by work involving HVAC systems and industrial piping equipment in elevated spaces, operations frequently require the workforce to navigate heights. Such scenarios necessitate implementing paramount safety measures, amongst which fall arrest systems play a vital role. Safety training for employees, specifically concerning these systems, emerges as a non-negotiable priority; and fulfilling it stands as both a moral and legal responsibility.
The Role of Fall Arrest Systems
Working on mechanical systems often involves elevated structures, where the risk of falls1 poses a critical threat. From towering skyscrapers to tall industrial towers, these environments demand robust safety measures. Fall arrest systems are an indispensable solution to counter this significant hazard, offering much-needed protection for workers.
Fall arrest systems comprise a variety of equipment, each designed with the intent to prevent a worker from hitting the ground during a fall. The components—whether a full body harness, a lanyard, a rope-grab lifeline, or a self-retracting lifeline—are each unique in their operational usage. Understanding these nuances and proper equipment usage forms an essential part of safety training, ensuring optimal functionality and worker safety.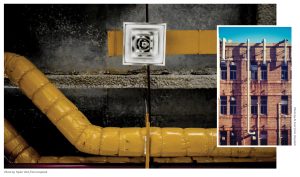 In-Depth Look at Fall Arrest Systems
Fall arrest systems can be broadly divided into two types: general (or non-rigid), and rigid. General fall arrest systems usually include full-body harnesses and lanyards, while rigid systems encompass rail systems and beam straps. The choice between the two largely depends on the specific tasks and environments your workers encounter.
When working on mechanical systems like HVAC units situated on rooftops or high platforms, harnesses with shock-absorbing lanyards can be an excellent choice. For work that requires traversing large distances at height, such as the maintenance of industrial piping systems, a rail system might offer greater flexibility and safety.
The significance of thoroughly training workers on fall arrest system usage cannot be overstated. Such training ensures the workforce comprehends how to operate and inspect their equipment and the system's underlying mechanisms.
Moreover, adhering to the safety standards and guidelines issued by the Occupational Safety and Health Administration (OSHA)
2
is vital.
Benefits of Fall Arrest System Training
The rewards of in-depth fall arrest system training are numerous, with implications for safety, productivity, and the financial strength of a business.
Worker Safety. The most substantial benefit of intensive training undoubtedly lies in ensuring the safety of our most precious asset—our employees. By implementing correct procedures and precautions, workers can significantly minimize the risk of serious or fatal accidents.
Compliance with Safety Regulations. OSHA prescribes rigorous regulations for fall protection3. Non-compliance can result in severe penalties. Comprehensive training fosters adherence to these regulations, thereby preventing legal issues.
Increased Productivity. A safe working environment boosts worker morale and productivity substantially. Employees confident in their safety tend to perform their tasks more effectively and efficiently.
Cost Savings. While up-front training costs might seem substantial, long-term savings are profound. Fewer accidents translate to lesser medical costs, decreased insurance premiums, and reduced downtime. Investing in safety training unequivocally translates to investing in a company's financial health.
Improved Business Reputation. Companies that prioritize safety are seen as responsible and attractive to both potential employees and clients. A strong safety record can significantly enhance a company's reputation4, making it a preferred choice for new contracts and top talent.
Conclusion
The wide-ranging and clear benefits of training workers on fall arrest system usage and safety go beyond merely preventing fall-related accidents. A safer workplace equates to a more productive, legally compliant, and financially robust operation. All businesses are encouraged to consult with a safety expert and invest in a fall arrest system training. It is  an investment in our workers' safety—the most  important asset we have.
References
Emma Pearson is a writer with a passion for construction. She combines her interests by producing engaging content on construction, real estate, and home improvement topics.
Choosing safety products is critical. Edgefallprotection.com can be an excellent resource.  The company offers innovative fall arrest systems, which can help ensure safety in mechanical system jobs. For more  information visit, edgefallprotection.com.