The Consequences of a "Bad Specification" From the Perspective of the Mechanical Insulation Industry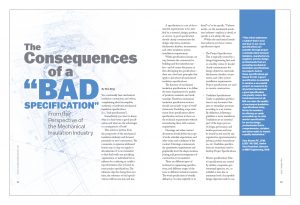 You continually hear mechanical insulation contractors, and others, complaining about incomplete, outdated, or irrelevant mechanical insulation specifications (i.e., "bad specifications").
Immediately you want to know, what is a bad versus a good specification and what are the advantages or consequences of both?
This article is written from the perspective of the mechanical insulation industry and focused primarily on new construction. The comments or opinions addressed herein may or may not apply to all industries. It is not intended to find fault with any specifying organization or individual but to address the confusing or conflicting information that is found in some project specifications. The ultimate objective being that over time, the reference to bad specifications will become less and less.
A specification is a set of documented requirements to be satisfied by a material, design, product, or service. A good specification should clearly communicate the design objectives, materials, thicknesses, finishes, securements, and other insulation system installation requirements.
While specification formats can vary between the commercial or building and the industrial market—and of course the person or firm developing the specification—there are a few basic principles that apply to just about all mechanical insulation specifications.
The function of mechanical insulation specifications is to define the basic requirements for quality of products, materials, and workmanship. Therefore, mechanical insulation specification sections should not include "scope of work" statements. Excluding scope statements from specifications allows specification sections to focus on the technical requirements without encumbering them with contract requirements.
Drawings and other contract documents should define the scope of work, schedule expectations, and other terms and conditions of the contract. Drawings communicate the quantitative requirements and graphically show the shape, location, joining, and general arrangement of construction to be insulated.
There are different types of technical or engineering specifications, and different usages of the term in different technical contexts. The word specification is broadly defined as "to state explicitly or in detail" or "to be specific." Unfortunately—in the mechanical insulation industry—explicit, in detail, or specific is not always the case.
Within the mechanical insulation industry, you have various specification types:
The Project Specification: This is typically created by a design/engineering firm and or a facility owner. It should clearly communicate the design objectives, materials, thicknesses, finishes, securements, and other system installation requirements. Project specifications are used to execute construction.
Guideline Specifications: Guide or guideline specifications is any document that aims to streamline processes according to a set routine. By definition, following a guideline is never mandatory. Guidelines are an essential part of the larger process of design, governance, and similar processes and may be issued by and used by any organization (governmental or private), product manufacturers, etc. Guideline specifications are sometimes used to develop Project Specifications.
Master specifications: Master specifications are created by entities, companies, governmental agencies, etc., to establish a base line or minimum level of acceptable design objectives and/or considerations. In some cases, they may be referred to as Standards. Master specifications are sometimes used to develop Project Specifications.

Within these specifications you typically find references to codes, standards, regulations, etc.
Building and model codes are traditionally found in the commercial or building sector of the industry. They are adopted by local jurisdictions and have the force of law.
Due to limited resources of most authorities having jurisdiction (AHJ), building codes in most jurisdictions are generally developed and maintained by adoption of model codes, in whole or in part. A model code is not enforceable until adopted by a local jurisdiction.
Model codes, from a mechanical insulation perspective, are primarily developed by organizations such as the International Code Council (ICC).
You might also encounter separate energy codes that are in addition to with Building or Model Codes. Also, Fire Codes will occasionally come into play independently or by reference in building or model codes.
You may find references to Voluntary Consensus Standards like the Process Industry Practices (PIP) that are focused on the industrial segment, or the Midwest Insulation Contractors Association (MICA) Commercial & Industrial Insulation Standards manual.
There are several ASTM standards that could be refenced in the voluntary standards or any of the commercial/building or model codes or in any of the specifications.
There are various types of ASTM Standards:
Standard Material Specifications—explicit set of requirements to be satisfied by a product, system, or service.
Standard Test Methods—concise description of an orderly procedure for determining a property or constituent of a material, an assembly of materials, or a product.
Standard Practices—definitive set of instructions for performing one or more specific operations that does produce a test result.
Standard Guides—increase the awareness of information and approaches for a given subject; normally includes options but does not make a specific recommendation.
Regulation can take many forms from legal restrictions, contractual obligations, third-party regulation, certification, accreditation, or even market regulations.
In the case of the mechanical insulation industry, the regulations may relate more to certain requirements in industries or standards. An example would be the type of insulation and/or insulation finish that is allowed in food-processing areas, product labeling, safety data sheets, and safety regulations.
Are you confused yet? Keep reading—we are not done yet.
The mechanical insulation specification is an important but often overlooked part of the overall design process. The specification is typically part of a set of contract documents issued by a design professional for the purpose of executing work. Too often, mechanical insulation specifications are developed by dusting off and reissuing a specification from a previous project. That project could have been from last month or years ago.
A specification created for one project may not be applicable for a similar project. From the perspective of the mechanical insulation industry, there are many potential variables that influence decisions related to a mechanical insulation specification: relative humidly, ambient and service temperatures, application or project conditions, exposure to the elements, availability of new or improved materials, protective coverings, durability, serviceability, etc.
The potential practice of cut and pasting a specification multiple times, which is often the case, can only increase the magnitude of the problem. Unfortunately, the cut and paste specification process is alive and well today.
Why are specifications being cut and pasted, outdated, or not complete? There are multiple reasons, but there is a consensus that the mechanical insulation knowledge base within the engineering and facility owner communities is slowly dwindling to that of only basic knowledge with little actual experience.
Insulation is taken for granted in many applications. Mechanical insulation is not a major topic in many engineering curriculums and it's not exactly a sexy or hot topic of discussion in the design community. As a result it is the "Rodney Dangerfield" in many projects—it gets no respect. Yet, designing insulation systems can be complicated and can have serious and costly outcomes if not properly addressed. In some projects, multiple design objectives and considerations must be satisfied simultaneously.
Combine the reduced knowledge base with the fact that project schedules are continuing to be compressed. It seems like some owners are pushing to save costs by compressing schedules and pushing critical details downstream. That is one of, if not the primary reason, projects are being started and requests for insulation quotations and contracts are being awarded with incomplete documents.
Incomplete and outdated information in specifications, coupled with multiple potential conflicting references (guidelines, codes, standards, etc.), can create inconsistences (i.e., a bad specification). Not to be forgotten, it is also possible that conflicts can exist between drawings and specifications, and even other documents that combine to make a construction contract.
There are multiple consequences, other than general customer dissatisfaction, to a bad specification for the contractor and the facility owner. An underperforming or incorrect insulation system can potentially lead to:
Higher initial cost due to field-required change orders (proposal evaluations, scope or work monitoring, change in insulation materials or systems, reduced productivity, etc.).
Higher operating cost on many fronts: process control, energy consumption, maintenance, etc.
Other problems like corrosion under insulation, mold development, safety-related concerns, etc.
Early insulation replacement (e.g., production interruption, Cap X expenditures, etc.).
Some believe that a bad specification provides an insulation contractor with an advantage in bidding and/or executing the project. That position is debatable.
You cannot discount the fact that contractors may look at insulation specifications (reviewing what is written, unwritten, and incorrectly written) to develop both their bid basis and a list of items to be addressed—either sequentially during project execution or at the end.
If the specification is not clear, concise, and complete, that immediately equates to problems for the insulation contractor. Following are just a few of the issues that must be addressed:
Increased estimating time due to the degree of research and potential proposal clarifications that may be required;
The fear, or reality, of being compared to a different project perspective from a competitor, thus not bidding apples to apples;
Upon award of the project, spending hours that were probably not accounted for in the proposal—such as managing the submittal and approval of change orders, managing conflict resolution, schedule impacts, and potential disagreements between other stakeholders;
Communication with field labor teams related to change orders and dealing with potential rework activities; and
Running the risk of excessive remaining materials upon completion of the project.
Many contractors can attest that their most profitable contracts come from projects where the specification is complete and concise, the drawings are complete, and the scope of work is released in a timely fashion. They know what to do, what materials to use, when to do the work, and now their major focus is on productivity at all levels. A bad specification is the first step in preventing that level of focus on a project.
What are the remedies to eliminate the creation of a bad specification? That answer will vary depending upon whom you ask but there are a few core areas that are probably on all lists:
Understand why insulation is needed and focus on the applicable design objectives and considerations.
Examine the current master or project specification and truly dissect it to uncover the potential inconsistences, incomplete, outdated, or incorrect information and make all the required changes.
Don't hold back on asking for help. Ask insulation and protective covering manufacturers to point out outdated areas and suggested changes. Consider asking a few insulation contractors to meet with you and point out inconsistences and other areas that they take issue with, or create proposal clarifications and bidding or execution burdens.
Update and maintain your library and knowledge of current insulation systems.
Provide ongoing continual educational opportunities to share knowledge that are focused on mechanical insulation and related topics.
A bad specification in the mechanical insulation industry has the potential of being bad for everyone in the project chain of events: from the design firm, to the contractors building the projects, to the facility owners and operators of the completed project. A bad mechanical insulation specification just keeps creating challenges. The solution is to turn a bad specification into a good specification sooner than later and maintain it. Nothing lasts forever, each project is different, insulation systems are continually being improved, and new products are introduced in the market while some products become obsolete. Codes and standards also change regularly.
Act now. Help is around the corner—just ask and "inspect what you expect" in the design phase, during construction, and in ongoing operations. Design the mechanical insulation correctly, install it correctly, and maintain it in a timely and correct manner and see how your perspective as to the value of mechanical insulation will change.
The mechanical insulation industry needs to say goodbye to bad mechanical insulation specifications and heighten awareness by providing examples of good specifications.
Author's Note: I would like to express my appreciation to Howard Lavender, Insulation & Fireproofing SME, The Dow Chemical Company, Freeport, Texas; Gary Kuzma, Senior Principal, Director of MEP Engineering at HOK Houston, Texas; and Ed Schauseil, SME—Insulation and Coatings, KBR, Houston, Texas, for their help in reviewing and providing suggestions for this article. Their insight on this topic and commitment to improving mechanical insulation specifications throughout the industry is an example for others to follow.
Quote from Gary Kuzma