The State of Fire Resistance, Compartmentation, and Firestop Systems
The insulation industry is not alone in its efforts—through NIA and its Certified Insulation Inspector Certification™—to provide certified inspectors to ensure quality work. The firestop industry also has been making great strides over the decades.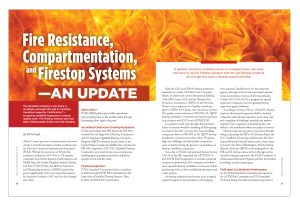 About 25 years ago, seven contractors met and wrote checks to start the formation of what would become the Firestop Contractors International Association (FCIA). We had 40 contractors at FCIA's first conference in January 1999. Now at 375 member companies from North America, South America, the Middle East, the United Kingdom, Ireland, Europe, and Asia, FCIA's Design, Installation, Inspection, and Maintaining protection (DIIM) initiative has grown significantly. I first wrote about the industry for Insulation Outlook in 1997, and a lot has changed since then.
What's New?
FCIA's DIIM philosophy is fully operational and providing value to fire and life safety through firestopping done right in big way.
Accredited Contractors Gaining Acceptance
FCIA's partnership with FM Approvals' FM 4991, Standard for the Approval of Firestop Contractors, and UL Solutions' Qualified Firestop Contractor Program (QFCP) continues to gain steam in the United States, Canada, the Middle East, and beyond. FM 4991 Approved or UL/ULC Qualified Firestop Contractors are located in key areas, serving many building types as preferred providers of firestop systems for fire and life safety.
Firestop Inspection
FCIA's Standards Committee hired a consultant in 2000 to build ASTM E2174 Standard for the Inspection of Installed Firestop Systems. Then, in 2004, ASTM E2393 was finished.
Both the E2174 and E2393 firestop inspection standards, as a result of FCIA's Code Committee efforts, are referenced in the International Building Code (IBC) (since 2012) and the National Fire Protection Association 1 (NFPA 1): the Fire Code. There is even a reference to a "quality control program" in NFPA 101's Annex non-mandatory sections. The quality control reference is FM 4991, UL QFCP firestop installation contractors and special inspection in accordance with E2174 and ASTM E2393.
In a perfect world, only specialist firestop installation contractors would be installing all firestopping on projects. But that is not yet true. Some building occupancies have an FM 4991 or UL QFCP firestop installation contractor more than others. Hospitals, high-rise buildings, and educational occupancies seem to lead by having the greatest concentration of firestop installation contractors.
Soon, due to FCIA's code proposal that, in Section 1705.18 of the IBC, expanded the ASTM E2174 and ASTM E2393 inspections to include residential occupancies greater than 250 occupants, we believe more specialist firestop installation contractors will be performing work on these multifamily apartment and condo projects.
As firestop inspection has become more accepted, inspection agencies that specialize in firestopping have appeared. Qualifications for the inspection agency and inspector have been developed. International Accreditation Services (IAS) Accreditation Criteria (AC), IAS AC291, a program for special inspection companies, has been gaining firestop inspection agency followers.
According to Section 1704.2.1 of the IBC, firestop (and any other) special inspectors shall be declared competent, with relevant experience in the same type and complexity of buildings, materials, and systems inspected. The competence is declared by the code official in the jurisdiction where the project is located.
Firestop inspectors can prove competence through taking and passing the FM or UL Firestop Exam, the ICC Certificate of Learning Achievement, the International Firestop Council's exams, and/or state exams, as found in the State of Washington. FCIA's Firestop Manual of Practice (MOP) is the study guide for the FM and UL firestop exams, with an 80-page section devoted to firestop inspection. The FCIA Certificate of Achievement Education Program provides the detailed knowledge needed to participate.
Field Input to Standards Development
As the FCIA Standards Committee participates in the ASTM E06 Committee and UL's Standards Technical Panels, the field and jobsite perspective is brought to the standards development process. The results include ASTM Exposure, ASTM E3037 Movement of Penetrating Items Standard, a material aging standard, and more. These optional elements to ASTM E814, UL 1479, ASTM E1966, UL 2079, and ASTM E2307 Fire Test Standards provide value to the building owner and manager by the standards reflecting what might happen in the real world.
---
Special Inspection Agency and Special Inspector Qualifications
What is special inspection? It is an International Building Code defined term from Chapter 2, Section 202.
[BS] SPECIAL INSPECTION. Inspection of construction requiring the expertise of an approved special inspector in order to ensure compliance with this code and the approved construction documents. [IBC 2021, Ch.2]
In special inspection, the AHJ is relying on the inspector to provide a report on the firestopping from someone qualified to review the work. That is why there are qualifications for these special inspection agencies and special inspectors. It is also why a specialist firestop installation firm should be used for firestopping.
First, the firestop inspection agency is to be approved toperform "special inspections." The agency must be independent, competent, and objective. From the IBC's Chapter 17:
1703.1 Approved agency. An approved agency shall provide all information as necessary for the building official to determine that the agency meets the applicable requirements specified in Sections 1703.1.1 through 1703.1.3. [IBC 2021 1703.1]
1703.1.1 Independence. An approved agency shall be objective, competent, and independent from the contractor responsible for the work being inspected. The agency shall disclose to the building official and the registered design professional in responsible charge possible conflicts of interest so that objectivity can be confirmed. [IBC 2021 1703.1.1]
1703.1.2 Equipment. An approved agency shall have adequate equipment to perform required tests. The equipment shall be periodically calibrated. [IBC 2021 1703.1.2]
1703.1.3 Personnel. An approved agency shall employ experienced personnel educated in conducting, supervising, and evaluating tests and special inspections. Then, the special inspector has to prove competence. [IBC 2021 1703.13]
1704.2.1 Special inspector qualifications. Prior to the start of the construction, the approved agencies shall provide written documentation to the building official demonstrating the competence and relevant experience or training of the special inspectors who will perform the special inspections and tests during construction. Experience or training shall be considered to be relevant where the documented experience or training is related in complexity to the same type of special inspection or testing activities for projects of similar complexity and material qualities. These qualifications are in addition to qualifications specified in other sections of this code. The registered design professional in responsible charge and engineers of record involved in the design of the project are permitted to act as an approved agency and their personnel are permitted to act as special inspectors for the work designed by them, provided they qualify as special inspectors. [IBC 2021 1704.2.1]
1704.2.2 Access for special inspection. The construction or work for which special inspection or testing is required shall remain accessible and exposed for special inspection or testing purposes until completion of the required special inspections or tests. [IBC 2021 1704.2.2]
---
Specifications
Specifications now reference FM 4991 and the UL Qualified Firestop Contractor Program, Special Inspection in accordance with ASTM E2174 and ASTM E2393 inspection standards. But, as mentioned, the firestop installation contractor programs are sometimes removed by a general contractor, for a variety of reasons.
Although some general contractors cite lack of supply, the reason is usually that a general contractor has the various construction disciplines—electrical, plumbing, or others—install the firestop products without certification. I emphasize products because installing products only can be 50 to 75 times cheaper than installing firestop systems. There are more than 200 FM 4991 or UL Qualified Firestop Contractors to choose from—many who travel to a region and do not stay in a particular city.
A general contractor, building owner, or manager/buyer who does not know to ask for firestop systems, and not just firestop products, will not get the value a firestop system provides. The value is in the tested and listed firestop products installed in accordance with the listing and the manufacturers' installation instructions—which all together become a system after installation. That is different than what exists in many industries because the end result is not a system until all of the pieces are installed in the exact configuration—including penetrating item(s), pipe or duct coverings, cable type and sizes, annular space, joint or gap sizes, floor or wall type and fire-resistance rating…a system.
Existing Buildings and Firestopping?
It seems the firestopping new construction market is moving toward using specialist firestop installation contractors as a trend. Some existing building occupancies are doing the same. When fire-resistance protection is maintained in accordance with the International Fire Code (IFC), NFPA 1, NFPA 101, International Property Management Code, National Fire Code of Canada, and other fire codes worldwide, buildings remain safe for occupants.
The IFC requires annual visual inspection of all fire resistance-rated and smoke-resistant assemblies in buildings. NFPA 1 requires a 3-year visual inspection. NFPA 101 is silent on timing but states to keep fire resistance-rated assemblies continuously ready to protect people. Other fire codes and building codes throughout the world state to maintain protection for fire resistance, including firestopping, continuously.
However, when asked, fire resistance is not always high on the radar for building owners and managers. Maintain the sprinkler system fire pumps, electrical, etc.? Yes. Maintain the fire-detection and alarm system? Yes. Maintain the effective fire resistance-rated compartmentation and structural fire resistance? Yes, for some building owners; "what?" is the answer from others. When made aware of the requirements, building owners seem to state, "let's get a budget together and find a way to comply."
Existing buildings are where there are opportunities for firestop installation contractors. Buildings with fire resistance-rated assemblies need to protect people for the building life cycle. Why not work with a building owner to help keep them out of a high-liability situation? Once the discussion starts, it is not just the firestopping that needs protection maintained.
Yes, breaches and holes are made for new service items, thicker insulation on pipes and ducts, new and faster internet cabling, to name just a few items. But fire doors—both rolling and swinging—are to be inspected annually by a competent individual. Fire dampers are inspected at commissioning, Year 1, and every 4 years for most occupancies, every 6 years for hospitals. Fire resistance-rated walls always have something happening to them.
In the International Fire Code, Section 701.6, "Owners Responsibility," there is a requirement for the building owner and manager to repair where breached, penetrated, or altered; to keep records of annual fire-resistance inspections and repairs; plus have a complete "inventory" of fire-resistance items in the building. Without the fire-resistance inventory, how does the building owner know what to maintain?
FCIA's Recommended Professional Practice for Survey of Existing Buildings provides a great tool for a firestop installation contractor to start maintaining protection in existing buildings.
Firestopping Education
FCIA believes that certainly the firestop material manufacturers are important in educating about firestop products and their application, in accordance with manufacturers' instructions and the listings. The manufacturers' instructions include product data sheets, installation instructions, safety data sheets, and anything else the manufacturers provide about their products. The listings are systems from the UL Product iQ, FM Approval Guide, Intertek Directory, or other Authority Having Jurisdiction (AHJ)-approved fire-test laboratory.
We also believe that FCIA's Firestop Manual of Practice (MOP), on its 9th edition, is a valuable tool for firestop contractors, inspection agencies, AHJs, specifiers, and others. It is the study guide for the FM 4991 and UL firestop exams. With an 80-page chapter on firestop inspection, it is perfect for contractors, inspectors, and others. As a service to specifiers and architects, engineers with design firms, and governmental code official and fire marshals, FCIA provides a free PDF copy of the MOP.
FCIA's work building the FCIA Certificate of Achievement eLearning Program is being used
by firestop installation contractors and inspection agencies to build better staff—and compete in the marketplace—with important FCIA-certified employees. This complements the FM 4991 and UL QFCP programs, providing a quantifiable way to prove competence of employees working in firestopping.
Conclusion
Using a competent firestop installation contractor/competent inspection agency results in the right
cost of construction. An incompetent contractor/incompetent inspector results in high inspection
costs and project delays at a critical time—the end
of the project.