Time for a Pause: Reevaluating Recruiting Strategies
This is Part 2 in a series on how construction firms solve their talent problem and drive
company success.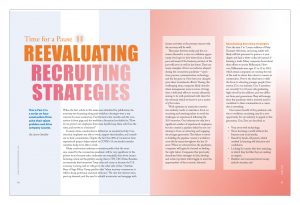 When the first article in this series was submitted for publication, the economy was humming along and workforce shortages were a top concern for most contractors. Fast forward a few months and the coronavirus is front page and the workforce discussion has shifted to, "How do we protect our employees from mass layoffs, keep them safe from the virus, and survive as a business?"
In many states, construction is defined as an essential activity. Construction employees are able to work, support their families, and contribute to their communities. Despite the fact that 40% of contractors have experienced project delays related to COVID-19, we should consider ourselves lucky to be able to work.
Many construction industry economists predict that the recession caused by the coronavirus pandemic will be very significant to the private sector because select industries are essentially shut down (manufacturing, retail, and hospitality among them). ITR CEO Brian Beaulieu recommends that businesses "keep calm and carry on because the U.S. economy is strong and we will get to the other side of this." Anirban Basu of Sage Policy Group predicts that "when recovery commences, it will be sharp, profound, and most welcome." He cites low interest rates, pent-up demand, and the need to rebuild inventories and reengage with human activities as the primary reasons why the recovery will be swift.
This pause between today and the economic rebound is a once-in-a-lifetime opportunity (we hope) to slow down from a frantic pace and assess if the business practices of the past will serve us well in the future. There are many examples of how our industry adapted during the coronavirus pandemic—operations, process, communication, technology, and the list goes on. How have you changed your talent recruitment efforts? During this challenging time, companies likely describe talent management more in terms of triage than a dedicated effort to recruit, ultimately aiming to be well-positioned with talent for the rebound, which we know is not a matter of if but when.
With optimism in mind, the construction industry needs to maintain a focus on recruiting and retaining talent to avoid the challenges we experienced following the 2010 recession. Our industry not only lost a significant number of experienced employees, but also created a pipeline deficit by not continuing to focus on attracting and engaging the younger generation. The failure to invest in building the pipeline created a workforce crisis felt by many throughout the last 10 years. When we rebound from the pandemic, companies will again be focused on finding the right talent. Companies that previously abandoned their strategies to hire, develop, and retain top talent will struggle to meet the opportunities of the economic rebound.
Reevaluating Recruiting Strategies
Over the next 5 to 7 years, millions of Baby Boomers will retire, and young adults will likely still feel pressured to pursue a 4-year degree and land a white-collar job instead of learning a trade. Many companies boast about their efforts to recruit Millennials. However, Millennials were ages 23 to 38 in 2019, which means companies are nearing the end of the road to attract this cohort to careers in construction. Now is the ideal time to shift the focus to attracting younger people (Generation Z) to our industry. Gen Z members are currently 9 to 22 years old, graduating high school by the millions, and very different from past generations. They will emerge from this pandemic with a renewed need to contribute to their communities in a career that is rewarding.
One unseen benefit of the pandemic, relative to workforce recruiting, may be a new opportunity for our industry to appeal to this generation. Gen Zers are described as:
Very savvy with technology;
Never knowing a world without the Internet and social media;
Raised by hands-off parents, which resulted in learning self-direction and confidence;
Looking for careers that have meaning, in which they feel like they are making an impact;
Realistic and concerned about money and job security; and
Impatient and wanting to start a career early (according to a study from research firm Barna Group, 66% of Gen Zers want to start a career before age 30).
How do we turn these generational traits into an opportunity for our industry during the pandemic pause? Consider how your company has adapted its business during the pandemic in ways that will appeal to Gen Z:
Increased use of technology. Social distancing required contractors to use technology in many new ways, from the use of drones for site safety inspections to apps for employee wellness check-ins and remote workplaces connected by shared files.
Reliance on new communication tools. Stay-at-home orders in many states required businesses to adapt to new means of communicating. Safety huddles were held via Zoom; team coordination meetings happened virtually; and app-based communication tools automated activities previously handled via fax, mail, and email. For an industry that was reluctant to embrace remote working, we adapted quickly due to necessity.
Construction is essential. We all understand the career image challenges the construction industry has faced in the past. The coronavirus pandemic positioned the construction industry as equal to many well-respected occupations such as health care, emergency responders, and banking because of being deemed "essential" to the safety and health of our communities. We know that Gen Z wants to make a difference, both personally and professionally. The construction industry will come out of this pandemic with many examples of how we made an impact during unprecedented times.
Financial security. The record levels of unemployment from the closure of retail, hospitality, and manufacturing during the coronavirus pandemic will have long-term economic impact on their former workforce. The fact that the construction industry has been able to continue working, even if at reduced levels, demonstrates the financial stability that well-paying construction careers offer.
This pause allows the construction industry an opportunity to fill the pipeline by demonstrating how resilient and adaptable it is because of increased use of technology and new means of communication; as well as underscoring our necessary and meaningful contributions to society.
Applying New Recruiting Strategies
A successful recruitment strategy requires that companies provide an opportunity for exploration, education, and engagement. With schools across the nation moving from brick and mortar to virtual classrooms, we need to consider practical strategies for both today and when life resumes at a normal pace.
Exploration. Attending career fairs and presenting at high schools are excellent ways of reaching out to students and helping them explore the industry. With many schools closed, teachers scrambled to deliver learning virtually. Schools may continue to look very different in the fall, so reach out to your local school and offer to do virtual exploration with students. Show students the latest in technology, demonstrating how building information modeling and virtual reality allow virtual walk-throughs. Explain advances in prefabrication and manufacturing, or walk through an estimating exercise with a math class. With social distancing in mind, we must be creative in finding new ways to help students explore the industry.
Education. All industries have been evolving to develop programs that allow young people an opportunity to start their career early, many while still in high school. Youth apprenticeships, internships, mentorships, and co-ops are ways to introduce the construction industry to teenagers and young adults. We have worked hard over the last 10 years to interest this next generation in the construction industry. If we stop now, it may be hard to get them back, as they will find other industries that will provide them with work experience. How can we continue to provide this valuable learning opportunity for young people today? Students currently signed up for work release, school-to-work, or summer intern programs may suddenly find themselves with ample time and schedule flexibility to work. Reconsider rescinding offers to provide these work experiences—instead, view it as an investment in your future talent pipeline.
Engagement. Employee engagement has become a buzzword in human resources circles. Engaged employees work with passion and feel a strong connection to their company. These employees drive innovation and advance the organization, which is why many companies use surveys to measure attributes related to engagement and culture, such as:
I am proud to work at…
I recently received praise…
I like the direction [company] is going…
I would recommend [company] to a friend…
My supervisor cares about me…
Many leadership articles address how important it is throughout the pandemic to preserve employee engagement and culture. Your company has likely tried to address this need to support its culture by protecting the health and safety of your employees and their families, regular personal outreach by managers to employees, company-wide communication, and praise for great efforts during a challenging time. These efforts boost the engagement of your employees and every future employee your company interacts with, whether through social media or direct exchange. The way your company responds during this unprecedented time is an opportunity to build engagement with both current and future employees. Be proud about your efforts and share them publicly. Non-employees will notice and look favorably on your company as a potential employer of choice.
The workforce shortages we struggled with in January 2020 are not going to disappear when we rebound from COVID-19. Look in the rearview mirror at what happened after the 2008 to 2010 recession, when we failed to invest in building the pipeline. Take advantage of this pause before the rebound as a time to reevaluate and revise business strategies and practices. Learn from the lessons of the past and commit to new strategies to attract talent that will position your company to thrive when (not if) the economy rebounds.
Copyright statement
This article was published in the July 2020 issue of Insulation Outlook magazine. Copyright © 2020 National Insulation Association. All rights reserved. The contents of this website and Insulation Outlook magazine may not be reproduced in any means, in whole or in part, without the prior written permission of the publisher and NIA. Any unauthorized  duplication is strictly prohibited and would violate NIA's copyright and may violate other copyright agreements that NIA has with authors and partners. Contact publisher@insulation.org to reprint or reproduce this content.