Top 5 Cybersecurity Trends For Businesses in 2020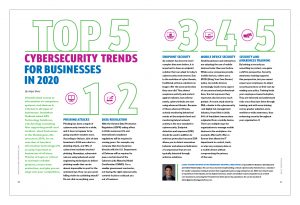 Unauthorized access to information on computers, systems, and devices is a threat to all types of businesses. Insulation
Outlook asked GRS Technology Solutions, a technology consulting firm supporting small–and medium–sized businesses in the Washington, DC, area since 2014, for an overview of trends in information technology (IT) security important to
businesses of all sizes. This list of topics is critical to maintain reliable systems, ensure data protection, and give you an edge over your competition.
Phishing Attacks
Phishing has been a staple of cybersecurity trends for a while, and it does not appear to be going anywhere anytime soon. According to Verizon, 32% of data breaches in 2019 were due to a phishing attack, and 78% of cybercrime incidents involved phishing. Nowadays, cybercriminals are using advanced social engineering techniques to deliver phishing emails that can be almost impossible to spot for the untrained eye. How can you avoid falling victim to a phishing attack? Do not click on anything, ever.
Data Regulation
With the General Data Protection Regulation (GDPR) taking effect in 2018, numerous U.S. and international compliance
regulations will be required in coming years. For example, any company that does business directly with the U.S. Department of Defense will be required to pass a certain level of the Cybersecurity Maturity Model Certification (CMMC). For a smaller government contractor, not having the righ tcybersecurity controls in place could put you out of business.
Endpoint Security
As malware has become more complex than ever before, it is important to have an endpoint solution that can adapt to today's cybersecurity environment. Due to the evolution of cyber threats, traditional antivirus solutions no longer offer the same protection they once did. They detect suspicious activity and protect against malware, but unfortunately, cybercriminals are now using advanced threats. Because of these advanced threats, actively monitoring behavioral events at the endpoint level and monitoring lateral network activity is the new standard in cybersecurity. Endpoint
detection and response (EDR) should be used in addition to antivirus protection because EDR allows you to detect anomalous behavior and advanced indicators of compromise that are not typically detected through antivirus solutions.
Mobile Device Security
Small businesses and enterprises are adopting the use of mobile devices faster than ever before. While some companies provide mobile devices, others use a BYOD (Bring Your Own Device) policy. As mobile devices increasingly touch every aspect of our personal and professional lives, the risk exposure they represent also becomes much greater. A recent study done by RSA, a leader in the cybersecurityand digital risk management industry, found that in 2018, 80% of fraudulent transactions originated from a mobile device. There are multiple ways for organizations to manage mobile devices in the workplace—for example, Microsoft offers a license that allows the IT department to control, track, or wipe any company data on a mobile device without compromising the privacy of the user.
Security and Awareness Training
By looking at security as something to protect, one gains a shift in perspective. Security awareness training supports this perspective, but you cannot expect your employees to adopt security practices on their own by reading your policy. Training leads your employees toward adoption. They are informed and understand risks once they have been through
training; and with more training comes greater adoption and a workforce-wide awareness, thus enhancing security throughout your organization.