Transforming Modern Workplace Health and Well-Being: A New Study from the National Safety Council
New report looks at the interconnectedness of safety, sustainability, and societal responsibility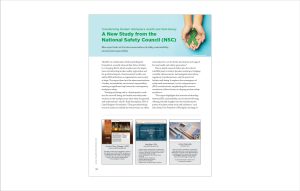 The NSC, in collaboration with Lloyd's Register Foundation, recently released New Value of Safety in a Changing World, which underscores the importance of embracing modern safety approaches and the profound impact of environment, health, and safety (EHS) initiatives on organizations and society at large. The report dives into the interconnectedness of safety, sustainability, and societal responsibility, marking a significant step forward in contemporary workplace safety.
"Feeling and being safe is a fundamental condition for our well-being, but health and safety interventions in the workplace are often taken for granted and undervalued," said Dr. Ruth Boumphrey, CEO of Lloyd's Register Foundation. "This groundbreaking research makes us rethink the value we put on safety and makes the case for better investment and support for new health and safety approaches."
This in-depth research delves into the critical role EHS plays in today's dynamic landscape, bridging scientific advancements, technological innovations, regulatory transformations, and the pursuit of holistic well-being. It explores the convergence of safety with environment, social, and governance (ESG) considerations, emphasizing the interconnectedness of these factors in shaping modern safety excellence.
"This report highlights the intricate relationship between EHS, sustainability, and societal well-being, offering valuable insights into the transformative power of modern safety tools and initiatives," said John Dony, Vice President of Workplace Strategy at NSC. "In an era defined by technological leaps, global well-being and economic challenges, and shifting cultural norms, understanding and embracing the critical role safety—and all it encompasses—plays in the workplace is a must, and it needs to start with an expanded, holistic approach. This report will not only help decision-makers advance safety but will also help workers across the globe live their fullest lives."
The New Value of Safety in a Changing World report highlights the following findings:
Holistic Approach: Modern safety programs extend beyond physical safety and direct cost reduction. The research identifies Human and Organizational Performance, Total Worker Health, and ESG as integral concepts that collectively drive value creation across various domains.
Value Generation Areas: The Hierarchy of EHS Value illustrates how EHS programs
generate value across eight distinct areas: health, economic, environment, sustainability, resilience, ethics, society, and reputation. The report elucidates the intricate relationships among these areas, underscoring their interconnectedness.
Integrated Initiatives: Themes such as diversity, equity, inclusion, mental health, and sustainability intertwine across Total Worker Health and ESG. Integrating these areas offers compelling benefits, including increased trust, enhanced reputation, and better overall resilience.
Future-Ready Strategies: The report advocates for businesses to embrace a holistic safety approach and adapt to the changing regulatory and standards landscape. Organizations are encouraged to implement tailored interventions based on the profiled themes to drive value creation.
NSC has also developed an activation guide to equip organizations with practical tools to implement continuous improvement strategies and navigate the evolving EHS landscape. For more information on the new value of safety, visit nsc.org/nvos.
The NSC (www.nsc.org) works to eliminate the leading causes of preventable death and injury, focusing its efforts on the workplace, roadway, and impairment. They create
a culture of safety to not only keep people safer at work, but also beyond the workplace so they can live their fullest lives.