Value Engineering: What's the Real Cost?
Is there a Value in Value Engineering?
Value engineering can be a controversial topic. Some would call it an effective way to reduce costs, while others claim it leads to improper material selection or installation, leading to complications for the system down the road. When designing a system and choosing materials, it is important to ensure that any value engineering choices do not harm the future performance of the system.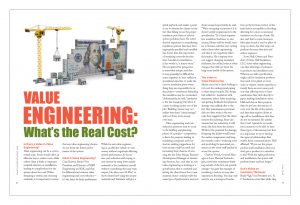 What Is Value Engineering?
Gary Kuzma, Senior Vice President and Director of MEP Engineering at HOK, said that he differentiates between value engineering and cost reduction—it's the latter he finds problematic. While he sees value engineering as an effective vehicle to save money without negatively affecting system performance, he associates cost reduction with trying to save money by using lower-grade materials or less insulation overall without considering the long-term impact. He often uses 3E Plus® to show clients how using the proper materials and thickness will give a quick payback, and makes a point to try to educate his clients on the fact that failing to use the proper insulation puts them at risk for system problems later. He noted that his experience in remediating insulation systems that have been improperly specified and installed has shown him the importance of insulating correctly the first time. Insulation remediation, in his words is, "a horror story." He recognized his perspective is somewhat unique, and that it may generally be difficult for some engineers to have sufficient specialized expertise to make the case for insulation given everything they are responsible for in the project—sometimes defending the insulation may be overlooked. Unfortunately, he said, "insulation is the low-hanging fruit when it comes to taking money out of the job." Building owners may not realize that these "initial savings" will cost them more money over time.
Value engineering and cost-reduction practices tend to occur in the bidding and planning phases of a project—competition is fierce for projects, leading to insulating companies and contractors making suggestions for how money could be saved and increasing their chances of winning the job. John Shinas, Business Development Manager at Insulating Services, Inc., said that he sees value engineering as looking at a specification that is outdated and letting the client know that a new material choice could provide the same type of performance and save them money. Importantly, he said, "We're not going to present it if it doesn't satisfy requirements in the specification." If a client requests less insulation thickness to save money, Shinas said he would, similar to Kuzma, call that cost cutting rather than value engineering, and that it can negatively affect the project. His company does not suggest changing insulation thickness, but rather, looks at other changes that will not harm the long-term health of the system.
The Value in Value Engineering
Shinas once had a client looking to cut costs for underground piping in their steam tunnels. The design had called for  insulation with aluminum jacket. After inquiring and getting feedback that physical damage was unlikely due to the fact that maintenance personnel did not often work in the tunnels, they suggested that the client remove the jacketing. Since aluminum has low emissivity, it will retain the heat from the system. Without the potential for damage, foregoing the jacket would lower the surface temperature and keep the tunnels cooler—reducing costs and providing for personnel protection in the event staff needed to access the system.
Gordon Vierck, General Manager at Luse Thermal Technologies, noted that sometimes thinking outside of the box can provide savings—he gave the example of insulating a tank in an area that experiences flooding. You may only need to use a waterproof insulation on the bottom portion of the tank that is susceptible to flooding, allowing for a more economical insulation on the top of tank. He also said that in some instances, fiber glass board is used in place of wrap on ducts, but that wrap can perform the same function and reduce expenses.
Scott Hall, Owner and President of Dean Hall Insulation, LLC, notes value engineering can take advantage of advances in products and installation ease. Whereas an older specification might call for insulation products that need to be glued at every seam or require certain expertise to install, there are now some products that offer lap seals or have membranes that stick directly to pipes, making installation easier. Hall said that in their projects, they do get into discussions of costs over the life of the system, and that they require clients to sign off on installations that they do not recommend. He admits that it isn't typical for an insulation contractor to be able to have these types of discussions, but that it is important to try to develop the types of relationships that enable these communications. Hall affirmed, "If you use the proper product and installation, then you don't put a product in a situation to fail. With the right production and installation, the system will perform better and last longer."
Don't Skimp on Insulation Thickness
Rudy Nigl, Vice President at L & C Insulation, noted that while they are open to substitutions that do not affect system health, he maintains a healthy skepticism of value engineering. He explained that, depending on the system, they may be able to substitute fiber glass for polyisocyanurate or a rubber insulation without affecting system health, but that overall, reductions in insulation are a zero-sum game, "Asking an insulator to value engineer is a contradiction in terms. The insulation has been specified for a job for a reason—to conserve energy, to eliminate condensation, or to increase the length of life for equipment, piping, or ductwork—it's put on for a reason. To try to reduce or eliminate insulation is completely contradictory to putting it on in the first place."
Vierck explained that he typically takes advantage of value engineering options when the specification is "over engineered," meaning that the system could be a success with a less expensive product without impacting long-term performance. Where value engineering can fail, he said, is when it calls for reductions in thickness. For example, on a chilled water system, reducing thickness can lead to condensation issues, threatening the performance of the overall system. Kuzma noted that he most often sees issues with insufficient insulation on chilled pipe in humid areas—in these cases, the heat loss means the system is working less efficiently than it would with the proper insulation, leading to higher costs.
Problems tend to occur when clients are asking to cut costs at the expense of meeting the specification. Shinas said, "If you lower thickness to save costs up-front, you're going to lose that cost, and then some, during the life of the systems. I do calculations to let them know how much energy they will be losing over a 5-year period." Jacketing is often a frequent target of cost-reduction conversations. Vierck said that clients often want to cut costs by not using jacketing, but the additional damage sustained by the system makes this reduction cost more than it will save in the long run, explaining, "jacket can give [a system] twice the life cycle."
John Lamberton, Eastern Region President for Irex Contracting Group, said that value engineering, "should be an upgrade, you should be putting on thicker, higher performance insulation. Although there's an up-front cost, it will pay for itself over the life of the building." Lamberton noted that no luxury hotel would dream of substituting a less expensive wood for mahogany molding in the lobby, but will substitute or forego insulation simply because it's out of sight, and it's more difficult to spend money on
something that is not seen. However, as Vierck affirmed, "Mechanical insulation cannot continue to be an overlooked part of the project. It is extremely important to consider not only current costs but future operations and maintenance costs. Spending the time up-front will save money and headaches for future maintenance personnel."
Straight from the Horse's Mouth
One way to help eliminate these problems would be to have better communications on site. Often the insulation contractor has no contact with the architect, engineer, or the facility owner, who will shoulder excess costs if systems aren't insulated properly. Vierck said that the opinion of the insulator, at best, is only considered about half the time. On site, it can be difficult to get a line out to the engineer to make them aware of a potential situation. Sometimes the engineer may not even be aware that an insulation reduction has been made until the pipes are already installed—at that point it is too late to change because there isn't enough room for sufficient insulation. In this case, the system is likely to encounter performance issues and incur additional costs down the road.
Establishing relationships with your building partners to facilitate more communication could be the key to preventing any cost-cutting measures that adversely affect systems. Kuzma affirms, "I advocate having multiple people at the table—if you're installing the insulation I want to see you and I want to hear from you—that way you're getting the information directly from the horse's mouth without it being filtered or misrepresented." Increased communication and transparency can also help alleviate another related issue—cost manipulation. An insulation contractor may find some value engineering options that will provide savings without hurting the system, and present them to the mechanical contractor. The mechanical contractor may sometimes choose the cheaper option and not pass those savings onto the owner. The general contractor may sometimes do the same with any potential cost-saving measures. Increased communication with all parties can increase accountability for true costs and eliminate any inflation that may occur along the line.
Conclusion: Taking the Long View
Ultimately, the difference between value engineering being a net positive or negative for the system hinges on whether value engineering decisions are made with the long-term picture in mind. Using tools like 3E Plus or other software can help make the case for how investing in the correct amount of insulation will provide an excellent return on investment, and lessen the chances of a costly insulation remediation down the road. Cutting costs at the expense of the insulation can lead to catastrophic system failure and larger expenses down the line, while investing in proper insulation can provide for long-lasting, well-functioning systems.
---
The editorial staff would like to offer a special thank you to Scott Hall, Dean Hall Insulation, LLC (www.deanhallinsulation.com); Gary Kuzma, HOK (www.hok.com); John Lamberton, Irex Contracting Group (www.irexcontracting.com); Rudy Nigl, L & C Insulation, Inc. (www.lcinsulation.com); John Shinas, Insulation Services, Inc. (www.insulatingservices.com); and Gordon Vierck, Luse Thermal Technologies (www.luse.com) for their contributions to this piece.
Copyright Statement
This article was published in the June 2018 issue of Insulation Outlook magazine. Copyright © 2018 National Insulation Association. All rights reserved. The contents of this website and Insulation Outlook magazine may not be reproduced in any means, in whole or in part, without the prior written permission of the publisher and NIA. Any unauthorized duplication is strictly prohibited and would violate NIA's copyright and may violate other copyright agreements that NIA has with authors and partners. Contact publisher@insulation.org to reprint or reproduce this content.