Want Happy Employees? You Need Insulation
Insulation Will Affect Your Life Forever—Get It Right the First Time
The Saint Gobain building study was undertaken for the purpose of being able to get quantified metrics on how exactly building and design choices affect personnel and thus, business operations. The subjects were studied for 3 years in the first building, and then before and after they moved into the new building. The unique circumstances of this longitudinal case study—being able to study the same group of people in 2 different buildings—removed some of the variables and made it easier to draw conclusions from the available evidence. One of the objectives was to prove that you can build a high-performance building on a budget, and the study helped identify what design choices would give the best results.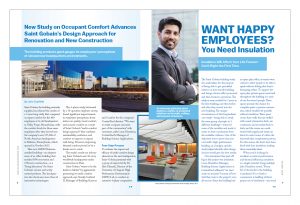 One investment that paid off big in this project was insulation. Lucas Hamilton, Manager, Building Science Applications at CertainTeed, affirmed, "we went crazy on acoustics" because of how vital they were to the project's overall success. Since the building had an open-plan office, acoustics were critical to allow people to be able to speak without feeling that they're disrupting others. To support the open plan, private spaces were built throughout the building at a ratio of one for every 8 people. These spaces promise the chance for complete quiet or private conversation, which wouldn't be possible without insulation. These quiet rooms have walls that are stuffed with sound attenuation batts, are continuous and air sealed deck to deck, and the rooms are conditioned with supply and return air ducts. In such rooms, it's often the ductwork that compromises privacy. For this reason, the ducts have been lined with duct insulation, making them essentially silent.
When you're looking for excellent acoustical performance and thermal efficiency, insulation is a single material doing multiple jobs. Hamilton noted, "Every bit of ductwork in the building is insulated. It's so hard to commission a building without proper use of insulation—you need it if you want air coming out at the same temperature throughout the system." Failing to insulate the ductwork makes it extremely difficult to keep the air at a consistent temperature. As the duct runs get longer this is even more true. Hamilton said, "You can't get the results you need without a well installed insulation package—it's really important for controlling the temperature and the energy loss. Without insulation, you're losing energy every foot you get away from the source." Temperature consistency not only saves energy, it's also critical to thermal comfort, which can have a significant effect on employee health and productivity.
Hamilton explained that if you're looking for above-board results, you have to shift the focus away from up-front costs and look at costs over the life of the building. Oftentimes, choosing an insulation with a better R value will pay for itself very quickly at today's energy costs. The focus on choosing materials and design that would garner long-term benefits on this project resulted in the building gaining platinum LEED status in both Core and Shell, and Commercial Interiors programs.
In addition to helping meet energy goals, insulation also aids in maintaining Platinum LEED status due to the role it plays in moisture management, which is important for air quality. Saint Gobain used a vapor retarder in the exterior walls of the building that played an important role in managing moisture. This vapor retarder is a material that, on the microscopic level, closes and opens based on the amount of moisture present in the air. This allows the wall to dry when necessary. Hamilton noted, "Moisture is coming and it will eventually find a way in, so you need the materials that can respond and work to keep the
building dry, healthy, and performing at a high level."
Saint-Gobain's headquarters and its office configuration would simply not be effective without the use of insulation. In this instance, the insulation will not only save energy and keep costs low throughout the life of the building, but also help with employee comfort and productivity. Hamilton said, "You need the full variety of insulation options to get all of this right. Everyone thinks you just shove insulation in a wall and forget about it, but you have to get it right the first time because it's hard to fix once the walls are built. There's so much thought and work that goes into this material that is so hugely impactful down the road. Winston Churchill said we shape our building and then they shape us—our time to get it right is when we put it [the insulation] in because it's going to affect our lives from then on. It's such an incredibly important influence on whether people are happy."
Copyright Statement
This article was published in the October 2018 issue of Insulation Outlook magazine. Copyright © 2018 National Insulation Association. All rights reserved. The contents of this website and Insulation Outlook magazine may not be reproduced in any means, in whole or in part, without the prior written permission of the publisher and NIA. Any unauthorized duplication is strictly prohibited and would violate NIA's copyright and may violate other copyright agreements that NIA has with authors and partners. Contact publisher@insulation.org to reprint or reproduce this content.