Weather the Storm: Insulation Tips for a Faster Restart after a Disaster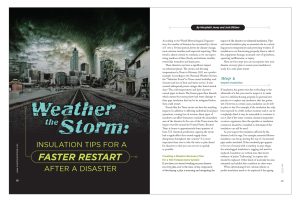 According to the World Meteorological Organization, the number of disasters has increased by a factor of 5 over a 50-year period, driven by climate change, more extreme weather, and improved reporting.1 This trend is almost certain to continue, so we can expect rising numbers of fires, floods, and extreme weather events like tornadoes and hurricanes.
These disasters can have a significant impact on industrial plants. The storms and freezing temperatures in Texas in February 2021 are a perfect example. According to the National Weather Service, the "Valentine Storm" in Texas caused multiday road closures and loss of heat and water service. It also created widespread power outages that lasted several days.2 The cold temperatures and lack of power caused pipes to freeze. The frozen pipes then thawed, which meant that many plants had water damage to their pipe insulation that had to be mitigated before they could restart.
Events like the Texas storm can have far-reaching impacts. In addition to affecting individual local plant operations, causing loss of revenue, these types of incidents can affect businesses outside the immediate area of the disaster. In the case of the Texas storm, the impact was felt around the United States. Because Texas is home to approximately three-quarters of basic U.S. chemical production capacity, the storm had a ripple effect that caused supply chain disruptions throughout the country.3 It is more important than ever to take the time to plan ahead for disasters so that you can recover as quickly as possible.
Creating a Disaster Recovery Plan for a Hot-Temperature System
If you have not started working on your disaster recovery plan, now is the time. A key component of developing a plan is assessing and mitigating the impact of the disaster on industrial insulation. Pipe and vessel insulation play an essential role in controlling process temperatures and protecting workers. If insulation is not functioning properly, there is risk of fire, equipment damage, increased cost of operations, operating inefficiencies, or injury.
Here are four steps you can incorporate into your disaster recovery plan to ensure your insulation is ready for a safe plant restart.
Step 1: Inspect Insulation
If insulation has gotten wet due to flooding or the aftermath of a fire, you need to inspect it to make sure it is still functioning properly. In general, best practice is to replace any insulation that has gotten wet. However, in certain cases, insulation can be left in place to dry. For example, if the insulation has only been exposed to a little surface moisture and it can be completely dried, it may be reasonable to continue to use it. But if the water contains chemical impurities or micro-organisms, then the specifier or insulation contractor should be consulted to determine if the insulation can still be used.
As you inspect the insulation affected by the disaster, look for sags. For example, saturated fibrous insulation can droop, leaving the top of a horizontal pipe under-insulated. If the insulated pipe appears to be out of round, with a teardrop or pear shape, the waterlogged insulation is sagging and must be replaced. Insulation on vertical runs that shows evidence of jacket "ballooning" or rupture also should be replaced. Other kinds of materials become saturated and exhibit this condition in other ways.
When determining if wet calcium silicate or perlite insulation needs to be replaced, if the piping system will operate at 400ºF or greater, the insulation product may be left in place if the jacket is still structurally secure and the insulation is not otherwise damaged. Heat up the system gradually to allow vapor to escape slowly and minimize the risk of damage to the insulation and pipe. Thinner insulation is likely to dry in this manner, but thicker insulation may not dry fully and may need to be replaced.
To facilitate removal of water from the system after ingress, the use of "weep holes" or drain holes also may help provide a path for water and steam to escape. Weep holes in the jacketing allow any water vapor that is pushed out of the insulation by the
heating pipes to exit the system.
Step 2: Inspect Mechanical Components
The mechanical components in your insulation also need to be inspected before you can safely restart your facility.
First, inspect the pipe hangers to ensure that the saddles supporting the insulated pipe are in place. Next, examine the jacketing. Jacketing that is torn or loose should be replaced. Ruptured jacketing is a sign of severe mechanical damage or saturated insulation and should be replaced or repaired only after addressing the root cause. Make sure that the bands holding the insulation jacketing in place are not loose or sagging. Loose bands are never advisable and typically are accompanied by jacket damage. Damaged jacketing should be replaced. It is also a good idea to thoroughly inspect/replace the insulation that is exposed during the jacket replacement.
Step 3: Perform Short-Term Repairs
After you have completed your inspections, move on to repairs. Certain types of repairs can be performed quickly and effectively to help get the facility running again. However, make sure to put a plan in place for permanent, long-term repairs.
Where damage to the insulation has exposed the pipe, consider installing mineral fiber insulation as a temporary fix. Double-check the temperature rating of the mineral or rock fiber material. The rating you need will depend on the application. This repair will reduce energy consumption and protect personnel from injury. This type of insulation can be quickly installed and, when properly sealed, will serve as a short-term solution until a permanent insulation installation can be scheduled. However, this must be replaced as soon as possible with the insulation originally designed for the system.
Cracks or breaks in calcium silicate or perlite insulation can be repaired using high-temperature accessory adhesives or cements.
Consider the traffic pattern of the restoration and maintenance workers as you plan repairs. Although it is not recommended for personnel to walk on pipes, piping that runs where heavy foot traffic can be anticipated should be insulated or reinsulated with calcium silicate. Alternatively, additional material/jacket combinations that can withstand compressive loading could be more efficient for the entire system.
Make sure to make permanent repairs as soon as possible to prevent safety issues in the future.
Step 4: Continue to Check for Corrosion Under Insulation
Corrosion under insulation (CUI) is a constant concern, so if your plant has been exposed to excess water, it is important to inspect for CUI in the future. You can design systems to mitigate CUI and specify anti-corrosion gels or insulation products for your system. Calcium silicate or perlite insulations manufactured in North America are made with anticorrosive chemistry that helps retard corrosion even if the insulation gets wet. Johns Manville produces its calcium silicate and perlite insulations with XOX Corrosion Inhibitor®, a formula that inhibits corrosion to outside surfaces of pipe and equipment.
Conclusion
All insulations should be inspected regularly, particularly if they have been exposed to saltwater or other high-chloride chemicals. Taking the correct steps with your insulation after a disaster can help you restart quickly and safely. OSHA provides additional resources on how you can prepare for different types of emergencies. To learn more, visit: https://www.osha.gov/emergency-preparedness.
References:
1. "Weather-related disasters increase over past 50 years, causing more damage but fewer deaths," World Meteorological Organization, published 31 August 2021. Accessed at
https://public.wmo.int/en/media/press-release/weather-related-disasters-increase-over-past-50-years-causing-more-damage-fewer
2. "Valentine's Week Winter Outbreak 2021: Snow, Ice, & Record Cold," National Weather Service, accessed at https://www.weather.gov/hgx/2021ValentineStorm
3. Jesse Thompson, "Texas Winter Deep Freeze Broke Refining, Petrochemical Supply Chains," Federal Reserve Bank of Dallas, Research/Southwest Economy, Second Quarter 2021. Accessed at https://tinyurl.com/3x6xd6d3
Marybeth Jones is a Project Development Engineer with Johns Manville (JM), and
Jack Bittner is a Senior Product Manager with JM. To learn more about JM solutions for industrial insulation, visit www.jm.com/industrial.