What Will the Future Bring?
Insulation Outlook staff checked in with allied organizations and rounded up forecasts to help all segments of the industry plan for the future.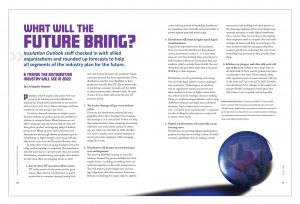 6 Trends the Distribution Industry Will See in 2022
By Christopher Blaylock
Pandemic-related supply chain issues were supposed to be temporary, but the distribution industry has found itself consistently in the news for almost 2 years now due to delays, shortages, and fears conditions are only going to get worse.
Consumer demand continues to outpace manufacturers' abilities to produce goods and distributors' abilities to transport them. Manufacturers are not able to ramp up capacity because they are also suffering from product and shipping delays. Finished products are filling up ports and warehouses; and there just are not enough drivers to transport goods, contributing to higher freight costs [along with the hike in fuel costs from the Ukrainian/Russian war].
In 2022, these issues are going to linger, with none being resolved quickly or completely. The distribution industry must learn to operate under this new normal. Distribution, manufacturing, and supply chain leaders should watch these six emerging trends in 2022.
1. Just-in-time (JIT) practices will not return.
JIT orders used to be the norm, and for good reason: They allowed manufacturers to match production to consumer demand, saving both time and money. But since the pandemic began, consumer demand has been unpredictable. Now, distributors need far more flexibility in their production systems than JIT allows, better ways of predicting consumer demand, and the ability to clear inventory when demand shifts. Because of these factors, 2022 will not be the year JIT practices return.
2. The worker shortage will get worse without action.
For years, the distribution industry has been grappling with a labor shortage. Now, however, this shortage is at a critical level. It does not help that companies have been competing for existing craftsmen and truck drivers instead of attracting new talent into the field. In 2022, distributors need to employ more creative strategies to recruit and retain employees while managing rising labor costs.
3. Distributors will demand increased transparency and alignment.
The need for flexibility is going to drive distributors' demand for greater visibility into their supply chains—including everything from raw material acquisition to last-mile transportation. This will require greater insight into and strategic alignment with their partners' businesses. Instead of shrinking the supply chain to tighten control during periods of instability, distributors are expanding their networks and partnerships to protect against potential service gaps.
4. Distributors will invest in higher speed digital transformations.
Digital was important before the pandemic. Now, it is essential. Distributors that planned certain innovations in their 2- or 3-year roadmaps are now fast-tracking these innovations to build resiliency. Many are investing in data and analytics, which can help them identify the next disruption and give them more time and greater flexibility in their response.
Distributors are also prioritizing technology that can help them address current challenges and constraints. Technology is an excellent way to supplement human production and allow workers to focus on higher value activities, which includes strategic decision-making. Firms are implementing predictive tools to help determine demand and make more informed decisions. And as cybercrime continues to rise—and grow more sophisticated—companies are also looking for information security tools to protect their assets.
5. Digital transformation will come with a steep learning curve.
Distributors are pursuing digital transformation projects, but they are not doing it alone. To build essential capabilities, they are making outside investments and working with third parties on the planning, implementation, and change management necessary to make digital transformation a success. They are investing in the training their employees need to interpret data and make strategic decisions; and they are investing in the time needed to help line managers, shop floor workers, and drivers understand the why of new technology and processes so they actually adopt them.
6. Inflation, tax changes, and other wild cards will stay in the news. Inflation was a huge topic in the latter half of 2021, and tax policies have been consistently in the news. These subjects, along with regulations and consumer demand, will stay in the news and "up in the air" in 2022. Distributors should watch for changes in the market and prepare flexible, contingency-based plans that allow them to pivot quickly and strategically.
Christopher Blaylock is a Partner at Wipfli LLP, (www.wipfli.com) a national CPA and business consulting firm for more than 100,000 clients. Wipfli brings cross-industry experience and creativity to help clients see beyond the most complex business challenges, from operational improvements to performance enhancements to large-scale digital transformation.
---
From the National Association of Manufacturers (NAM)
Labor Shortage Will Continue, but Manufacturing Is a Bright Spot
NAM reports that the future workforce will continue to favor workers over employers, with the labor pool set to grow just 0.2% a year from 2024 to 2031, according to the Congressional Budget Office and Axios.
According to Axios, "In the 2010s, the massive millennial generation was entering the workforce, the massive baby boom generation was still hard at work, and there was a multi-year hangover from the deep recession caused by the global financial crisis. But now, boomers are retiring, millennials are approaching middle age, and the Gen Z that follows them is comparatively small."
Unlike in the recent past, organizations now and in the future will not be able to count on a flood of job applicants for all advertised positions.
What it means for manufacturers: "On the one hand, manufacturers added 349,000 manufacturing workers in 2021, the most since 1994, and on the other, the sector has 219,000 fewer workers today than it did before the pandemic began," said NAM Chief Economist Chad Moutray. "In addition, job openings remain near record highs, and firms continue to note difficulties in finding and retaining workers. In 2022, we would expect to add around 150,000 to 180,000 employees, building on last year's strong gains."
What it also means: "The reality of the labor shortage makes clear that we need an all-of-the-above solution to our workforce crisis," said Manufacturing Institute (MI) President Carolyn Lee. "We need to attract new workers and provide them with the needed skills. That's why the NAM and the MI's Creators Wanted campaign is so critical and so timely. Research shows the next generation is looking for careers that matter. They want to have an impact, and they want the potential for family-supporting jobs with upward mobility, all of which are characteristics of modern manufacturing."
"This data also underscores why we also need comprehensive immigration reform to ensure that we are bringing the best and brightest to the U.S. to help strengthen manufacturing in America," added Lee.
For more information, visit www.nam.org, www.themanufacturinginstitute.org, and
www.creatorswanted.org.
---
From the American Institute of Architects (AIA)
Nonresidential Construction Spending Projected to Increase through 2023
AIA reports the nonresidential building sector is expected to see a healthy rebound through 2023 after failing to recover with the broader economy in 2021.
The AIA's Consensus Construction Forecast panel—comprising leading economic forecasters—expects spending on nonresidential building construction to increase by 5.4% in 2022 and accelerate to an additional 6.1% increase in 2023. With a 5% decline in construction spending on buildings in 2021, only retail and other commercial, industrial, and health-care facilities managed spending increases. This year, only the hotel, religious, and public-safety sectors are expected to continue to decline. By 2023, all the major commercial, industrial, and institutional categories are projected to see at least reasonably healthy gains.
"The pandemic, supply chain disruptions, growing inflation, labor shortages, and the potential passage of all or part of the Build Back Better legislation could have a dramatic impact on the construction sector this year," said AIA Chief Economist Kermit Baker, Hon. AIA, PhD. "Challenges to the economy and the construction industry notwithstanding, the outlook for the nonresidential building market looks promising for this year and next."
Visit www.aia.org for more information.
---
From the Associated General Contractors of America (AGC)
Project Demand Continues to Grow
Construction contractors expect increasing demand for numerous types of projects in 2022, despite ongoing supply chain and labor challenges, as most firms plan to add workers this year, according to survey results released by AGC and Sage. The findings are detailed in Expecting Growth While Coping with the Lingering Impacts of the Pandemic: The 2022 Construction Hiring & Business Outlook.
"Contractors are, overall, very optimistic about the outlook for the construction industry in 2022," said Stephen E. Sandherr, AGC's CEO. "While contractors face challenges this year, most of those will be centered on the need to keep pace with growing demand for construction projects."
The percentage of respondents who expect a market segment to expand exceeds the percentage who expect it to contract—known as the net reading—in 15 of the 17 categories of projects included in the survey. Contractors are most optimistic about the market for highway and bridge construction, which has a net reading of positive 57%. They are similarly optimistic about transit, rail, and airports projects, with a net reading of 51%, and water and sewer projects, with a net reading of 50%. These segments all stand to see increased federal investments because of the recently passed bipartisan infrastructure bill. Contractors are also upbeat about demand for federal construction projects, with a net reading of 37%, and power construction, with a net reading of 29%.
The highest expectations among predominantly private-sector categories, with a net reading of 41% each, are for warehouses and other health-care facilities, which include clinics, testing facilities, and medical labs. The outlook for hospital construction is also strong, with a net reading of 38%.
Contractors were also optimistic about multifamily residential construction, with a net reading of 32%, and manufacturing construction, with a net reading of 27%. Expectations were more subdued, however, for public buildings, with a net reading of 20%; kindergarten through 12th grade school construction, with a net reading of 19%; higher education facilities, with a 16% net reading; and lodging, with a 6% net reading. Only two categories received negative net readings, both at -8%: retail and private office construction.
Optimism about growing demand for numerous types of construction projects is leading many firms to plan to hire workers this year. When asked if they expect their firms will expand headcount in 2022, 74% confirmed an increase, compared to just 9% who expect a decrease. The percentage of firms expecting to increase their headcount by 10% or less is 47%. However, 22% say their headcount will grow by 11 to 25%, and 5% anticipate an increase of more than 25%.
Adding those workers will be a challenge, however. An overwhelming 83% report they are having a hard time filling some or all salaried or hourly craft positions, compared to only 8% who say they are having no difficulty; and three-fourths of respondents say it will continue to be hard to hire or will become harder to hire this year.
The pandemic continues to impact the construction industry, AGC officials noted. While 84% of respondents report costs have been higher than anticipated, 72% say projects have taken longer than anticipated because of the pandemic. As a result, 69% have put higher prices into bids or contracts, while 44% have specified longer completion times.
Supply chain bottlenecks are also impacting construction. Only 10% of firms report they have not had any significant supply chain problems. When asked if they have turned to alternative suppliers for materials, 61% responded yes, and 48% have specified alternative materials or products.
Rising construction costs and slowing schedules have contributed to a significant number of project delays and cancellations. While 46% of contractors reported having a project delayed in 2021 but rescheduled, 32% had a project postponed or canceled and not rescheduled.
"The last 2 years have become increasingly unpredictable, due in large part to the coronavirus and public officials' varied reactions to it," said Ken Simonson, AGC's Chief Economist. "But, assuming current trends hold, 2022 should be a relatively strong year for the construction industry."
Officials with Sage noted that firms are being more strategic about information technology (IT) as they try to remain competitive in the current environment, with 61% of contractors indicating they currently have a formal IT plan that supports business objectives. An additional 7% plan to create a formal plan in 2022.
"Amid the challenges the industry faces, technology plays an essential role in keeping teams connected and projects moving," said Dustin Stephens, Vice President of Construction and Real Estate, Sage. "The past few years have highlighted just how crucial mobile and cloud-based solutions are, and we will continue to see these technologies play an integral role in helping construction firms bounce back."
Stephens added that most firms plan to keep their technology investment about the same as last year. When asked whether they planned to increase or decrease investment, or stay the same, in 15 different types of technologies, the majority of respondents—ranging from 69 to 89%—said their investments would remain the same.
Sandherr said AGC will continue to push for new federal investments in workforce development and make sure Congress keeps its promise to boost funds for infrastructure. "Our ultimate goal is to make sure that contractors' optimistic outlook for 2022 becomes a reality," he said.
Visit www.agc.org for more information.
---
From FMI Corp.
2022 Engineering and Construction Industry Overview
By Chris Daum
There is no doubt the built environment continues to grapple with pandemic-related issues such as 40‑year-high inflation rates, supply chain snarls, a shortage of workers, and project delays. Given these pressures, many would predict that it is going to be a difficult year. But as we have seen throughout the pandemic, the engineering and construction (E&C) space is resilient and continues to persevere despite challenging times.
It may seem counterintuitive, but the E&C industry is still expanding, with FMI expecting 5% growth in construction spending for 2022. For the past several years, E&C industry growth was primarily driven by residential investments. This year, spending is expected to increase across residential, nonresidential, and nonbuilding construction, marking the first time in 2 years that nonresidential sectors will see growth. But the gains will likely be uneven and dependent on the segments and geographies in which you operate.
Now, more than ever, it is important for companies to think critically about the criteria used to bid and execute projects to maintain appropriate risk levels. It is easy to chase jobs, but the wrong projects could cut into margins or the ability to deliver projects. In fact, we have found that firms adhering to strict project selection discipline and processes are more likely to succeed in this kind of volatile and competitive environment.
These pressures are forcing many of us to confront what I call a "less for more" operating environment. Rapidly rising inflation will hit all our bottom lines in 2022. The Producer Price Index for construction was 12%, and the Consumer Price Index was 7% for 2021, meaning construction costs are rising faster than inflation. Given these numbers, much of the growth in construction spending will be driven by higher input costs, not just increased demand.
Here are some of the trends FMI Corp. is watching for 2022.
Bigger, Faster, Better
For most everyone, inflation is top of mind. In a survey of more than 900 CEOs by The Conference Board, more than half of the respondents expected pressure on prices until at least mid-2023, a stark contrast to just a year ago.
Today, demand is still strong. Construction and design sentiment indices are near record highs, signaling that many were still optimistic about project opportunities as the year began. When we look at big-picture industry trends, we are seeing a shift to a "bigger, faster, better, and more concentrated market," according to FMI Consulting President Scott Winstead. Just before the pandemic, we expected annual megaproject construction spending to increase from $50 billion in 2019 to nearly $330 billion over a 5-year period. Later in 2022, we plan to update these estimates and anticipate this trend will be upheld and strengthened with the large wave of forthcoming infrastructure funding. Alternative delivery methods will grow to represent more than 60% of nonresidential spending through 2025 and will become more of the norm as legislation drives greater adoption.
A significant amount of construction spending is concentrating around just a few key markets, with roughly half of all construction dollars projected to be spent in 22 of the 380 Metropolitan Statistical Areas. In other words, it is more important now than ever to have discussions on where to play and how to win.
Supply Chain Disruptions
Another hot topic is pandemic-driven supply chain disruptions, which are being felt across the E&C industry. Whether you are trying to source asphalt for a road project or doors for multi-family units, you have likely experienced shortages, delays, or the inability to get the materials you need to complete a project.
Mike Choutka, President and CEO of Hensel Phelps, confirms, "The predictability of materials and equipment deliveries is so much different than it has been in the past. It takes a lot of extra effort to just manage that part of a project. And it's harder to employ lean principles of just-in-time deliveries."
To mitigate this, Choutka says the company is sourcing what it can when it is available and then storing those items, which, combined with inflation, is making it hard to predict job costs. This strategy ensures that materials are available when needed but does come with added overhead to carry and store inventory, as well as the opportunity costs of having cash tied up in materials.
Material price volatility makes it hard to accurately bid on projects when prices are locked in for at least 120 days. Tackling these challenges means having conversations with owners and others about volatile market conditions and ways to work together to share the associated risks.
While there is no universal solution, evaluating the tradeoffs among materials costs, risk, and opportunity costs in managing your supply chain will better equip you for conversations with owners and designers, and for working with your subcontractors to come up with creative solutions that can help manage project delays and other supply chain issues.
Labor Force Challenges
When talking with our clients, the current labor shortage always seems to be top of mind. While we have been talking about the lack of skilled workers for decades, this time feels even more acute.
Anita Nelson, Chief Strategy Officer for Skanska USA Building, says the industry is "really running into a labor crunch at all levels, in the trades, in project-level jobs, all the way to leadership roles." The key to attracting people to the industry will be clearly articulating the importance of careers in construction and the tangible impacts of the work, she says.
Many are rethinking their career choices and working environments due to the pandemic, and that perceived lack of flexibility is also hurting recruiting in the E&C industry.
At FMI, we talk about having a two-sided recruiting strategy: You need to not only attract new talent, but also perpetually recruit those who are already on the team. Engage and retain your employees by actively listening, crafting clear career paths, providing effective learning and development programs, and offering competitive compensation packages.
Nelson agrees, saying that a pillar of Skanska's business plan revolves around people and enabling high-performing teams. They are working to improve flexibility and career paths, making a cultural shift to create more work-life balance for all employees, and taking into consideration the total health and well-being of people, including a renewed focus on inclusion and mental health.
Opportunities Ahead
All this is to say that there is an abundance of market opportunities out there for firms that stay focused on where to do business and how to make sure they are in the right markets and sectors, working with the right clients and project partners. Now, more than ever, you cannot be all things to all clients. Making these choices is as much about deciding where not to do business as where to operate.
As we move deeper into 2022, make sure you have a strategy around change. Evaluate what is likely to remain stable in the short term and long term, as well as what is likely to be temporary. For example, we are several decades into the labor shortage. Since that is unlikely to change quickly, how are you setting a people-first strategy?
While we are all ready to see the end of the pandemic, it is unlikely to be the last major disruptor of global society and commerce. We cannot predict what may come, but we can prepare for the future by focusing on what we can control and managing our businesses prudently.
Chris Daum is the President and Chief Executive Officer of FMI Corp. (www.fmicorp.com). Mr. Daum oversees the management of all FMI businesses and services and leads the firm's strategic growth efforts. Excerpted with permission from FMI's "2022 Engineering and Construction Industry Overview."
---
From the American Council for an Energy-Efficient Economy (ACEEE)
Countries' Limited Energy-Saving Efforts Need Rapid Scaling to Meet Climate Crisis
Despite an intensifying climate crisis and global uncertainty in energy markets, the world's largest energy-using countries are making only limited progress in reducing energy waste and planet-warming emissions, according to the 2022 International Energy Efficiency Scorecard, published in April 2022 by ACEEE. To meet their climate goals, the report says, countries will need to rapidly scale their efficiency efforts.
International Symposium on Energy Efficiency
No country came close to a perfect score, and the average—48.5 out of 100—dipped slightly since the last scorecard in 2018. Yet some countries are taking bold steps, such as increasing sales of electric vehicles (EVs) and adopting building performance standards, which require inefficient buildings to make energy-saving upgrades. France is a fine example, taking the top spot for the first time, with 74.5 points. It is closely followed by the United Kingdom (72.5 points), Germany and the Netherlands (each with 71.5), and Italy (68.5).
This fifth edition of the international scorecard comes as Russia's invasion of Ukraine has unsettled energy markets and increased prices, and just a few months after many countries committed to deeper emissions cuts at a United Nations conference (COP 26) last year. It ranks 25 of the world's largest energy users on 36 efficiency metrics and highlights best practices all countries can use to boost energy savings.
"Countries need energy efficiency now more than ever, especially as climate impacts worsen and gas prices soar," said Steve Nadel, report coauthor and ACEEE's Executive Director. "Efficiency can halve energy use and emissions while reducing dependence on foreign oil and pain at the pump," he said, adding it is often the least expensive way to meet the world's growing demand for energy.
The scorecard evaluates countries accounting for 82% of energy consumed on the planet. It scores them on policy measures, such as fuel economy standards for vehicles and energy codes for buildings, as well as performance metrics, such as average miles per gallon (mpg) for cars and energy use per unit of floor area in homes. It awards up to 25 points in each of 4 categories: buildings, industry, transportation, and national efforts.
"Top-scoring countries, though far from perfect, offer ideas for what other countries can do to increase their energy security, cut emissions, and save money," said Sagarika Subramanian, the report's lead author and ACEEE Senior Research Analyst. "Notably, they're rapidly scaling purchases of EVs by offering incentives and, in a key opportunity for the United States, France, and the Netherlands, are cutting energy waste by adopting building performance standards."
The United States remained in 10th place but saw its overall score drop 54 points, yet continuing to excel in the buildings sector. Many U.S. states have some of the world's strongest building codes, including significant requirements for building envelopes, heating and cooling, and lighting.
For more information and to read the full report, visit www.aceee.org/international-scorecard.