About the Foundation
The Foundation Is Now a Tax-Exempt 501(c)(3)
The Foundation for Mechanical Insulation Education, Training, and Industry Advancement (Foundation) is now a tax-exempt 501(c)(3) organization. The Foundation's primary purpose is to develop and implement strategies and recommend processes to advance and expand the commercial and industrial insulation industry through objectives such as introducing NIA to the commercial/industrial construction community; promoting the value of insulation to audiences including specifiers, architects, engineers, plant owners, facility managers, building owners, government bodies, and allied associations; and establishing NIA as the industry resource for information on mechanical, commercial, and industrial insulation systems.
The Foundation is now a fully separate organization and will be managed by the professional staff of the National Insulation Association and overseen by a Board of Directors, which includes President David J. Cox (Owens Corning); Treasurer John Lamberton (Irex Contracting Group); and Board Members Jack Bittner (Johns Manville), Wally Blewitt (Knauf Insulation), R. Dean Burows (DKB, Inc.), Matt Hymer (Midwest Materials Company), Joe Leo (Atlantic Contracting & Specialties, LLC), Jon Perry (Specialty Products & Insulation), and Marc Napolitano (Insulation Materials Corporation). A new Secretary will be elected by the current Board.
More information is forthcoming. If you have any questions or would like information on contributing to the Foundation via check or ACH, please email us at foundation@insulation.org and a staff member will assist you.
Current contribution levels include:
Platinum: $30,000
Gold Elite: $15,000
Gold: $5,000
Silver: $3,000
Bronze: $1,000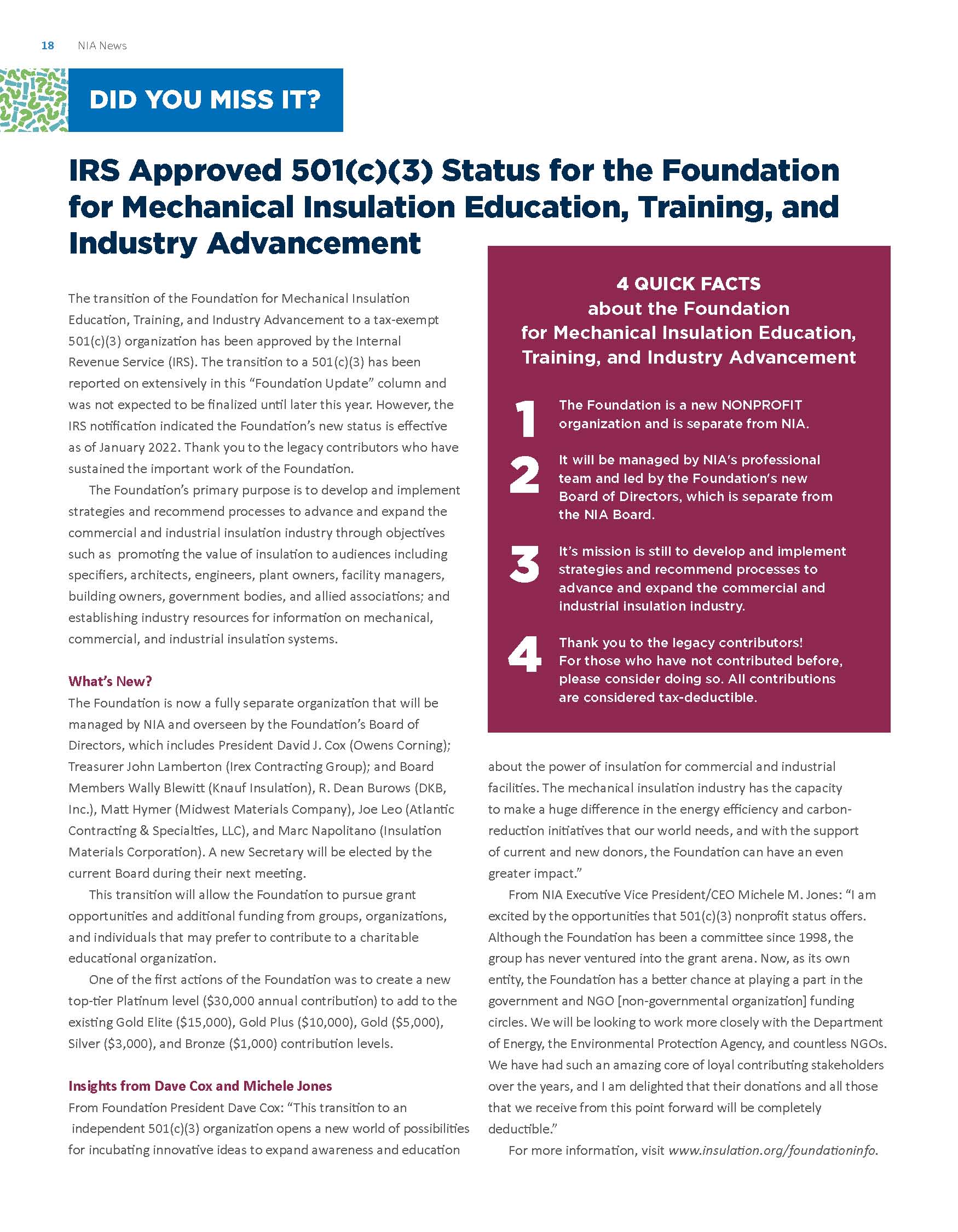 IRS Approved 501(c)(3) Status for the Foundation for Mechanical Insulation Education, Training, and Industry Advancement
4 Quick Facts
What's News
Insights from Dave Cox and Michele Jones