Online Insulation Training
Insulation Resources for System Design and Maintenance
Do you want to learn more about insulation, but aren't sure where to begin? Here are some free and easily accessible resources that can help develop your understanding of mechanical insulation—whether you're just starting out or looking to build on your existing knowledge.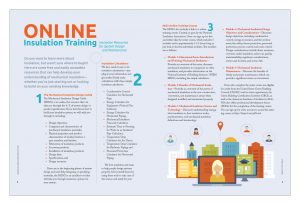 The Mechanical Insulation Design Guide (MIDG) is an online, free resource that can take you through the A-Z of system design or product specification. If you don't know how to build your insulation system, we will walk you through it, including:
Design objectives;
Categories and characteristics of mechanical insulation materials;
Physical properties, and product characteristics of weather barriers, vapor retarders, and finishes;
Fabrication of insulation products;
Accessory products;
Installation of insulation products;
Design data;
Specifications; and
Design resources.
If you are in the beginning phases of system design and need help designing or specifying materials, the MIDG is an excellent tool that will take you through numerous options for your system.
We have made it easy to do insulation calculations—just plug in your information and get results! Easily make calculations with these simple insulation calculators:
We love insulation and want to help people design systems properly. Save yourself hours by using these tools to take care of the science and math for you!
The MIDG also includes a link to an online training course that was created, in part, by the National Insulation Association (NIA). Users can sign up for free and either take the entire course, which includes 5 modules and is approximately 2–2.5 hours long, or just look at shorter, individual modules. The modules are as follows:
Module 1: Educational Series Introduction and Defining Mechanical Insulation—Provides an overview of the series, discusses mechanical insulation in comparison to other insulation, and provides information on the National Institute of Building Sciences' (NIBS') MIDG, including the simple calculators.
Module 2: Benefits of Mechanical Insulation—Provides an overview of the power of mechanical insulation in the new construction, renovation, and maintenance arenas when designed, installed, and maintained properly.
Module 3: Mechanical Insulation Science and Technology—Discusses understanding energy, what insulation is, how insulation works, psychrometrics, and mechanical insulation definitions and terminology.
Module 4: Mechanical Insulation Design Objectives and Considerations—Discusses design objectives, including condensation control; energy, economics, and the environment; fire safety; freeze protection; personnel protection; process control; and noise control. Design considerations include abuse resistance, corrosion under insulation, indoor air quality, maintainability, regulatory considerations, service and location, and service life.
Module 5: Mechanical Insulation Maintenance—Discusses the benefits of timely and proper maintenance, which can provide a significant return on investment.
Users who complete the entire course are eligible for credit from the United States Green Building Council (USGBC) and its sister organization, the Green Building Certification Institute (GBCI), as well as the American Institute of Architects (AIA). NIA also offers professional development hours (PDHs) for the completion of the training course. You can sign up for a free account to access this training course at https://tinyurl.com/ybl5eez4.
Another excellent tool is NIA's online video streaming portal at www.Vimeo.com/NIAinfo. NIA members and non-members can access the Vimeo On Demand website to stream NIA's webinars or the Mechanical Insulation Installation Video Series. The series is a fantastic tool as it has actual video footage that demonstrates how to install insulation for different applications. Each video features installation information for different materials, including:
Calcium Silicate and Perlite Pipe and Equipment Insulation Installation;
Cellular Foam Pipe and Equipment Insulation Installation;
Cellular Glass Pipe and Equipment Installation;
Elastomeric Pipe and Equipment Insulation Installation;
Fiber Glass Pipe and Equipment Insulation Installation;
Mineral Wool Pipe and Equipment Insulation Installation; and
Removable/Reusable Flexible Insulation Covers Installation.
The series provides the unique opportunity to actually see installation methods, which can provide helpful insights to improve installation processes. NIA's Vimeo page also includes access to several free videos, including a webinar on the MIDG, videos on the value of insulation, and footage of expert discussion panels from NIA's Annual Convention. Prior webinar series on leadership, health and safety, heat stress prevention and compliance, hiring and retention, Occupational Safety and Health Administration (OSHA) compliance, and more, are also available for rental. Additional training and educational materials will be added to this training portal as they are developed.
Need to brush up on your insulation terminology? Wondering about the physical properties of a certain material? The Specs & Codes page on Insulation.org has easy-to-access, free tools at your fingertips.
Created by experts from NIA's Technical Information Committee, this guide has the physical and material properties of various insulation materials as specified in ASTM Materials Specifications.
Are you a specifier or owner? This compilation of current ASTM, federal, and military specifications relevant to the insulation industry might be just what you need. It also lists the companies that manufacture products that conform to each specification.
Looking to beef up your insulation vocabulary? Check out this easy guide for a list of need-to-know terms.
Head over to the Specs and Codes page at https://tinyurl.com/ybdef8td to find these and other free resources.
Insulation Outlook is one of the best sources of information for anyone involved with insulating mechanical systems. Engineers, specifiers, building managers/owners, and other end users may be eligible for a free subscription. Visit www.insulation.org/io/subscribe for more information.
Taking the time to brush up on basics is an easy way to make big improvements on your projects. Visit www.insulation.org/resources to access the resources mentioned above and learn more about NIA's other free educational tools.
Copyright Statement
This article was published in the February 2018 issue of Insulation Outlook magazine. Copyright © 2018 National Insulation Association. All rights reserved. The contents of this website and Insulation Outlook magazine may not be reproduced in any means, in whole or in part, without the prior written permission of the publisher and NIA. Any unauthorized duplication is strictly prohibited and would violate NIA's copyright and may violate other copyright agreements that NIA has with authors and partners. Contact publisher@insulation.org to reprint or reproduce this content.