Safety Matters: Raising the Industry to New Heights
Recently I was pondering, "What hazards are unique to the mechanical insulation industry?" As with any building trade, the list of potential hazards in the insulation trade is a lengthy one. Some insulation materials can be very dusty if not handled properly. Some can cause eye injuries or irritation. Insulator's tools, metal jacketing, and banding can all have very sharp edges. Sometimes the work can be done in confined spaces or other dangerous areas. Surface temperatures of equipment may be very hot. Older insulation materials and coatings may contain hazardous materials harmful to your health.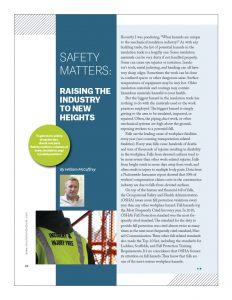 But the biggest hazard in the insulation trade has nothing to do with the materials used or the work practices employed. The biggest hazard is simply getting to the area to be insulated, inspected, or repaired. Often, the piping, duct work, or other mechanical systems are high above the ground, exposing workers to a potential fall.
Falls are the leading cause of workplace fatalities every year (not counting transportation-related fatalities). Every year, falls cause hundreds of deaths and tens of thousands of injuries resulting in disability in the workplace. Falls from elevated surfaces tend to be more severe than other work-related injuries. Falls from height result in more days away from work, and often result in injury to multiple body parts. Data from a Nationwide Insurance report showed that 30% of workers' compensation claims costs in the construction industry are due to falls from elevated surfaces.
On top of the human and financial toll of falls, the Occupational Safety and Health Administration (OSHA) issues more fall protection violations every year than any other workplace hazard. Fall hazards top the Most Frequently Cited list every year. In 2018, OSHA's Fall Protection standard was the most frequently cited standard. The standard for the duty to provide fall protection was cited almost twice as many times as the next most frequently cited standard, Hazard Communication. Three other fall-related standards also made the Top-10 list, including the standards for Ladders, Scaffolds, and Fall Protection Training Requirements. It's no coincidence that OSHA focuses its attention on fall hazards. They know that falls are one of the most serious workplace hazards.
Unfortunately, we can't build all of the duct work at ground level and we can't keep tanks and pipe racks under 7 feet high. The nature of our work requires us to work at heights; sometimes at very great heights. Safe access should be a primary consideration during any insulation project, whether it's new construction, inspection, or maintenance. The question of how to access the work area is just as essential as what insulation materials will be needed and how will it be installed.
Depending on the task and location, some options include having a scaffold built, using aerial lifts, or working from a ladder. In some situations, employees may have to use a personal fall arrest system, which consists of a full body harness connected to an adequate anchorage point. All access and fall protection systems require employee training. Whether the solution is as simple as working from a step ladder, or as complex as installing a swing-stage scaffold, employee training is critical. Personal fall arrest in particular is highly technical and requires specialized training. Improper use of personal fall arrest equipment is one of the reasons the Fall Protection Training standard is on OSHA's Top-10 Most Frequently Cited list. Scaffolds are also a very specialized field. Scaffolds must be designed and built in accordance with a qualified person's design. Scaffold users need to be trained on the requirements to work safely on the scaffold.
Don't let safe access be an afterthought. Or worse, don't assume the workers in the field will figure it out. Nobody plans on getting hurt, and nobody plans on falling. Yet, falls remain one of the most common serious injuries in the workplace every year. Follow OSHA's advice in their fall prevention campaign: Plan, Provide, Train. Plan ahead to access the work area safely. Provide the right equipment or materials to prevent falls. And train everyone to use the equipment safely. In addition to injury prevention, by making sure insulation workers have safe access to their work area, facility owners will recognize all the benefits of a properly installed and maintained insulation system.
Copyright Statement
This article was published in the February 2019 issue of Insulation Outlook magazine. Copyright © 2019 National Insulation Association. All rights reserved. The contents of this website and Insulation Outlook magazine may not be reproduced in any means, in whole or in part, without the prior written permission of the publisher and NIA. Any unauthorized duplication is strictly prohibited and would violate NIA's copyright and may violate other copyright agreements that NIA has with authors and partners. Contact publisher@insulation.org to reprint or reproduce this content.