Safety Matters: 'Tis the Season—Keep Safe this Holiday Season
This month we want to help protect you at work and at home. Please use these tips if you are planning on celebrating any of the upcoming holidays. Whether you are celebrating Christmas, Hanukkah, Kwanzaa, or Solstice, it's important to stay safe!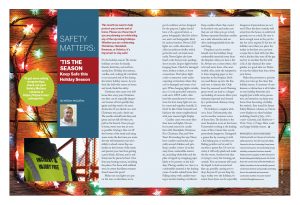 It's the holiday season! The winter holidays are time for family, friends, festivities, and unfortunately, fires. Holiday decorations, candles, and cooking all contribute to an increased risk of fire during the winter holiday season. As you deck the halls this season at home and work, think fire safety.
Christmas trees cause over 200 house fires every year. Christmas tree fires can be especially dangerous because of how quickly they ignite and they tend to be more destructive. If you decide on a real Christmas tree, pick a fresh one. The needles should look shiny and green and not fall off when you pull on the branch. Once you get it home, water your tree as soon as possible. Sawing a thin cut off the bottom of the trunk and using warm water the first time you water the tree will maximize your tree's ability to absorb water. Sap can harden in the bottom of the trunk and prevent your tree from getting a good drink. All trees, real or artificial, must be placed at least 3 feet from any heating sources, including fire places. For those with artificial trees, be aware that flame resistant doesn't mean fire proof.
Make sure any lights you put on the tree, or elsewhere, are in good condition and are designed for the purpose. Lights should have a UL-approval label—a green holographic label for indoor use, and a red holographic label for indoor/outdoor. Newer LED lights are a safer alternative to older incandescent bulbs, which get hotter and can break more easily. Newer lights also have fused cords that prevent sparking short circuits. Inspect lights before hanging them. Check for damaged wires, broken sockets, or loose connections. Don't place light cords or extension cords under carpeting or furniture where they can be damaged and create a hot spot. When hanging lights outside, use a 3-cord, grounded extension cord and a GFCI outlet. Also heed the manufacturer's instructions for how many light sets can be connected together (usually 3). Don't be like Clark Griswold and blackout the entire neighborhood with your massive light display.
Candles cause even more fires than trees and lights. December is peak season for candle fires with Hanukkah, Christmas Eve, Christmas Day, and New Year's Eve leading the way. Never leave candles unattended, especially around children and pets. Keep candles at least 12 inches away from combustible materials, including tablecloths and the piles of ripped up wrapping paper likely to be present on the holidays. Placing candles too close to a combustible material is the leading cause of candle-related home fires. Falling asleep with candles burning is another leading contributor. Keep candles where they cannot be knocked over, and make sure they are out when you go to bed. Battery operated, flameless candles are a safer alternative and are often indistinguishable from the real thing.
Fireplaces can be another hazard over the holidays. Keep combustible materials away from the fireplace when you have a fire lit. Always use a screen when a fire is lit and never leave a fire unattended. Also, resist the temptation to burn wrapping paper or tree branches in the fireplace. Both can send flames up into the flue and start a chimney fire. Only burn dry, seasoned wood. Burning green wood can lead to a dangerous buildup of creosote. Have your chimney inspected and cleaned by a professional chimney sweep every year.
No holiday is complete without a feast. Unfortunately, this can be another common source of home fires. The kitchen is the most hazardous room in the house. Unattended cooking is the leading cause of fires. Grease fires can be particularly dangerous. Extinguish a grease fire by covering it with a lid, baking pan, or another pot. Baking powder can be used to smother a grease fire. Do not use water, it will only splash and make the fire worse. Another bad idea is trying to carry the burning pan outside. Your movement will cause the liquid to slosh around and flare up, possibly causing you to drop the pan. If you are deep frying a turkey over the holidays, be aware these fryers can be especially dangerous if precautions are not used. Place the fryer outside, well away from the house on solid level ground; not on a deck. Be sure to leave enough room in the pot for the hot oil to expand. If the hot oil bubbles over when you place the turkey in the fryer you can have a major fire to deal with. Just like with a kitchen fire, turn off the gas and try to smother the fire with a lid. A dry chemical fire extinguisher is a good idea too. Better to ruin the turkey than burn down your house.
Make fire prevention a priority when you turn up the cheer this holiday season. A moment of carelessness or distraction is all it takes to turn holiday festivities into tragedy. Just a little extra precaution and attention can keep your home from becoming a holiday fire statistic. Stay tuned for future Safety Matters columns as I throw a wet blanket on other holidays including Fourth of July—Firecracker Calamity, and Halloween—Trick, Treat, or Triage. Have a safe and happy holiday season.
Copyright Statement
This article was published in the December 2018 issue of Insulation Outlook magazine. Copyright © 2018 National Insulation Association. All rights reserved. The contents of this website and Insulation Outlook magazine may not be reproduced in any means, in whole or in part, without the prior written permission of the publisher and NIA. Any unauthorized duplication is strictly prohibited and would violate NIA's copyright and may violate other copyright agreements that NIA has with authors and partners. Contact publisher@insulation.org to reprint or reproduce this content.