State of the Industry Q&A
We recently interviewed a number of prominent leaders from NIA member companies to get their perspectives on the insulation industry. The respondents represent all facets of our membership (excluding manufacturers), and bring a collection of unique perspectives to this year's State of the Industry article. During NIA's Annual Convention, which is being held in April, we will be holding VIP manufacturers panels to get the perspectives of top manufacturers from around the globe. While we hope you will attend the Convention to see this impressive panel firsthand, we are planning to feature the content discussed during this panel in our June 2016 issue.
Different questions were grouped together with different interviewees to give the most diverse and relevant perspectives. Their answers will help you prepare for the year ahead.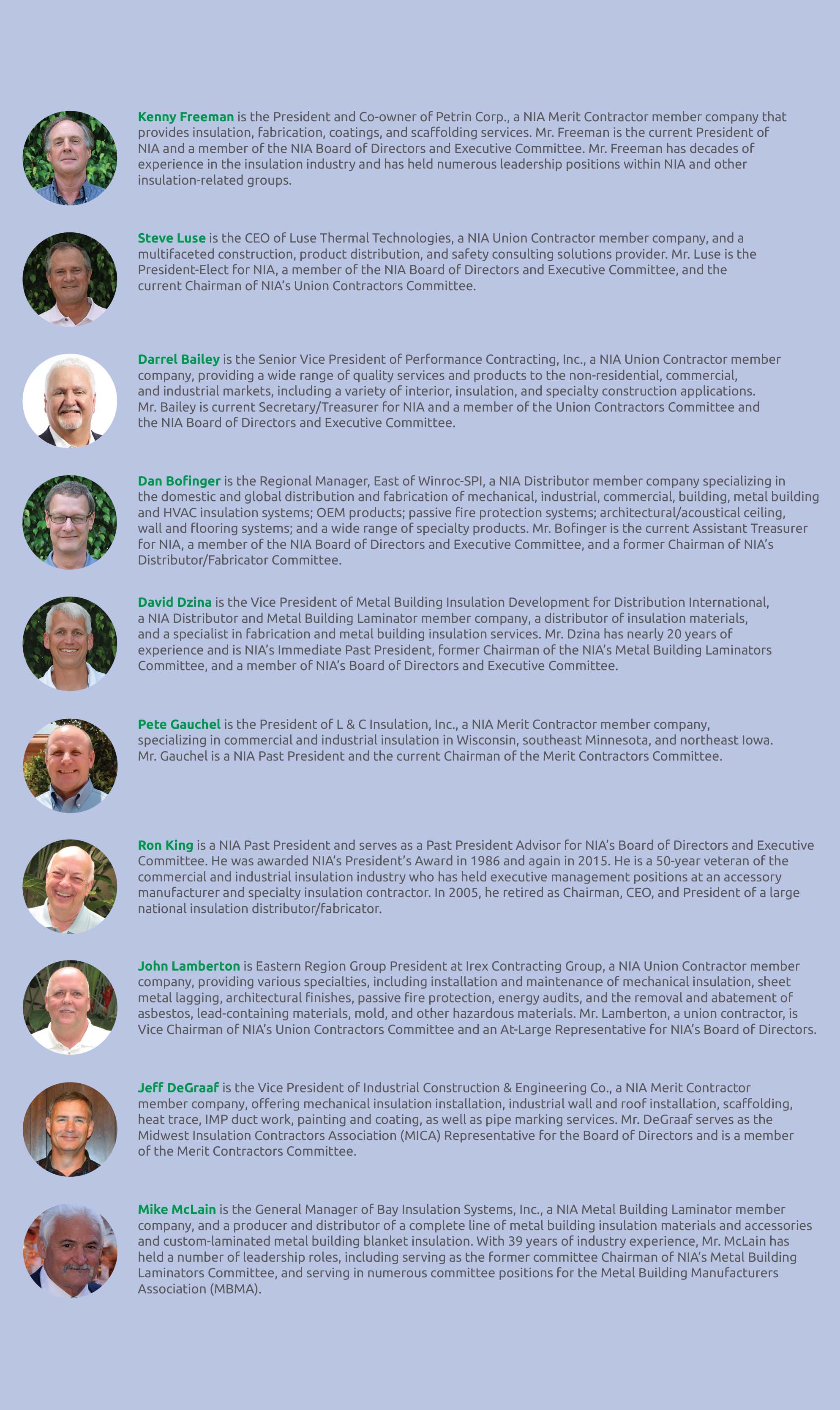 1. In retrospect, how would you describe the state of the insulation industry in 2015?
What do you see as the outlook for 2016?
Kenny Freeman, Merit Contractor
With regard to the industrial market, it is steady, but not booming as expected. However, that may be considered a good thing in light of manpower resource issues. Some of the major expansions along the Gulf Coast have either been cancelled or delayed, which has
hampered anticipated growth. Again, that is not necessarily a bad thing because I am not sure we would have had enough insulators required to do all of the insulation work that may have taken place—workforce shortages continue to be a significant issue.
If the price of oil stays low, I see 2016 being similar to 2015. Although refineries might not be executing much work, chemical plants are expanding due to the low price of natural gas. Overall, I would rate 2015 as a good year for the industrial market, and I expect 2016 to follow roughly the same pattern.
Steve Luse, Union Contractor
It was a very solid year in our industry. Both the industrial and commercial sectors seemed to be very busy and held their own. The downturn in the oil and gas industry has hurt the industrial markets quite a bit. Many projects have been put on hold for later in 2016 or beyond.
Mike McLain, Metal Building Laminator
The state of the industry in 2015 reflected the opportunities and challenges associated with the building construction industry. I believe we all thought there would be continued expansion in most sectors and were somewhat surprised and disappointed when the modest expansion that had occurred during the past few years began to run out of steam late in the third quarter. Last year's growth, although positive, reflects business and economic conditions that still demonstrate we have yet to realize a full recovery from the "Great Recession," both domestic and globally. That being said, 2015 was a good year with plenty of opportunities, sustenance, and growth. The continued migration towards adoption of more stringent standards and building code requirements place higher demands on thermal performance for both mechanical and building envelope insulation. This in itself presents growth opportunities as significantly more insulation is required per building unit than in the past. 2016 should present more of the same with larger volumes of insulation per building and modest growth in new construction.
The top opportunities for 2016 would include establishing a strong presence within the specification community in order to ensure proper alignment between the vigorous shift in code requirements with the various thermal insulation solutions that are relatively new and currently available. We should be working very closely with code officials on both a local and national level to ensure timely acquisition and exchange of information regarding the adoption of new compliance requirements. We should also continue the effort to educate and instill confidence in the contractors who are being confronted with new rules and regulations in order to help them to learn and apply the highest value solutions that match the requirements for the particular project in hand.
Pete Gauchel, Merit Contractor
I think the insulation industry is at a high point. There seems to be an abundance of work for everyone around the country. Nearly all contracting companies, whether they are merit shop or union, are looking for additional workers to help with the work load,
which is a good problem for the industry. The high demand combined with the improved safety programs and improved and new materials make it an exciting time to be in this great industry.
John Lamberton, Union Contractor
The outlook for 2016 is mixed as well. Oil will remain a big factor in some areas of the country for 2016. On the downstream side, however, end users are planning massive investments in gas-fed power plants, particularly gas originating from the Marcellus Shale fields in West Virginia, Pennsylvania, and Ohio. I think other opportunities will also arise from manufacturing taking advantage of cheap natural gas. Should this take off as expected, I would expect tight supplies of mineral wool again in 2016. I do have some concern that energy savings initiatives might slow a bit as energy prices go down and paybacks increase. Cheap oil and gas has resulted in cheaper electricity and overall utility bills for large end users.
Ron King, NIA Past President
While there were some geographical and market segment variances, overall the mechanical insulation industry has continued to grow—or recover, as some would say—from the most recent recession.
The industry is changing at a pace that has not been experienced in decades, with increased segment consolidation, expansion of the multitasking contractor function, the loss of experienced and knowledgeable personnel, and the growing reliance on technology at all levels. These factors, coupled with the continued mixed signals from the economy, make a unique environment for industry participants.
The industry has a history of responding well to change, but the speed and number of these changes makes 2015 somewhat unique; only time will determine the ultimate impact of these changes.
Given all that has happened in 2015, I would say the state of the industry is strong and its members are committed to address the opportunities and challenges that will occur over the next few years.
For 2016, I believe the industry will continue to change and evolve. All the factors affecting the industry make having a clear view of 2016 or 2017 difficult, but I feel the overall industry will experience modest unit and dollar growth in 2016.
With oil prices being down, the petroleum industry has and will continue to be negatively impacted. As long as consumer spending stays up, the chemical industry and many manufacturing segments should remain strong. Given low natural gas prices and an abundance of supply, coupled with the success of alternative energy sources, the power industry expansion could slow. Many areas may have possibly overbuilt or committed to commercial and multihousing development, so mixed signals in that arena will more than likely continue. The strong U.S. dollar may help with export opportunities. There is a certain degree of uncertainty regarding many global events that could impact the economy and, of course, the U.S. political environment during an election year.
For the next couple of years I expect new construction may vary from steady to down, and maintenance will be varied and unpredictable—though this could change rapidly depending upon the economy and global events.
The changes within the industry may also modify traditional supply-service channels, making future forecasting harder or easier depending on your market position and point of view.
2. What do you see as the top 3 challenges for 2016?
Kenny Freeman, Merit Contractor
A big challenge will be managing the changing demographics of our workforce. Like many other businesses, my company had several individuals that had been in the business for more than 30 years retire in 2015 or earlier this year, and trying to fill their shoes will be difficult. The knowledge these individuals had will be hard to replace as they were some of the best insulators we have ever had. I only hope they passed some of their knowledge on to the younger generation.
A related issue is the challenge of getting the younger generations interested in our craft and our industry. One of my goals as President of NIA was to encourage the development of leaders among the younger generations. Whether these younger leaders are in management, in line to be management, or even fulfilling other leadership roles in the field, it is important to help get them excited about insulation. It is a great industry, but I feel as though we may not currently be doing enough to engage the next generation
of workers.
Consolidation will clearly be a challenge for years to come. There must be a level of competition in our industry to keep it alive. Owners want to know that they have more than 1 source to go to for resources, be they labor or materials.
Darrel Bailey, Union Contractor
First, the low price of oil is resulting in large cuts in new project starts and maintenance budgets in the refinery industry, which results in less work for our member companies. Second, the new environmental regulations that are being imposed on the coal-fired power plant industry are resulting in utilities closing plants at an alarming rate, which in turn eliminates insulation maintenance work for our members. The third challenge I see is the shortages of experienced labor in some markets, which is becoming a real issue.
3. What do you see as the top 3 opportunities for 2016?
Kenny Freeman, Merit Contractor
To create the passion again for our industry—and I believe many out there have it. As I already stated, we have such a great industry and story to tell. The insulation industry can make a huge difference in this country, be it either the industrial or commercial sector, but we have to keep getting the message out every day; being passionate about the industry keeps that desire in the forefront.
I would like to get legislation passed that pertains to energy tax credits, which I believe would lead to more jobs in our industry. Every time I have the opportunity to make a presentation to a client, a potential client, or even a civic group, I talk about energy audits and what the potential might be to save money, reduce carbon emissions, etc. While they love to hear about the potential savings, most are not interested in moving forward right now given the low price of natural gas. If we had legislation that stimulated credits, we would see progress.
It is also important to increase the membership of our association, which leads to a stronger voice for the industry. There are many companies within our industry that are not actively participating in growing the industry by becoming members of NIA. It is important to identify potential participants and then encourage them to join and become more involved. We must also determine what factors may attract companies to join the association, as they may not all get involved for the same reasons.
4. What most excites you in the coming year?
Steve Luse, Union Contractor
Personally, I am most excited about being the President of NIA next year. I am really looking forward to visiting the various regions and Canada to gain different perspectives and interact with the diverse members of our industry. One of my ongoing interests is discovering the best practices in the industry, and I am excited to be able to visit with different members of the industry and see these practices firsthand.
Dan Bofinger, Distributor
The construction activity is excellent; we should have a positive trend for the next couple of years.
5. The industry may lose as much as 20% of its workforce over the next 10 years. What steps is your business taking to deal with the loss of experienced workers? How are you training new workers to avoid a knowledge gap?
Darrel Bailey, Union Contractor
We have a Strategic Development Group that is tasked with the training and development of our salaried and hourly employees. We have invested heavily in the development of online e-learning courses; Foreman and Superintendent training; Estimator, Professional Engineer, and Project Manager training courses; as well as outsourced Leadership Development Programs. If you are not training now to preserve the knowledge base of your experienced personnel and passing it on to the next generation, your company will struggle in
the future to find the experience you will need to run your company.
6. Millennials are the fastest growing segment of the workplace. Is your business changing due to the influence of these younger workers? Is your company changing its culture or recruitment methods to accommodate the preferences of this
new generation of workers?
Kenny Freeman, Merit Contractor
Because Millennials have a different view of the workplace, we must learn to adapt somewhat to their needs and their work style. While work in the field will not change that much—you still need to show up when the customer expects—office culture represents a different challenge. While personal interaction is still important and should continue, it may not hurt to be accommodating to those who want to work different schedules, as long as the work is being done. While a blanket change for the entire office
may not be effective, it is important to take each generation's idiosyncrasies into account.
Pete Gauchel, Merit Contractor
With Millennials entering the industry, there are some changes occurring in workplace interactions. Some of these changes are positive, while others may present some issues that need to be addressed and dealt with. One positive change is that communication methods are improving rapidly. We are now using phones and tablets to communicate between the field and the office. This has been an amazing change and I am excited to see how this will keep changing in the future.
On the negative side, there can be some issues with communication between the different generations. Millennials tend to have a preference for electronic communication, whereas some older workers prefer to rely heavily on oral communication. There are sometimes limits to communicating through texting, which can be abrupt and incomplete, and this may contribute to misunderstandings or inaccurate information sharing.
In terms of recruitment, we have completely changed our methods of reaching out to new candidates. Recruitment used to focus on newspapers and classified ads, but that tends to appeal only to older generations and not reach younger generations. We now use Facebook, Craigslist, and other forms of social media to reach out to the next generation to inform them of job opportunities.
John Lamberton, Union Contractor
We have spent a significant amount of time training our Human Resources and management team on the differences between the generations. We are changing our culture and recruitment methods to accommodate the new generation, but it is a work in progress. There are definite differences in the way Millennials are motivated and what they are looking for in a career or company. In order to attract and retain this group, we need to understand what it is they are looking for. Things like work-life balance, frequent feedback, and a
clear path to advancement are just a few of the things we have worked on.
7. What are the top 3 design issues caused by engineers or specifiers that you would like to see solved in the coming years?
Jeff DeGraaf, Merit Contractor
One large problem we have right now is the lack of completed drawings and specs. Many owners, once they decide to build, try to rush the project to completion and send out drawings and specs that are not complete. When the project is being done, many issues arise, such as forgotten equipment, not having a clear understanding of the systems they may need, or not having proper spacing in the pipe racks to fit insulation.
Another problem that comes up is the choice to use materials that may seem like they will reduce costs, but actually are not right for the application.
One example is a piping product called Aquatherm. They make their pipe from a product called polypropylene that has a better insulation value than steel. Some engineers will specify this product to avoid insulating the pipe, but if the system runs hot or cold, the pipe still needs to be insulated.
Another example would be choosing the right insulation for each system. For example, with chilled water pipes, it is important to select the correct materials, get a tight vapor seal, and avoid the insulation getting saturated with water in humid environments.
Kenny Freeman, Merit Contractor
My hope is that we get to a point where engineers are thinking of insulation during the engineering process. Many times, the focus may just be on trying to fit a certain number of pipes in a rack without considering insulation or the thickness of insulation—creating a challenge for the insulator once the project has been engineered.
It would be great for the engineering firms to have insulation companies involved during the engineering and construction phases of a project. We could also assist with estimating the cost of insulation for the project. Too frequently, after the project has been bid, the facility manager will decide they do not have enough money for insulation or that the insulation's price is too high—perhaps if insulators were involved during the estimate process, they could give a more accurate idea of how much money should be allotted for insulation. There are instances where I wonder if perhaps the initial estimate was too low because they just take a percentage of the mechanical estimate for the insulation budget, which would not be related to actual expenses.
Lastly, I would like to see more specifiers and engineers participate in NIA functions like we saw during the Fall Summit and the Insulation Expo (IEX) USA trade show. They need to hear from us and understand our concerns from the engineering and specification perspective, and we would benefit from hearing their perspectives as well.
8. Since there is no training on mechanical insulation in engineering schools, what expertise would you like to share with engineers?
Mike McLain, Metal Building Laminator
With respect to training mechanical engineers, contractors, and installers, it is critical that they understand the need for linkage between recommended/required theoretical performance requirements and the conditions on site so that more emphasis is directed towards the proper selection and installation of the specific solution. This is particularly significant when constructing building envelopes and ensuring through inspection that the "as built" assembly yields the expected results. U-Factors, which
measure the thermal performance of an entire assembly, must be verified in the field upon completion of the construction. Lastly, new methods of testing must be developed and adopted to confirm and prove that buildings are compliant.
9. What design issues may occur in the installation stage of a project that engineers or specifiers may not be aware of?
Pete Gauchel, Merit Contractor
There are a couple of items that always tend to come up in the design phase that engineers may struggle with. First, and most important, is the space they allow for insulation thickness. It is incredibly common to fail to leave the correct amount of space needed for the proper insulation. The second item is using the proper insulation materials and vapor retarders for cold systems. There does not seem to be enough knowledge about the necessity of using proper vapor retarders on cold piping and ductwork systems. Oftentimes it is given more attention in the southern parts of the country, but is neglected in the north.
John Lamberton, Union Contractor
We often have issues with clearance and the specified insulation thickness not fitting the site conditions. This can result in decreased insulation thickness and poor performance. Another significant issue that has occurred in the past few years is extended lead times; product selection and lead times must be considered when specifying materials.
10. What is your advice to maintenance engineers to keep insulation performing at an optimal level? Is there anything you would like to make engineers aware of?
Jeff DeGraaf, Merit Contractor
Insulation is a vital part of the building or plants system. It helps in condensation control, heat conservation, and system efficiency. Mechanical insulation is one of the only items that pays for itself by providing energy efficiency. Proper thickness and materials should not be reduced for value engineering, as it will cost a lot of money over the life of the system. Engineers should consider mechanical insulation from the very beginning of the project and allow proper spacing for the materials to fit.
Pete Gauchel, Merit Contractor
Pay attention to the condition of your insulation system. When you see damage or wet areas, take care of them immediately. Taking care of a small problem will generally be inexpensive, but if the problem is ignored and allowed to cause further damage, it can
become quite expensive.
John Lamberton, Union Contractor
Get a mechanical insulation energy assessment! Additionally, replace insulation after repairs are made to piping and equipment. All too often, we see insulation removed and never reinstalled. This adds up over time and becomes a huge loss of BTUs. Remember, estimates are free! Most contractors are more than happy to come in and give an estimate of how much it would be to increase insulation efficiency—we can calculate heat loss and savings as well.
It would be great if contractors communicated more. We have the most experience working with insulation and engineers should take advantage of the huge amount of knowledge that is out there. All the insulation contractors I know would be more than happy to share that expertise when it comes to material choice or the pluses and minuses of a particular product for a particular installation.
Ron King, NIA Past President
From my perspective that is easy: implement a meaningful, timely, and consistent insulation maintenance program.
However, a maintenance engineer may not see this as being that simple. Even though a majority of those responsible for insulation maintenance would like to implement a maintenance program, facility management must approve the funds to make that happen, and therein lays the crux of the issue.
Maintenance is generally considered an annual expense, and the impact of maintaining an insulation system is not normally considered. The industry needs to help educate management and the budget decision makers on the long-term impact of failing to maintain insulation systems as well as the resulting attractive return on investment that comes with a proper maintenance program.
11. What insulation project would you recommend to facility owners and managers that offers a quick ROI?
Steve Luse, Union Contractor
Any insulation project (hot or cold) offers a payback that well overshadows the investment.
Darrel Bailey, Union Contractor
The most valuable thing they can do is have an insulation energy appraisal assessment. Then it is only a matter of implementing the appraiser's recommendations to see the savings.
12. Do you think technology is changing the way business is done? If so, can you give examples of how?
David Dzina, Metal Building Laminator
A lot of people look at insulation as a cost and fail to consider the savings it offers. We can show, through models and calculators, the return on their investment and then show the story of how an investment on the front end can lead to a lot of rewards on the back end. Insulation will lead to energy conservation and energy and dollar savings.
Insulation is an asset for end users' businesses and not merely a cost to building—we can use technology to increase their understanding of this.
Dan Bofinger, Distributor
It appears that the entire construction process is getting faster and shorter. The gap between bidding the project, awarding the project, and construction, is tightening. I have to believe that technology is playing a role in this trend, and I expect it will
continue.
13. What are a few of the strategic initiatives that mechanical insulation industry participants should be focused on to grow and improve their business as industry evolves?
Dan Bofinger, Distributor
There are many great products to consider and we should strive to provide the best solution, not the cheapest alternative available. Mechanical insulation industry participants should focus on and communicate the positive benefits that a properly installed mechanical insulation system offers.
Mike McLain, Metal Building Laminator
One strategic initiative is to promote the life-cycle value associated with effectively insulating mechanical and building envelope assemblies so that they are reflected in the new standards and code requirements. The traditional financial savings should also be
paired with the significant reduction in energy consumption. Anything we can do to reduce energy consumption is not only good for our industry, but good for the planet. We need to introduce a new metric that captures and presents the resultant energy savings in a
manner that recognizes this shift in perspective.
David Dzina, Metal Building Laminator
Companies should invest in their futures and training to get younger people involved in the industry and the business. It is important for them to understand not only the specific business that they are in, but the overall industry and how their piece affects that.
Conclusion
While not without its challenges, most of our respondents expect continued growth and expanded opportunity in the coming year. While low oil prices and worker shortages may present hurdles, there is demand for new construction that indicates the potential for positive growth. The recommendations and advice from these experienced members of the insulation industry can help you adjust to the changing conditions of the construction industry and position your business to grow over the next year.
Copyright Statement
This article was published in the April/May 2016 issue of Insulation Outlook magazine. Copyright © 2016 National Insulation Association. All rights reserved. The contents of this website and Insulation Outlook magazine may not be reproduced in any means, in whole or in part, without the prior written permission of the publisher and NIA. Any unauthorized duplication is strictly prohibited and would violate NIA's copyright and may violate other copyright agreements that NIA has with authors and partners. Contact publisher@insulation.org to reprint or reproduce this content.