The General Duty Clause: Exploding Barbecues, Killer Whales, Distracted Driving, and Other Workplace Hazards
Beware Exploding Backyard Grills
There were just too many guests. This was turning into the biggest employee summer picnic in the history of Larry's modest insulation company. He had expected maybe 45 people max, just like last year, and the year before that, and the year before that. But this time was different. The guests kept coming and coming. After all, Larry just added 12 employees for the warehouse project and forgot that they too were invited, along with their families. And so, as Larry feverishly flipped burgers like a whirling dervish, he counted 68 mouths to feed with just one small gas grill and a depleted propane tank. How could he possibly cook enough burgers, dogs, and chicken breasts?
But it didn't end that way. In fact, what should have been just a normal, yet slightly crowded company picnic, turned into a disaster. A literal disaster. The kind of disaster with an explosion, a fire, and burns. It ended with an ambulance rushing Fred to the hospital.
It turned out that the bigger propane tank's regulator coupling was totally incompatible with Larry's grill. When Fred jerry-rigged the connection and lit the grill, the flame was sucked down into the large full tank, triggering an explosion.
So Fred was injured, the grill exploded, and the company picnic was ruined. But wait—there's more. The Occupational Safety and Health Administration (OSHA) cited Larry's company and issued a $13,270 fine!
The General Duty Clause
Under the Occupational Safety and Health Act, the Department of Labor can create specific occupational safety and health standards "reasonably necessary or appropriate to provide safe or healthful employment and places of employment." As such, OSHA has issued safety standards covering General Industry, Construction, Maritime, Record Keeping, and Agriculture.
So how did OSHA cite Larry's company for the grill debacle? There is no OSHA standard on "Outdoor Cooking" or even "Backyard Picnics." Not yet anyway.
Enter the General Duty Clause, the catch-all safety requirement used by OSHA in the absence of any particular OSHA standard. The General Duty Clause requires that "each employer shall furnish to each of his employees employment and a place of employment which are free from recognized hazards that are causing or are likely to cause death or serious physical harm to his employees."
To establish a violation of the General Duty Clause, OSHA must prove that: (1) an activity or condition in the employer's workplace presented a hazard to an employee; (2) either the employer or the industry recognized the condition or activity as a hazard; (3) the hazard was likely to or actually caused death or serious physical harm; and (4) a feasible means to eliminate or materially reduce the hazard existed.
The fact that some incident or injury occurred is not proof that a hazard existed. The existence of a hazard is only established if the hazardous incident can occur under other-than-freakish or utterly implausible circumstances.
For example, in SeaWorld v. Perez, the employer, SeaWorld, was found to have violated the general duty clause when Tilikum, one of its killer whales, killed a trainer. The D.C. Circuit Court of Appeals found a hazard that was likely to cause death, which the employer recognized and could have avoided. In that case, the hazard presented by the killer whale was apparently recognized, especially since the employer knew that Tilikum had actually already killed a trainer. SeaWorld's incident reports also showed that its killer whales had previously bitten trainers and pulled them into and under the water. Moreover, the year before Tilikum killed the SeaWorld trainer, there was an incident where a killer whale killed a trainer at another water park.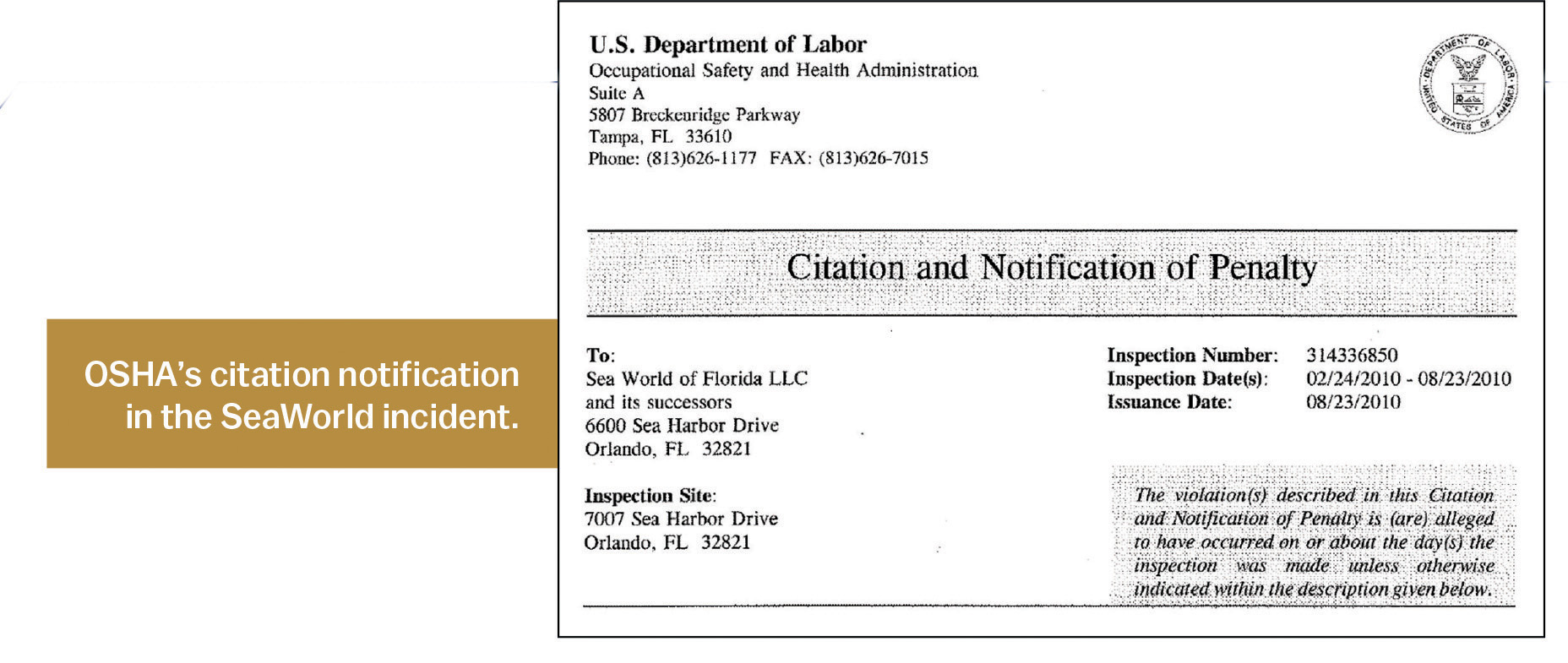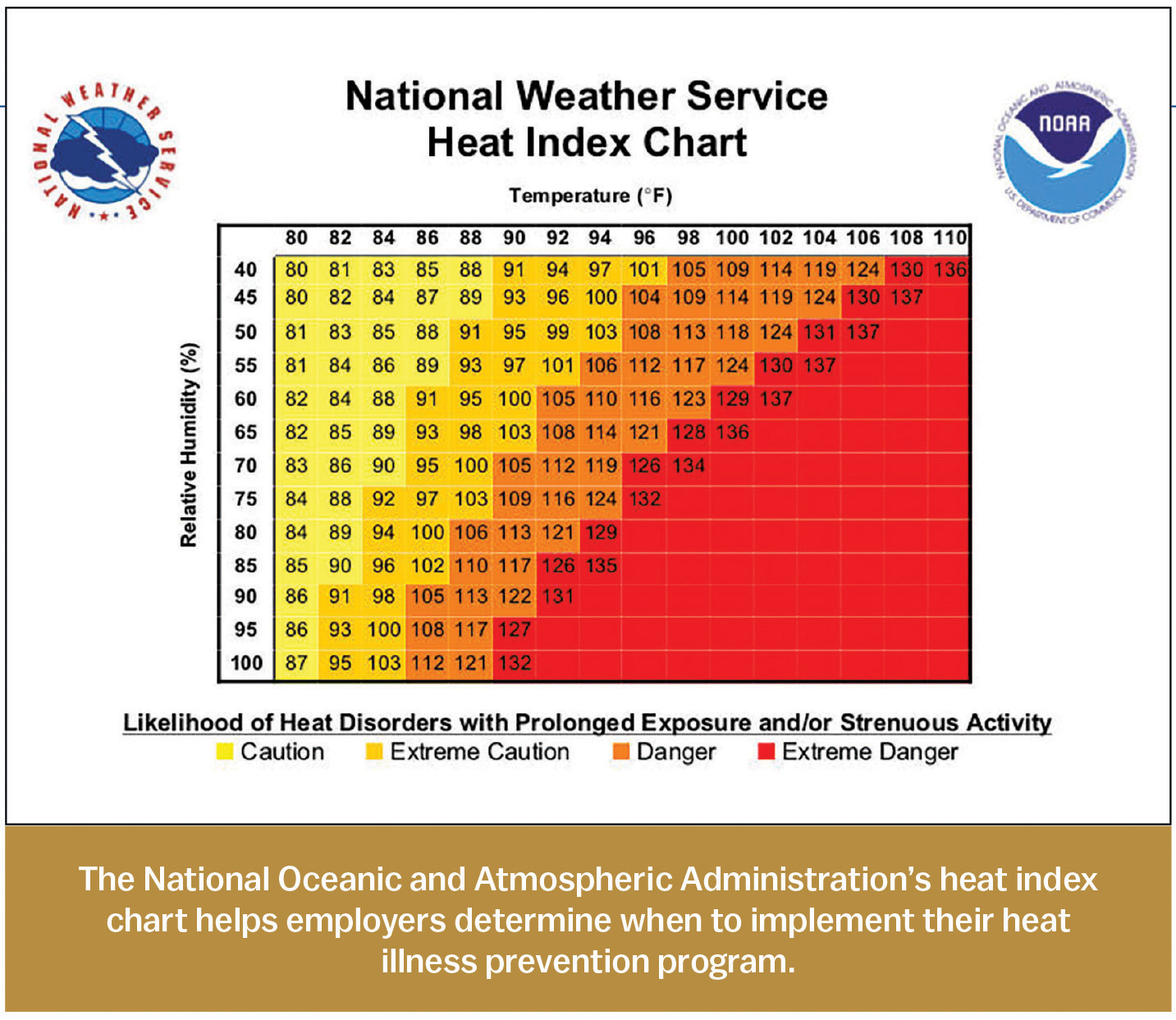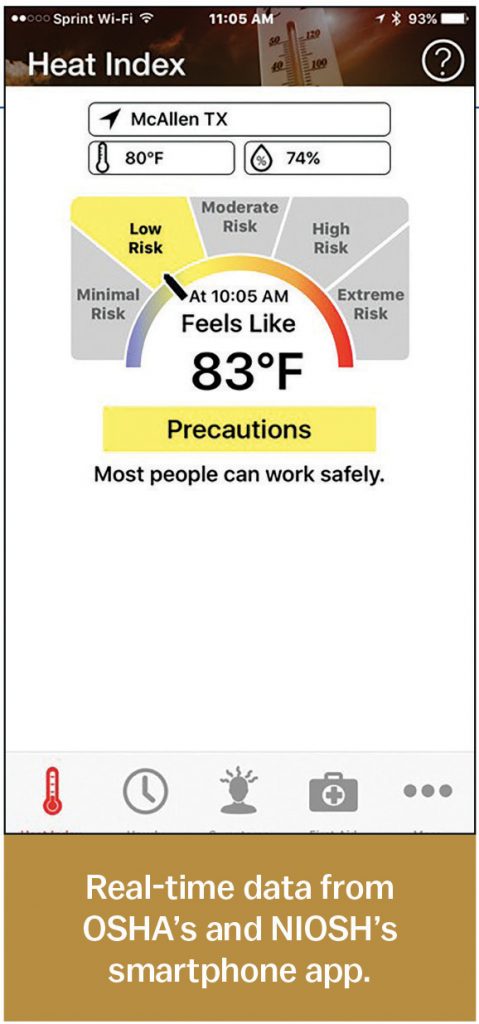 But there are much more frequent, if not common, applications of the General Duty Clause than swimming with man-eating beasts. For example, OSHA has identified distracted driving, heat stress, and cold stress, among many other recognized hazards of employment as likely to cause death or serious physical harm.
Distracted Driving
Most everybody, including OSHA, understands the hazards of distracted driving. OSHA has reported that driving fatalities increase 75% for each additional 1 million text messages sent. And the Centers for Disease Control and Prevention (CDC) has reported that every single day, roughly 9 people are killed and more than 1,000 are injured in accidents purportedly linked to distracted driving.
Although Model T drivers in the 1920s were undoubtedly distracted from time to time, this problem has obviously reached epidemic proportions, given all of the tempting gadgets that modern American drivers can't keep their eyes off of. In the absence of an OSHA standard covering distracted driving, OSHA has been using the General Duty Clause to encourage employers to police their employees' driving habits.
To avoid General Duty Clause citations for an employee's distracted driving accident, employers should implement a robust distracted driving policy. That policy would include the use of cell phones (including tablets, laptops, and any other electronic devices) that can (but should never) be used while driving. A competent distracted driving policy would prohibit cell phones for any purpose while driving for work regardless of whose vehicle the employee is using. And this includes talking and texting.
OSHA recommends including the following in a distracted driving policy:
Prohibit texting while driving. Declare vehicles as "text-free zones."
Establish work procedures and rules that do not make it necessary for employees to text while driving.
Set clear procedures, times, and places for drivers' safe use of texting and other technologies for communicating with managers, customers, and others.
Eliminate financial and other incentives that encourage workers to text while driving.
Employers will have to train employees in this policy, test them on it, and discipline employees who violate it. If an employee is involved in an accident, and it is determined that the employee was texting at the time, OSHA will likely cite the employer under the General Duty Clause. An employer's only defense may be unpreventable employee misconduct.
Heat Stress
OSHA is also using the General Duty Clause tocite employers for exposing employees to heat stress. In the absence of specific rules, OSHA will simply rely on the heat index to determine if a heat hazard exists. This is not limited to temperature alone, but humidity also, as evident in the National Oceanic and Atmospheric Administration (NOAA) heat index.
When the temperatures and relative humidity are high enough to show up on this chart, employers need to implement their heat illness prevention program. The program actions depend on whether the risk is mild, medium, or severe. Additionally, working in direct sunlight adds 15 degrees to this chart.
The National Institute of Occupational Safety and Health (NIOSH) has established the following recommendations for a heat illness prevention program that will help employers address heat stress:
 Acclimatize employees to high heat.
Provide cool water and encourage employees to drink 5–7 oz. of fluid every 15–20 minutes.
Provide a cool rest area in the shade.
Provide training for employees regarding health effects associated with heat stress, the symptoms of heat induced illnesses, and methods of prevention.
Develop a work/rest regimen.
To help employers monitor conditions that could lead to heat stress, OSHA and NIOSH have created a smartphone app that gives users real-time data regarding risks from heat stress.
Cold Stress
Similarly, OSHA has no standard on cold stress, but will also rely on the General Duty Clause to protect employees working in cold environments. OSHA advises employers to:
Train employees to recognize, prevent, and treat cold stress. This includes using heaters to warm employees working in the cold, and if possible, reduce windchill by shielding work areas from wind;
Provide warm drinks for employees working in the cold, which like heat, can lead to dehydration;
Avoid scheduling heavy work during the coldest part of the day;
Make sure employees are dressing properly for the cold; and
Provide opportunities to get out of the cold and into warm areas.
Because there is no standard on cold stress, employers should look to any guidance provided by OSHA and NIOSH. But understand that if there is ever an injury or illness from heat or cold exposure—no matter what protocols are in place to protect against such things—OSHA may likely issue a General Duty Clause citation.
Larry's Combustible Grill
Remember Larry? This is a story about Larry. Or any employer that might not anticipate an injurious incident. Larry did not know his grill would explode and injure his maintenance foreman, Fred. He is an insulator, not a propane expert. But in a real OSHA case with very similar facts, Safeway v. OSHRC, OSHA found that an employer which operated a bread-baking plant should have recognized the propane tank hazard because of hazard stickers on the large propane tank warned against connecting it to a grill equipped with a standard-sized tank.
The lesson here is that employers are not only responsible for rules and regulations that are in OSHA standards. OSHA can cite an employer for certain hazards that employers are expected to recognize. In this way, OSHA has expanded the universe of citable safety violations without specific standards. Employers must be vigilant to anticipate and protect against such hazards to avoid employee injuries and General Duty Clause citations.