What Millennials Won't Tell You
Eight truths this generation of job candidates won't speak in an interview.
Last month I sat down with Amanda Veinott of the High Potential Coach (thehipocoach.com)—and a Millennial herself—and asked what managers might be missing when interviewing Millennial job candidates. Specifically, I asked, "What might surprise these managers once their Millennial hire comes to work?" Here's what she said: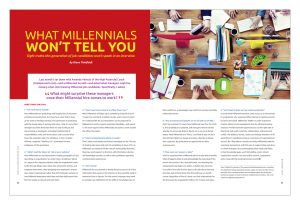 1. "I've never had a real job."
Most Millennials are graduating with lengthy lists of volunteer activities and world travel, but many have never had to show up for work on Monday morning. This generation is graduating with the lowest rates of summer jobs since 1948. It's up to their managers to orient these new hires not only to the job, but also to being an employee—including fundamentals of responsibilities, roles, and work culture. Don't assume they know the unspoken rules of a workplace. In fact, consider offering a separate "Working 101" orientation for new employees of this generation.
2. "I didn't read the 'About Us' tab on your website."
Most Millennials are not interested in reading paragraphs of text describing an organization. So, rather than a traditional "About Us" page on the company website, make the organization come to life through blogs, short video clips, interactive articles, and employee interviews; when designing new employees' orientation, make it inspirational rather than informational; and ask current Millennial employees what they wish they had known their first few weeks on the job and start there.
3. "I don't want to be stuck in an office from 9 to 5."
What Millennials will likely say is something along the lines of "I expect to work hard, to deliver results, and to have my need for a balanced life be accommodated." So be prepared for Millennials to ask for greater workplace flexibility—and expect it. The more opportunities Millennials are given to work outside the office, the better.
4. "I don't communicate by phone or email."
That's what social media and instant messaging are for. The use of email by late teens and early 20-somethings is down 47%. As Millennials are asked to fill the roles of retiring Baby Boomers, they may need support or direction with information sharing and knowledge transfer, as well as clear guidelines regarding communication preferences.
5. "I don't know."
Millennials are accustomed to having instant access to all of the information they need on the Internet, so they see little need to memorize facts or figures. For this reason, managers may need to consider new definitions for the skills or knowledge base of their workforce, as knowledge may need to be merely accessible rather than known.
6. "Your processes and systems are so old and out of date."
Don't be surprised if a newly hired Millennial says this. The truth is, they probably are outdated, and managers need to decide whether to encourage them to figure out a way to do things better. Most Millennials are "fixers," and while it may not be in their job description to change processes, they like to please their superiors. By giving them an opportunity to shine, everyone wins.
7. "How soon can I expect a raise?"
Don't be surprised when a Millennial asks for a raise after 6 months. When it happens, listen to and acknowledge the reasoning. If this person has proven to be a star performer, re-evaluating the compensation package is an option. A better idea, however, is to talk to hires the first few days on the job about their top priorities and let them know that they will have a 6-month review. Regardless of how it's done, set clear expectations for the processes the organization follows for reviews and raises.
8. "You'll need to draw out my creative potential."
A newly hired Millennial may have come across as an introverted IT programmer who expressed little interest in creative pursuits, but don't be fooled. Millennials' hidden or under-expressed creative talent can be maximized in free-for-all brainstorming sessions. Provide them the opportunity to use the right side of their brain and watch creativity, collaboration, and teamwork unfold. The ability to attract, retain, and manage members of all generations is rapidly becoming a cornerstone of organizational success. Be a flag-bearer, actively recruiting Millennials (and the upcoming iGeneration), and find ways to support them and draw out their strengths. By accommodating their needs and filling
in their knowledge gaps, you'll be building a more robust organization overall—one that will be current, competitive, and in step with the evolving business world.
Copyright Statement
This article was published in the December 2017 issue of Insulation Outlook magazine. Copyright © 2017 National Insulation Association. All rights reserved. The contents of this website and Insulation Outlook magazine may not be reproduced in any means, in whole or in part, without the prior written permission of the publisher and NIA. Any unauthorized duplication is strictly prohibited and would violate NIA's copyright and may violate other copyright agreements that NIA has with authors and partners. Contact publisher@insulation.org to reprint or reproduce this content.