Hotel Reservations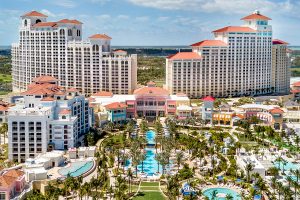 Grand Hyatt Baha Mar Reservation Information               
NIA's discounted room block at the Grand Hyatt Baha Mar offers Convention attendees the opportunity to select from 2 room types. All guestrooms booked through NIA will be on the 12th floor or higher.
NIA's Discounted Room Rates
Fountain View King: $295+ per night
Ocean View King or Ocean View Queen/Queen: $305+ per night
Reservations: Call 1-242-788-1234 and then choose "Option 2: Reservations." When you are directed to a reservation specialist, mention you are with the National Insulation Association. You can book online by clicking here.
Reservation Deadline: March 15, 2019
Guests are required to pay for their room and tax for 2 nights at time of booking. Full prepayment is due 30 days prior to arrival. Reservations must be cancelled 14 days prior to arrival for a full refund. Reservations not canceled 14 days prior to arrival will be charged for one night's room and tax.
The hotel rate does not include local taxes, 7.5% VAT, hotel-specific fees, or hotel service fee. Please note that taxes and fees are higher in the Bahamas, please see the hotel's website for more information. Rooms are available on a first-come, first-served basis. Take advantage of NIA's discounted rate by making your reservation before March 15, 2019. Mention that you are part of NIA's group to receive the discounted rate, which is available from March 27–April 11, unless the room block is sold out beforehand.*
Hotel Service Fee: $30 plus taxes and VAT per room, per day. Children aged 12 years or younger will stay free of charge in their parent's room. Third and fourth occupants of guest rooms are $30.00 for each additional person.
The resort fee of $30 plus taxes and VAT, per room, per day, provides use of hotel activities and amenities including: complimentary Wi-Fi throughout resort (except for Event Center); unlimited local calls; 2 bottles of water, replenished daily; multinational newspapers (electronically distributed via Crave tablet); ESPA fitness center access; complimentary sunscreen at all towel huts; complimentary beach and pool setup: seating w/umbrellas and Wi-Fi; non-motorized water sports; snorkel, mask, fins, and personal water float; single and double kayaks; and more!
*You must be a registered NIA Convention attendee to qualify for this discount.
Grand Hyatt Baha Mar
Located on Cable Beach, Grand Hyatt Baha Mar is a brand-new hotel that opened in 2017 in the Bahamas. This tropical resort is located 15 minutes from Lynden Pindling Nassau International Airport (NAS) and close to the city of Nassau. Click here to see a video of the property. The hotel offers a variety of on-site activities, including: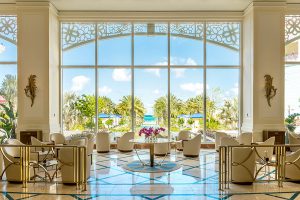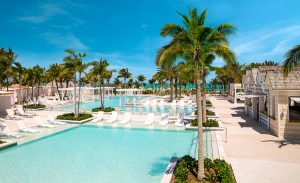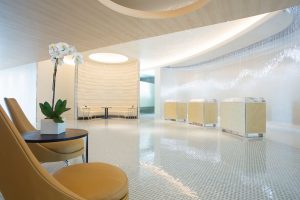 Dining: The Baha Mar complex offers a multitude of delicious dining options, with 33 different restaurants, bars, and lounges on-site. It is recommended that you make reservations in advance, as all restaurants fill up quickly.
ESPA Spa: Breathtaking ocean views and 24 private rooms, which feature a range of luxurious treatments and therapies designed to offer you an authentic Bahamian spa experience.  Convention attendees also receive a 10% discount on spa services, just mention "National Insulation Association" when making your appointment.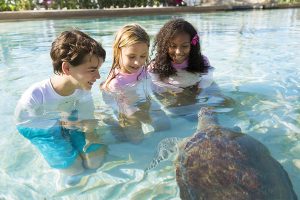 Gaming Space: The 100,000 square foot casino is the largest in the Caribbean, and features world-class gaming excitement and entertainment.
Programs for kids: The Explorers Kids Club offers young guests a world of fun, learning, and exploration. This program is open to children that are 3–12 years old.
Fountain Show: Experience the most spectacular fountain show in the world, including LED lighting, color, Bahamian-inspired moving imagery, and high-energetic music.
Transportation
The Grand Hyatt Baha Mar is located 15 minutes from the Lynden Pindling International Airport (formally known as Nassau International Airport). The hotel does not offer airport shuttle service. The estimated one-way fare for a taxi is $15–$20 U.S. dollars. Ride-sharing services (Uber or Lyft) are not available on the island. Please note that all taxis are cash only, and credit cards will not be accepted.
Parking
Valet parking is included in the resort fee and is complimentary.