Five Ways Construction Companies Can Attract and Retain the Best Employees
Construction is facing a severe skills shortage at all levels of the industry. According to a survey by Building Design + Construction, the lack of experienced professionals and project managers is creating a hiring crisis that has "stymied" architecture/engineering/construction firms in the United States.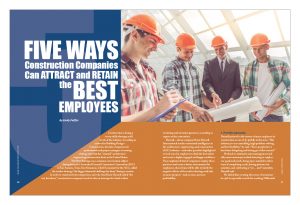 The labor shortage was a common conversation subject during last year's Associated General Contractors Convention (AGC) in San Antonio, Texas. Ken Simonson, Chief Economist for the AGC, called the worker shortage "the biggest financial challenge for firms" during a session.
In order to stand out from competitors and win what Brent Darnell called "the war for talent," construction companies need to take an introspective look at their recruiting and retention practices, according to experts at the convention.
Darnell—whose company Brent Darnell International teaches emotional intelligence to the architecture, engineering, and construction (AEC) industry—and other panelists highlighted several ways for employers to find the best talent and create a highly engaged and happy workforce. They emphasized that if companies employ these practices and create a better environment for employees, those firms will be able to battle the negative effects of the worker shortage and take on more projects—and, in turn, increase profitability.
1. Provide autonomy
Darnell pointed to the nature of many employers in construction as one of its pitfalls in this area. "This industry is very controlling, high problem-solving, and low flexibility," he said. "These people have a hard time delegating and letting go of that control."
Methods to minimize micromanagement and offer more autonomy include listening to employees' goals and needs, being open-minded to other ways of completing a task, having patience for mistakes, and cultivating a "yes… and" mentality, Darnell said.
He added that creating this sense of autonomy in a job is especially crucial for reaching Millennial workers, who have proven to be the most difficult  group to attract. "Millennials want to create their own stuff. You need younger people coming in. There aren't a lot around now," he said.
2. Improve diversity
A prominent issue discussed during the convention was the lack of diversity in construction. Panelists encouraged companies to consider the positive results that could stem from raising the representation of women and minorities in the industry. They said a more diverse workforce would have the effect of attracting workers to construction at a time when the industry desperately needs more people.
"Studies show that diversity increases innovation. It increases the ability to attract and retain quality people. People want to work in places where they can see themselves. They want to see there's someone there that relates to them, and that they can relate to," said Martha Abbott, of architecture firm SmithGroupJJR.
Debra Nelson, of Brasfield & Gorrie, explained that in a time when the industry is struggling to attract workers, and especially younger ones, increasing diversity is one of the most significant steps companies can take. "If we strive to create diversity of thought, will we not make our workplaces more attractive to people who look and think differently? Could that not lead to greater success? At the end of the day, we want to outperform and outthink the competition," she said.
To increase diversity in the workplace, the panelists advised that companies form diversity steering committees, perform culture audits or surveys of the staff, and raise awareness of the issue throughout all levels of the firm.
"It matters right now because they're not here, and we're keeping them away," Darnell said. "They're not coming for a reason."
3. Encourage mastery
Darnell emphasized the need for companies to provide employees with the opportunities to continue learning and to master their craft. "Training is vital," he said.
One of the most effective ways to accomplish this goal comes with leadership programs, according to Randy Hall, President and CEO of Batson-Cook Construction. "Coming out of the recession, we realized we needed more structure for leaders," he said. "Leadership is much more than being a good project manager. We'll cross-train people and show them parts of the business they might not see. Then in 10 years, we'll have a pool of leaders we could pull from."
Darnell added that in companies that promote leadership tracks or programs, employees strive to be chosen for those programs, and it creates a sense of honor for workers. "They've been chosen as a future leader. It becomes an intrinsic motivation," he said.
4. Reinforce a sense of purpose
One way to improve retention and keep employees happy with their jobs is to clearly define a purpose and continuously reinforce that purpose, according to Darnell.
"The projects you create every day are miracles, but we don't convey that. It's become a drudge. It's become adversarial," he said.
Darnell added that clearly explaining a project's purpose—such as holding a meeting for employees with the future tenants of a hospital, or teachers of a school—people will better understand why they are working toward this goal.
"If you don't articulate that, especially to young people, they won't want to work for your company,"  he said. And providing younger employees with that sense of pride, Darnell added, is one of the most effective ways to attract them and keep them happy with a company.
5. Help improve the lives of employees
While Darnell acknowledged this goal can be the most difficult to achieve, he said it can also have the biggest impact for employee retention.
"If you make someone's life better, why would they ever consider working somewhere else?" He asked.
He cited health and wellness programs, which are a growing trend across all industries, as one of the key ways for companies to help improve the lives of employees.
Hall added that encouraging employees to speak up when they have family obligations or are struggling to deal with busy travel schedules creates a sense of trust and respect between the employer and employee.
Darnell added that overall, construction companies should work to bring humanity back to the industry. "After all, human beings build projects," he said.
This content was reprinted with permission from ConstructionDIVE and is also available at https://tinyurl.com/yc93cz6b.
Copyright Statement
This article was published in the December 2017 issue of Insulation Outlook magazine. Copyright © 2017 National Insulation Association. All rights reserved. The contents of this website and Insulation Outlook magazine may not be reproduced in any means, in whole or in part, without the prior written permission of the publisher and NIA. Any unauthorized duplication is strictly prohibited and would violate NIA's copyright and may violate other copyright agreements that NIA has with authors and partners. Contact publisher@insulation.org to reprint or reproduce this content.