Inside the Millennial Mind
Positive construction and engineering (C&E) forecasts give industry members a lot to be excited about: proposed infrastructure spending and moderate growth mean more opportunities ahead for C&E firms. The problem? Many businesses are reporting significant issues hiring enough workers to staff their current projects, let alone fill new ones.
Insulation Outlook staff recently spoke with recruiting professionals and Millennial workers to get an idea of how companies can adapt to attract and retain more workers and meet the demands of a growing industry.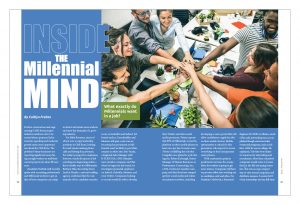 For Baby Boomers, many of whom now occupy leadership positions in C&E firms, looking for work meant making phone calls and hitting the pavement. For today's prospective employees, however, nearly all aspects of job searching are happening online—this is doubly true for Millennials. Brittany Hale, Recruiting Team Lead at Mondo, a national staffing agency, confirmed that the vast majority of her candidate searches occur on LinkedIn and Indeed. Job boards such as Careerbuilder and Monster still play a role, but are becoming less prominent as Millennials aren't as likely to post their resumes on those sites. Ben Vacula, a Regional Sales Manager with K-FLEX USA, a NIA Manufacturer member company, said that when he began his job search, he investigated potential employers on Indeed, LinkedIn, Monster, and even Twitter. Companies looking to recruit would do well to develop their Twitter and other social media presences; Twitter reports that 80% of Millennials access the platform on their mobile phones at least once per day. In some cases, Twitter is fulfilling the role that Craigslist once played as a job-listing site. Robyn Kavanagh, Senior Manager of Human Resources at Performance Contracting, Inc., a NIA Contractor member company, said that they have ramped up their social media and online recruitment activities, including developing a career portal that will allow candidates to apply for jobs on their mobile devices. Mobile optimization is critical for this generation, who expects to access everything on their omnipresent smart phones.
With construction projects predicted to increase, the competition for workers is going to get more intense. Companies will have to put extra effort into reaching out to candidates early and often. For Jonathan Colebrook, a Structural Engineer for HOK in Atlanta, much of his early networking was accomplished though extracurricular events and programs, such as job fairs, while he was in college. He explained, "Job fairs were fantastic resources for networking and recruitment. More than a hundred companies would come to [career fairs] in the fall and spring semesters. This was an easy, compact way to view several companies and distribute resumes. I received all 3 of my internships and my full-time position from company relationships started at job fairs." Kavanagh confirmed they are making a much bigger effort with recruiting fairs, bringing in food at interviewing sessions, taking candidates on jobsite walks, and spending more resources to bring in representatives from branches that are hiring. Even with these extra efforts, making the decision to have an increased presence at job fairs is a fairly low-cost way for companies to find talented, local candidates, and will become increasingly necessary in a competitive job market.
Internships can be an effective way to draw potential candidates into your company right after graduation. Companies should work on recruiting at the college and high school level, making sure to reach out to potential employees early. Daphne Hathaway, Director of Human Resources at Irex Corp., a NIA Contractor member company, concurred that reaching students early is vital, and explained that her company is increasing their on-campus presence, noting, "We're having to compete for people so we're trying to get in earlier—if you don't get to quality students before they graduate, they can be hard to get." They're also encouraging their branch managers to consider more internships, which helps them connect with students before graduation.
Show a Little Personality
Nathan Willis, Vice President of Business Development for ESPNET Consulting Inc., a consulting company focusing on recruitment and process outsourcing, stated that one way companies could set themselves apart is through the job listing itself. Rather than just a rote listing of skills, show some of your company's personality and get creative: tell them this is a job for someone who is a master of time management or an Excel aficionado. When it comes to job descriptions, Willis explained, "a little extra effort is what's separating the more successful companies."
Being a little more creative in job descriptions dovetails with something Willis and Hale both agree is almost as important as salary: culture. It's a myth that Millennials don't care about salary—as a generation facing a pension-free retirement, it's likely to be their primary consideration. Nearly as important, however, is the culture of the company. Perks such as flexible work hours and work-remote options, company happy hours, fun team-building activities such as paintball or ropes courses, or flexible spending accounts for health and wellness can help create the type of culture that will attract and retain Millennial workers. Colebrook affirmed, "Office culture is key. Mutual respect and work sharing must be a top priority. Project type and quantity is another key aspect of a potential employer. A company needs to encourage young employees to grow, and provide them with the resources, tools, and work to do so."
Create Paths for Advancement
Hathaway noted one way her company has engaged Millennials is by establishing Emerging Leaders Groups to focus on helping newer employees learn how to navigate work, establish a work-life balance, and interact with management. This program also helps discern the most effective ways for these workers to learn, and identifies what they may be struggling with; this allows the company to come up with solutions that address their employees' development needs. They have also created materials explaining potential career paths for newer workers, and then provide the training and coaching to lead them through that path. Proactively meeting Millennials' desire for career advancement is a critical retention tool.
One of the unique aspects of the Millennial generation is that they are switching jobs at a higher rate than seen in prior generations. Hale notes, "Salary is big. They'll move jobs for that next pay bump to get into that higher salary bracket. Staying in a position for long periods of time isn't valued the same way it used to be." Companies that want to retain their Millennial workers should not only prioritize an open culture that embraces fun when possible, but should also make sure they are providing growth opportunities—including the ability to move up and increase salary. Companies that fail to do this may find their Millennial employees leaving for greener pastures.
Embrace an Open-Office Mentality
Another important aspect of office culture is an open-office environment—both figuratively and literally. There has been a trend away from cubicles in favor of more open office environments. As Willis said, "Cube farms are boring. It's like watching a foreign-language movie with no subtitles." Millennials crave constant engagement and feedback—open offices can encourage these types of communications between staff of various levels. Colebrook said that being able to communicate with more senior employees is something he enjoys about his work, noting, "Everyone is readily available for questions and eager to help. Employees with large amounts of industry experience are easily contacted and will provide guidance on any problems, or provide a better source that is more suitable. Everyone is on the same level and respects the different areas of experience from different areas of the field."
While every office may not have the option to embrace an open floor plan, companies can embrace the culture of an open office by creating opportunities for free discussion and team building between new and senior employees—which can be helpful for both groups. Millennials benefit from the experience of seasoned workers, and veterans may benefit from hearing fresh and new ideas.
Many Millennials also report they prefer to work at companies that have a mission they can buy into. For insulation and construction companies, publicizing insulation's ability to reduce energy usage and environmental emissions can appeal to Millennials' desire to work for a company that is making a difference in the world. Hathaway noted they often use this tactic to appeal to Millennials' "sense of social responsibility," and that it can be a good introduction to construction and insulation for those with less knowledge about those industries.
Focus on Trust and Communication
Time in the office tends to be the most frequent source of friction between Millennials and Baby Boomers. Greater use of technology has led to more productivity, and younger workers see the work product as being more important than being at their desk for a 9–5 day, which they often see as a relic of the past. For Boomers, Willis affirmed, "the 9–5 in the office was the bible," which is why many Baby Boomers struggle with the Millennial desire for greater flexibility. Ultimately, Willis noted, "it goes back to trusting your employees." He added that if you don't trust employees to get their work done regardless of their time in the office, then you may need to rethink your hiring practices. Hale concurred that flexible work options are extremely important, and that companies that fail to embrace these options may have a harder time holding on to their Millennial workers. See the "Let's Get Flexible" sidebar below for some ideas on how to offer more flexibility to your employees.
Of course, the work of learning more about employees doesn't stop once they're hired—companies should focus on a continuous cycle of engagement and feedback to see how they can better meet employee needs. Company-engagement surveys and team-building exercises focusing on communication can help ensure management is staying on the same page with its employees, and helps them stay current on what benefits can help employees be more productive and profitable. Hale affirmed, "A happy employee is a productive employee. If you can get them to really buy into the company by embracing an employee-centered focus, they're much more likely to stay." Willis added, "Millennials aren't looking for a job where they clock in and clock out, they want an engaging, warm atmosphere."
For the construction and insulation industries, where tradition and structure are strong forces—especially in family-owned companies—adapting to this new environment can be a challenge. It is necessary, however, if companies want to attract the workers they will need in an increasingly competitive environment. Vacula noted, "While my company has modernized and is at the forefront with social media and recruitment, I think overall companies in the insulation industry tend to be old fashioned. They do the same things (advertise, sell, recruit) the same ways they have been for 30–50 years. I think involving more social media, more online selling tools, fresh marketing, etc. is what the industry needs. Also, the fact that older generations look at Millennials as 'lazy' because they don't work the same way has got to go." The best path forward, Colebrook said, is one of compromise, "Millennials cannot be painted with a broad brush, and many have unparalleled contributions to this industry, so it is crucial for both sides to compromise, such as flexible office hours from employers and learning how to be part of a work culture for Millennials. Appease some of the younger generations by understanding what those generations are expecting from a company."
Adapt for the Future
According to the Pew Research Center, Millennials will become the largest segment of the population—overtaking Baby Boomers—in 2019. It will be necessary to adapt to this generation as they will comprise the largest pool of available workers. While adaptation can be difficult, it will be necessary to survive and thrive in a highly competitive environment. Unlimited paid time off or remote work options may not be possible for every employer, but it is important to embrace flexibility where possible. Moreover, make sure you are engaging in a constant dialogue with employees—companies that meet employees where they are and embrace new trends are going to be in an excellent position to attract and retain staff in the long term.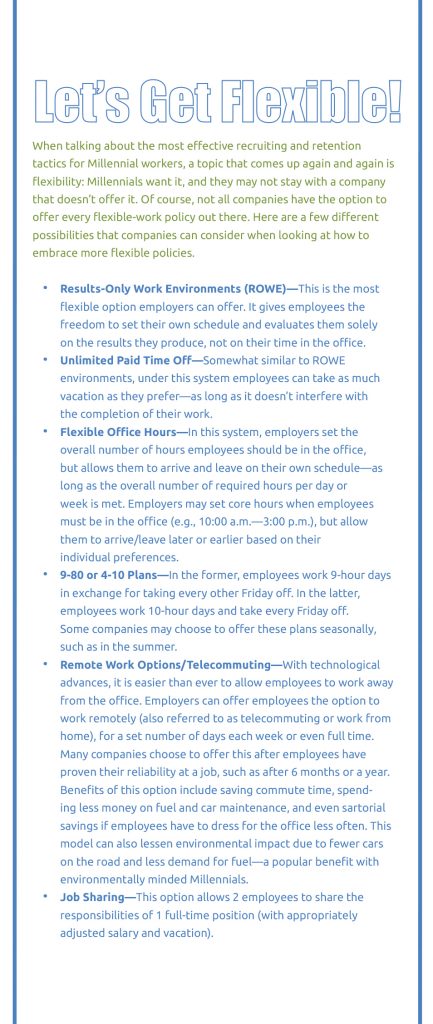 Copyright Statement
This article was published in the April/May 2018 issue of Insulation Outlook magazine. Copyright © 2018 National Insulation Association. All rights reserved. The contents of this website and Insulation Outlook magazine may not be reproduced in any means, in whole or in part, without the prior written permission of the publisher and NIA. Any unauthorized duplication is strictly prohibited and would violate NIA's copyright and may violate other copyright agreements that NIA has with authors and partners. Contact publisher@insulation.org to reprint or reproduce this content.