Mechanical Insulation Environmental Product Declarations (EPDs)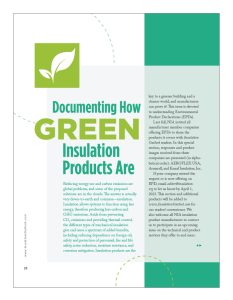 Reducing energy use and carbon emissions are global problems, and some of the proposed solutions are in the clouds. The answer is actually very down-to-earth and common—insulation. Insulation allows systems to function using less energy, therefore producing less carbon and GHG emissions. Aside from preventing CO2 emissions and providing thermal control, the different types of mechanical insulation give end users a spectrum of added benefits, including reducing dependence on foreign oil, safety and protection of personnel, fire and life safety, noise reduction, moisture resistance, and corrosion mitigation. Insulation products are the key to a greener building and a cleaner world, and manufacturers can prove it! This issue is devoted to understanding Environmental Product Declarations (EPDs).
Last fall, NIA invited all manufacturer member companies offering EPDs to share the products it covers with Insulation Outlook readers. In this special section, responses and product images received from three companies are presented (in alphabetical order): AEROFLEX USA, Armacell, and Knauf Insulation, Inc.
If your company missed the request or is now offering an EPD, email editor@insulation.org to let us know by April 1, 2023. This section and additional products will be added to www.InsulationOutlook.com for our readers' convenience. We also welcome all NIA insulation product manufacturers to contact us to participate in an upcoming issue on the technical and product services they offer to end users.